To celebrate all the sensational interior designers putting the chi-chi in Chicago these days, our fab co-founder Anna Brockway recently hosted a hats-off-to-ya lunch at the stunning Cindy's rooftop restaurant. Hot on the scene were twenty-five Chicago designers who spent the afternoon gabbing over rosé and taking part in a delish family-style feast. Go inside the dapper blue and white bash and see how all the big and bitty details came together to create a stylish event that Chicago's chicest deemed a ten out of ten!
A Sky Top Perch
When in Chicago, there's no reason not to spring for a skyscraper venue (it's second only to New York, after all!), which made Cindy's perched atop the Chicago Athletic Association a no-brainer. With jaw-dropping views of Millennium Park, The Art Institute, and the big blue of Lake Michigan beyond, Cindy's offers up all of Chicago's photogenic glory and none of its windy bluster fluster.
Nautical Nods
While it may be fall, a blue and white palette felt right on the money for the lakeside locale. To get the party started, we laid down a blue and white striped tablecloth and topped it with white plates trimmed in just a hint of blue. Overtop, blue and white paisley napkins were layered for an extra bit of kick! And because we can't help but adore a goooood tradition, we paired a stack of Chairish Print Shop cards beside each place-setting (designers dig a good thank you card!).
Florals to Fall For
White florals look smashing with a blue and white theme, but can tread a bit too summery for a fall themed bash. To bust up any associations, our fab florist, The Flower Firm, mixed white roses and hydrangea with a few heads of green hydrangea cast-over with a rusty red blush hue. Popped into vases with a few sprigs of eucalyptus and hypericum berries, and we had arrangements that felt a little bit summer, a little bit fall. Finally, brass urns gave the table florals just the right amount of lift.
Takeaway Tip: Don't let the bar go bare! Gussy up your bar area with a floral arrangement to tie it into the rest of the scene. If you've maxed out your statement blooms on the tabletop, even leftover filler flowers will do the trick.
A Marvelous Menu
Cindy's is known for trotting out some of Chi-Town's most top-drawer fare, so we wisely opted to let them cue up the eats. Among the bites designers noshed on chilled soba noodles with black garlic, citrus, snow peas, and pickled ginger and a mean chopped salad loaded with kale, pickled fresno chili, cucumber, radish, sweet pepper, chunks of ciabatta, pecorino, and a creamy oregano dressing. Family-style service only helped to get the designers all good and acquainted!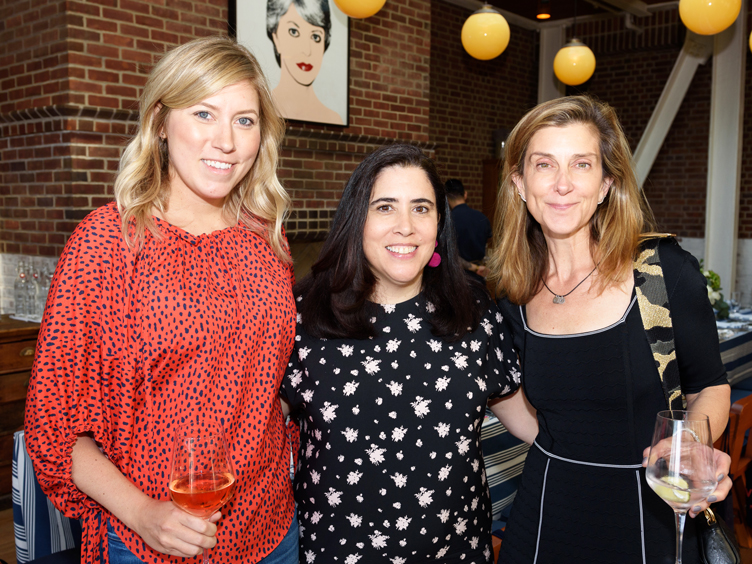 All photos by Michael Courier