A near fail-safe color combo, blue-and-white evokes everything from a favorite china pattern, to stripes, to Mediterranean tiles—talk about transporting! So, whether you're debating sticking a toe in the blue-and-white pool, or taking a full cannon ball-style plunge, here's a round-up of four of our favorite patterns featuring this classic duo, along with tips on how to decorate with them.
SHOP OUR BLUE & WHITE COLLECTION >>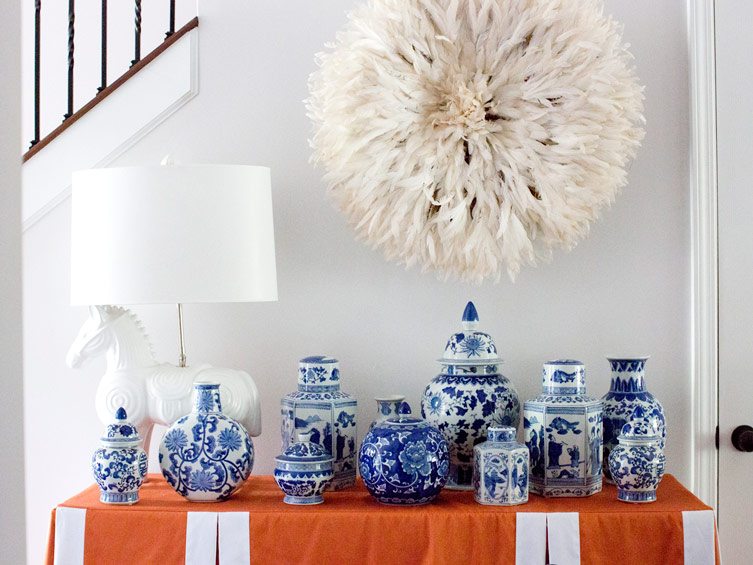 Chinoiserie
The ginger jar, dressed in dapper blue-and-white chinoiserie, has long been a mainstay of traditional interiors—and with good reason. Plenty sophisticated and a touch playful, ceramics done up with blue-and-white chinoiserie detailing are ideal for those who crave a sophisticated interior but none of the stuffiness. We love a blue-and-white garden stool tucked in a living room or up the ante with an eye-catching display of ginger jars displayed en masse.
Ikat or Suzani
We grouped these two gorgeous examples together since they both satisfy our lust for global prints, but, when rendered in blue-and-white, also feel totally classic. A cohesive color story will allow you to splurge on print (think: Ikat-on-Ikat), or even mix two different patterns (like Batik and Suzani). The effect will feel maximalist, but thanks to the cool, collected palette will go over easy on the eyes. Try different blue-and-white global patterns on several chairs in a living room, or try outfitting your bed in entirely one print, as designer Sara Gilbane did here.
Stripes
Capture Montauk vibes with crisp blue-and-white cabana stripes, or go for a more Frenchy flair with a ticking stripe. Effortless and easy, stripes and this classic color combo might seem ripe for pairing with beachy-feeling materials like sea grass, caning, and sun-bleached linen, but give them a twist and you'll find they play just as nicely with sharply-tailored furniture and graphic artwork, like black-and-white photography. Worth noting: traditional, thick-stacked cabana stripes will add the most punch to a room, but for those who find themselves a bit stripe-shy, a thinner ticking stripe is a good way to ease in.

Florals
Lovely and watercolor-like, blue-and-white lends a crisp edge to classically feminine florals. On the flip side, a cabinet full of blue-and-white floral dishes can make for a look that's a little bit English romance, a little bit eccentric granny. Worth noting is that blue-and-white florals can run the risk of feeling overly traditional, so be sure to factor in some streamlined brass hardware or lacquered furniture if you're trying to keep the look feeling modern.

Lead Photo by Zach Desart, Courtesy of Sara Gilbane Interiors