If there's one thing we've heard from designers time and time again, it's that vintage decor brings incredible soul to a room. Yet in the heat of the moment (and knee-deep in deliberations about reupholstering), it's common for a new piece to win out over vintage. So how do you banish the fear of choosing vintage once and for all? We say it's all about knowing which categories vintage excels in. Curious to find out what categories those are? We asked the pros to tell us what pieces they almost always go vintage for and asked them to give their best pitch for why you should too!
Rugs
Among the biggest one-ups vintage rugs have on newly-loomed ones? Vintage ones are more likely to be handmade than machine-made. Quality handiwork translates to more interest for the eye, and according to Austin designer Ann Edgerton, it's the reason vintage rugs add more depth to a space than a new one. "Vintage rugs make it so everything doesn't feel so perfect and new," says Ann. "Many vintage rugs just get more beautiful with time, which is something you cannot buy off the shelf," she adds. Another bonus of going pre-owned on the floor? "I find that since a lot of vintage rugs are already worn in, you don't have to feel so protective of them," says Ann.

Storage Pieces
Study the credenzas and sideboards rolling off today's assembly lines and you'll likely find they adhere to a don't-ask, don't-tell policy (by which we mean: virtually every surface not visible at first glance is constructed of particle board). Slide open the drawers on any Mid-Century Modern credenza however and you'll likely find solid wood drawer backs, heavy-duty metal glides, and even dovetailed joints. Given that credenzas and cabinets tend to be high touch and big tickets items in the home, it's great to invest in a caliber of craftsmanship that's made to last.

Dining Chairs
There are so many beautiful dining chairs out there, but a new dining table surrounded by all-new chairs can sometimes lack interest. On the other end of the spectrum, vintage dining chairs with their unique characteristics can really drum up the warmth factor. "There is nothing like the quality and originality of a vintage or antique dining chair," says Charleston designer Angie Hranowksy, who notes that she loves to "mix up styles and incorporate traditional chairs with modern decor. I find that vintage chairs have so much personality. It becomes a way of introducing your individuality to your space." Thankfully, vintage dining chairs are also commonly sold by the set, which typically drives down the price tag per seat.
Art
There's no denying newly-printed art can add a major wow-factor to a room, but when it comes to giving a room literal soul, the magic-working the capabilities of vintage art can't be overlooked. From cracking oil canvases to time-faded lithographs set in patinated frames, vintage art is among the easiest ways to make even a newly constructed room feel lived in for decades. San Francisco designer Sue-Anne Wilkinson of Wilkinson Brochier Interior Design is among those who vouches for vintage art, noting that "incorporating antique framed art into a contemporary art wall can give it a more edgy visual mix." As a bonus for those on a budget, vintage art also runs much more affordable than new art.

Lighting
If there's one category where vintage designs simply out-stun new ones, it's vintage lighting. "Vintage lighting can be so beautiful," says Seattle-based designer Heidi Caillier, who admits to mood-boarding entire rooms around a vintage sconce or chandelier: "It can really be a way to bring something unique into a space." Whereas contemporary lighting can sometimes feel stark when paired with a modern furniture pieces (think a Tulip Table or Cesca dining chairs), as Heidi points out, "Vintage lighting looks great with more modern furnishings." Keep this tidbit in mind when you're looking for a way to make a modern room feel more cozy and soulful, and less like a showroom.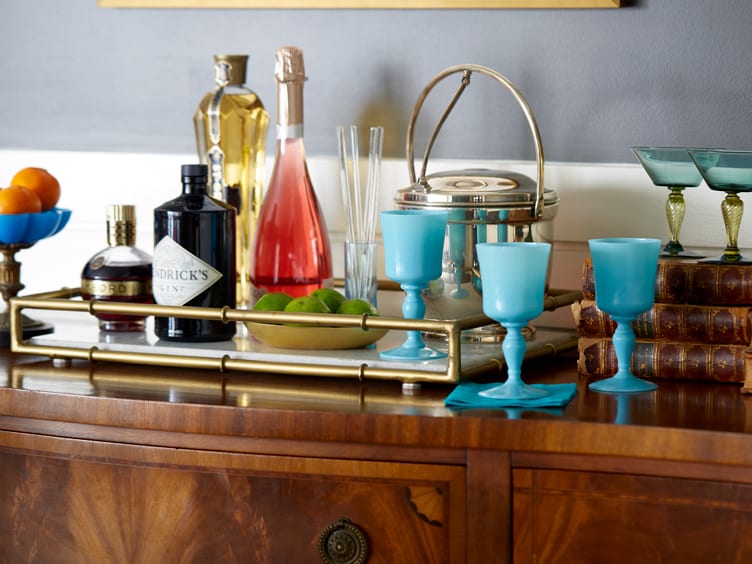 Tableware
If you're in the broken wine glass a month club, you're not alone. Much of today's tableware isn't exactly engineered for the long haul. In contrast, vintage tableware dating to the mid-20th century and prior was produced during a time when entertaining was more fact-of-life than special occasion. "There is nothing more satisfying than finding an unusual set of vintage glasses or beautiful collection of vintage porcelain to change up your tablescape," says designer Kevin Walsh of Bear Hill Interiors. "Beautiful floral salad plates can change your everyday table into something extraordinary, and nothing says 'welcome' like a beautiful glass of wine served in an amazing vintage glass."

Lead photo design by Heidi Caillier/ Photo by Haris Kenjar.