Working in a range of mediums, locales, and styles, these up-and-coming art stars are forging a visual language all their own, and the resulting pieces are speaking our language when it comes to outfitting marvelous walls. From quietly fabulous photography to boom-pop paintings, meet the latest additions to the Chairish Artist Collective, and be first in line to scoop up their beautiful, one-of-a-kind work to add a little art world dazzle to your decor.
Lara Meintjes
Home Base: Williamstown, MA
Medium: Acrylic and gouache
Signature Subject: Botanical-heavy still life moments, styled after greats like Matisse and Gauguin.
Why We Love Her Work: A South African, American artist currently living happily in the Berkshires, Lara's work imbues her subjects, including florals and interiors, with an irresistible vibrancy. Curiously enough, she harbors a fascination with anthropomorphism, which may be why her work packs such a lively punch.
Laurie MacMillan
Home Base: Santa Barbara, CA
Medium: Oil paint and wax
Signature Subject: Wonderfully abstract interpretations of the natural world.
Why We Love Her Work: Capturing the splendors of nature, which happen to abound in coastal Santa Barbara where she lives, Laurie's contemporary abstract oil paintings translate the essence and energy of what she sees with a power that makes her subjects equal parts interpretive and crystal clear.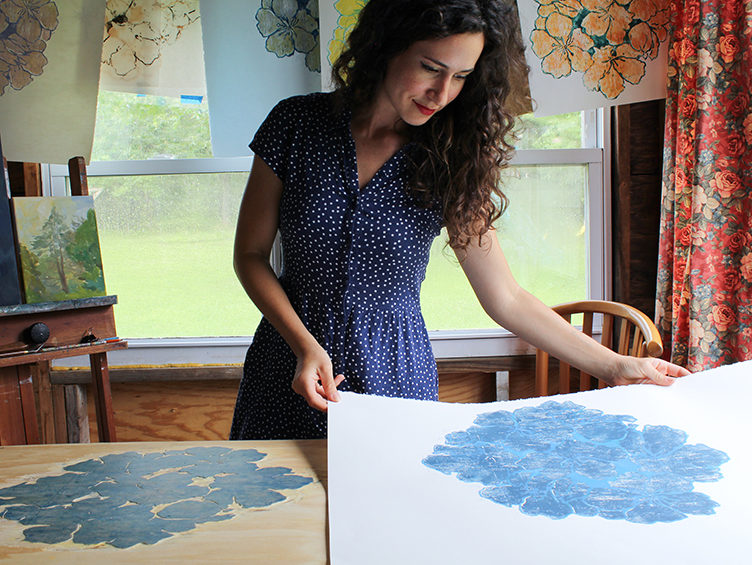 Michelle Farro
Home Base: Whiting, NJ
Medium: Oil paint, ink, and woodblock printing
Signature Subject: Nature, people, and anything else that catches her eye.
Why We Love Her Work: An emerging art talent who logged time training at the Florence Academy of Art in Italy, Michelle's work draws on the everyday to create quietly extraordinary pieces. Experimenting in a range of mediums, including oil, ink, and woodblock prints, this East Coaster's subject matter is equally mercurial, but the results are consistently beautiful.
Sean Kratzert
Home Base: Old Lyme, CT
Medium: Oil and acrylics
Signature Subject: Music, culture, and the world all around.
Why We Love His Work: Sean's explosive pieces, each bursting with color and texture, are a fascinating peek into the busy and engaged mind of this emerging talent working in the Abstract Expressionist style. He also creates music under the name Coyote Ocean.
Jocelyn Armstrong
Home Base: Bridgeport, CT
Medium: Ceramics
Signature Subject: The many possibilities of the sculptural form.
Why We Love Her Work: Exploring the space where fine art and craft intersect, Jocelyn's ceramic vessels nod to the classic 'Moon Jar' in their refined shape, but her surface treatments are all about the contemporary cool. Unique, multi-use boxes and bowls by this ceramic sculptor are an opportunity to bring a bit of elegance to your everyday.
Kate Lewis
Home Base: Chicago, IL
Medium: Watercolor, gouache, and acrylics
Signature Subject: Nature and interiors brimming with charm.
Why We Love Her Work: Kate refers to herself as "an artist in pursuit of beauty and optimism." We couldn't have said it better. Her lush use of color and playful style make her work charmingly accessible yet sophisticated, with a distinct tinge of hopefulness. Her work caught the eye of Chronicle Book editors and her first illustrated book will make its debut in the fall of 2020.
Laura Noel
Home Base: Atlanta, GA
Medium: Photography
Signature Subject: Moments when the past and present converge.
Why We Love Her Work: With an MFA from the University of Georgia and work in the permanent collection at MOCA GA, Laura has made a name for herself exploring what it means to capture the ephemeral and imbue it with newfound permanence. Her recent series, entitled Marmoreal (a reference to the coldness of both the material and vibe of her marble statue subjects), shines a digital light on classical works to create images just right for today.
Ilana Greenberg
Home Base: Brooklyn, NY
Medium: Acrylics
Signature Subject: The colors and forms of abstraction.
Why We Love Her Work: Influenced by the Mid-Century Modern masters (think Franz Kline) and her high-energy hometown, this fast-rising art star creates bold, graphic paintings that nod to the Abstract Expressionist movement. Underneath the big gestures and tonal contrasts of her work is the idea of using art making as a form of meditation.
Jelly Chen
Home Base: Brooklyn, NY
Medium: Acrylics
Signature Subject: Flora and fauna, animals, artifacts, and patterns are favorites.
Why We Love Her Work: An emerging talent out of Brooklyn, Jelly scours New York City for the creative sparks that fuel her paintings. Antiquities at the Metropolitan Museum of Art become painterly explorations of pattern, with ancient vessels as the star. Her visual explorations with collage lend some of her work its vivid, bold thematic thread.
Lead photo courtesy of Ilana Greenberg