Shopping for a vintage bar cart and not sure where to start? With options more plentiful than ever, choosing the perfect home bar cart is no simple feat. To help make the whole decision-making process go down a little easier (so to speak), we've crafted a bar cart-style quiz. Find yourself below to determine your dream vintage bar cart!
Curated Traditionalist
Your Go-To Libation: Espresso martini — the ultimate classic with a twist.
On Your Party Playlist: Norah Jones, John Legend, Sam Smith
Your Prized Bar Accessory: A collection of crystal ashtrays and catchalls from brands like Orrefors and Baccarat lend your bar a hyper-luxe touch.
Your Entertaining Style: You're partial to a sit-down dinner with a roast chicken every once in a while, but grazing boards are your go-to. In a word, they're Instagram-friendly, just like your bar.

Your Vintage Bar Cart Pick: A brass and glass bar cart speaks to your traditionalist leanings while also managing to satisfy your desire for of-the-moment-feeling design. For a touch of whimsy, select a classic Mid-Century Italian or Hollywood Regency bar cart. These designs often come equipped with oversized spoked wheels that feel reminiscent of an old world stage coach — perfect for lending a playful aura to a room. Topped with a lacquered chinoiserie mirror and an alabaster lamp, any brass and glass bar cart is the epitome of sophistication.
Modernist
Your Go-To Libation: Whiskey, neat — you're all about simple and straight and to-the-point.
On Your Party Playlist: Apple has a curated dinner party playlist, don't they?
Your Prized Bar Accessory: A Tom Dixon shaker. The perfect meeting of form and function.
Your Entertaining Style: You go hands-free and get it catered.
Your Vintage Bar Cart Pick: A bar cabinet really is most efficient in your book, as it's more substantial and metamorphic than a standard bar cart. Choose a cabinet with an unexpected detail, if you can. A floating cabinet-within-a-cabinet effect is ideal for eliciting conversation among guests as they gather around the watering hole. Keeping your spirits collection highly edited — just a few bottles, really — will let you bar cabinet's architecture shine.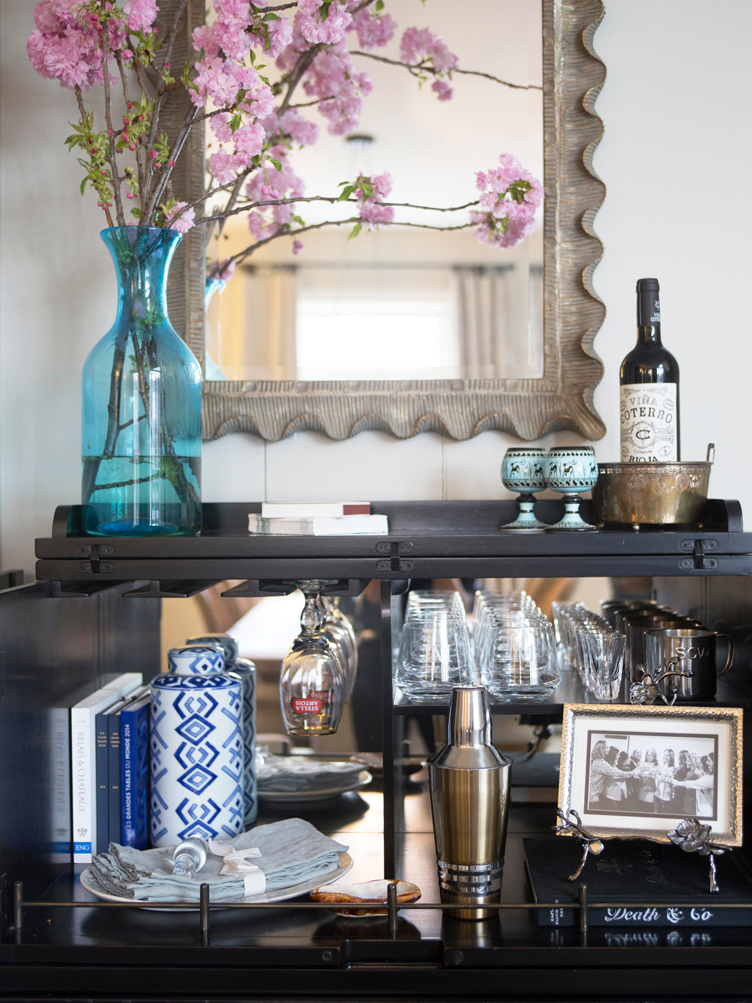 Worldly Eclectic
Your Go-To Libation: A mango Mojito
On Your Party Playlist: Chances are high that someone you invited will break out a guitar at some point.
Your Prized Bar Accessory: A set of vintage Lassi cups you toted home from India.
Your Entertaining Style: Open windows, bare feet, and a curry on the stove that guests can serve themselves.

Your Vintage Bar Cart Pick: To be candid, whatever bar cart or cabinet you pick isn't all that important. Whether it's a boho chic bar cart made of a bamboo or a standard wood bar cabinet, what really matters is how you dress it. Which is all to say — the more nooks and crannies, the better! Source distressed silver and brass caddies to act as everything from wine coasters to citrus bowls. Draft a colorful glass jug to act as a makeshift vase. Also, make sure there's room for gobs of glassware. A mix of different drinking vessels is a DIY invitation that's right up the Worldly Eclectic's alley.
Mid-Century Modernist
Your Go-To Libation: Tom Collins
On Your Party Playlist: The Supremes, The Beach Boys, The Byrds
Your Prized Bar Accessory: Your pristine set of "Name Your Poison" Georges Briard glasses.
Your Entertaining Style: You've been known to break out a round of charades to kick things off, you serve plenty of canapés — and if the mood is right, why not throw in a conga line?

Your Vintage Bar Cart Pick: Make yours a great dane — a great Danish Modern bar cart, that is. With no shortage of vintage Mid-Century Modern bar carts on the market, MCM-devotees should have no trouble landing a top-shelf trolley. Because form and function are never far from the Mid-Century Modernist's mind, look for a car with a pull-out shelf or leaf. In truth, most bar carts don't provide much room for crafting drinks once you've loaded up on the spirits and barware. A pull-out shelf is key to crafting drinks with the finesse of a serious 'tender.
Lead image design by One Bleecker Interiors / Photo by Rae Barber