If how we spend our days is how we spend our lives, then if we spend our days anxious, we'll spend our lives anxious, too. And yet, stress is a defining feature of contemporary life — this past year, 55% of Americans reported experiencing "a lot of stress" on a daily basis. Good design might not be able to intervene in a cultural existential crisis, but it can help build spaces that calm and restore us. Here, we talk with interior designers about how they create serene homes that counter the chaos of our lives.
1. GOOD LIGHTING IS EVERYTHING
---
The value of natural light can't be overstated. A quality source of light makes a space glow and lends a sense of serenity difficult to achieve in its absence. David Mann, founder of MR Architecture + Decor, says, "I find that well-modulated, diffused northern light is a great starting point for laying out a relaxing room." In terms of artificial light, dimmers can "provide a soft light in the evening," says Matthew Caughy, a designer based in New York.
Put Outdoor Views Front and Center
Nature is known to have a calming effect on mood — and although we spend much of our lives indoors, exterior environments still affect our experience of being, and feeling, at home. For the project pictured above, Dawn Carlson of MAS Design found that the design didn't require much to imbue it with a sense of space. Rather, she had to step back, and avoid cluttering the home with unnecessary objects that felt designed, rather than natural to their setting: "we think it was successful because it simply paid homage to the environment surrounding it," Carlson says. "Nothing should compete with one's connection to nature in a home like this."
3. CHOOSE A CALMING COLOR PALETTE
---
Color helps create a mood that ties together a space. "Color may be one of the easiest tools for manipulating mood within a space," says Mann. He suggests that color can operate in "obvious" ways; bright colors are energizing, while muted colors are calming. "We also use color to denote function, create a narrative, or to connect a space historically," he says. "Manipulating mood is important, but the more layered with meaning a space is, the more interesting it will be."
4. FUNCTIONAL SPACES ARE SERENE SPACES
---
One of the tenets of good design is to create a space that functions well for your client. However, as a functional design increases the ease of everyday living, it also promotes a sense of calm. As designer Regan Baker puts it, "Ideally you want to feel as though your home is working with you and supporting you as you move through life, not fighting you at every turn." Baker provides an example: "I think we've all had that experience of going to grab one pot lid and accidentally setting off a cookware avalanche — if that happens regularly, it can start to eat away at your sense of serenity." She encourages clients to examine how they use space and in particular, what are their "pain points," those preventable, repeated moments in which stress accumulates, leading us to a feeling of fragility. "If something is part of your life on the daily, making it more functional is going to have a pretty big cumulative impact on your level of calm," she says. For her, that might mean a stroller closet near the entryway or a set of mugs stored above the coffeemaker.
5. CANCEL CLUTTER
---
If function is infinitely valuable to stress prevention, clutter inhibits the seamless functioning of a space. "When clutter exists, I truly believe it creates a block or gets energy stuck," says Melanie Charlie Fowler, owner of Clos-ette, a professional organizing company. "That peace flow or organization creates the calm in a room." Fowler encourages the heavy editing of spaces, even though, as she advises, not all clutter is the same." She adds, "One person's bookshelf is another person's clutter." Caughy agrees. "Order is important in every home, and the only way to conquer a space and keep it organized is to have appropriate storage," he says. "I love a beautiful bookcase to display prized items and beautiful books, but it's equally important to have storage for items you don't want to be visible.
6. ORGANIZE, ORGANIZE, ORGANIZE
---
After the clutter has been cleaned out, it's time to organize. When everything has a place, we have fewer things to worry about. "When clutter is tempered, styled, organized, or decorated there becomes a flow," says Fowler, explaining how we can allow our energy to flow naturally in a space. No matter how the daily routine of the client, interior designers can devise a plan that makes it easy to stay organized.
7. ENGAGE THE SENSES
---
Smell, touch, sound: all these elements can promote calm and are just as important as the visual design of a room. "I would argue that texture always helps to create a richer experience of a space — and I think it particularly helps to create a relaxing space because it engages our sense of touch and requires our brains to slow down and engage at the scale of the fingertip," says Jennifer Bunsa, founder of Bunsa Studio in Miami. "The more you can engage the senses, the more you will impact mood."
Connect Indoor & Outdoor Environments
Even if the views from a home aren't particularly striking, organic elements, like greenery, wood, rattan, or bamboo, can help increase the calming factors in a design. "Even just one beautifully potted plant can go a long way in bringing in the outdoors," Caughy says. "With that said, make sure the plant you are featuring is a show stopper. If plants have seen better days move them to less focal areas and keep your prized specimens front and forward." Carlson adds, "we enjoy organic elements as well as architectural ones. Nature is the most elegant designer, so you can find qualities from nature that work in the built environment."
Create Unique, Designated Spaces
Mixed-use spaces are important, and hard to escape; however, designated spaces also make a design relaxing, whether the client requires a home office, craft space, or meditation zone. "We often talk about a work/life balance in the emotional/mental sense, but that applies to physical spaces as well," says Baker. "It's much easier to put the stress and commitments of the work day on hold if you can close the door to your home office and join the family in the kitchen." Physical separation also applies to spaces that are intented to create joy, too. The designer recalls a recent project in which she put together a craft area for her client. "Our client was over the moon when she saw it all take shape — it was not only an expression of her sense of style, but it was space set aside especially for her to be able to do what she loves," Baker says.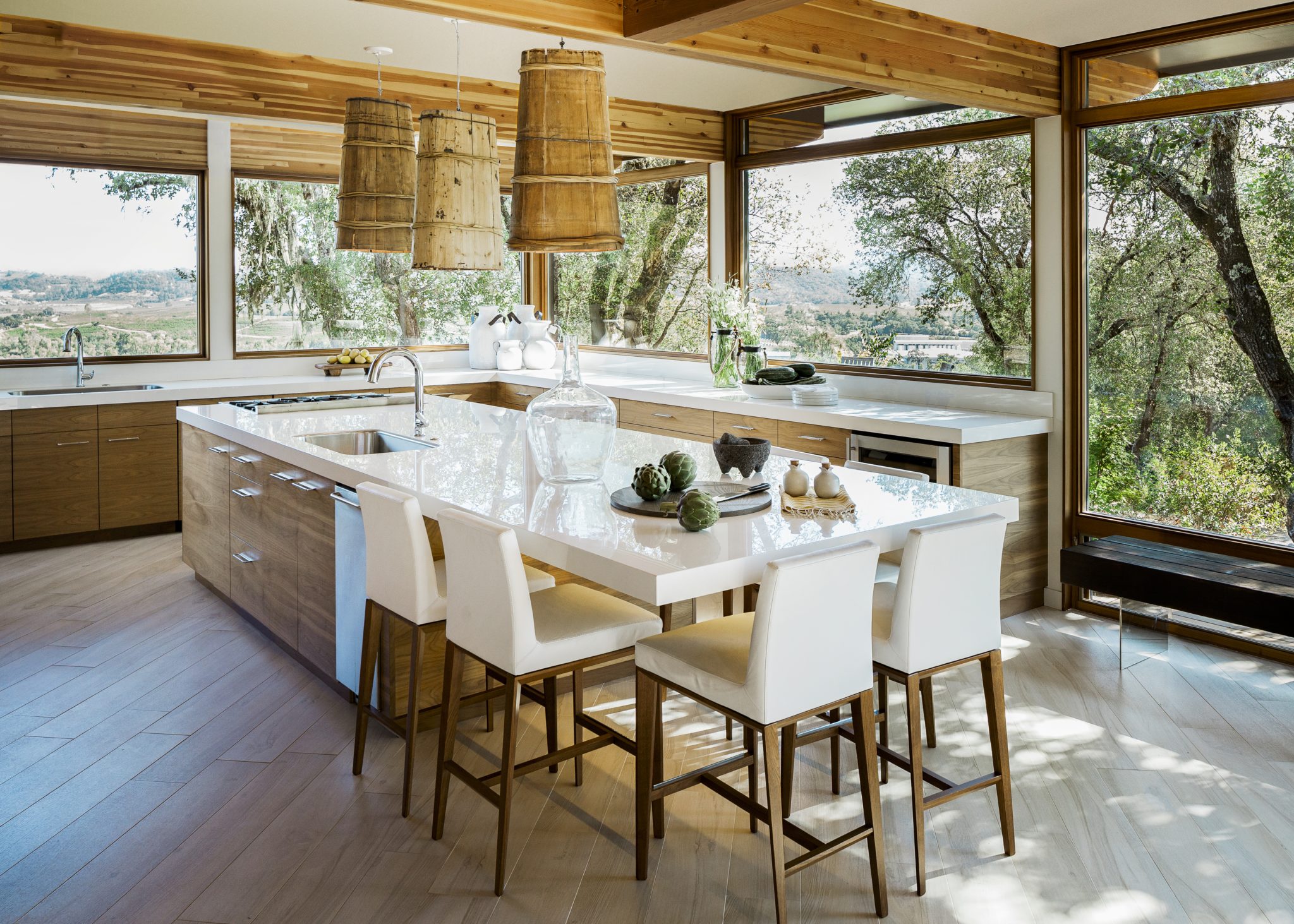 Avoid Seeking Perfection
When a space feels too designed, it isn't homey; at the same time, a "homey" space can also signify homely, or not beautiful. To find the balance between overdone and underdone, Carlson subscribes to the Japanese philosophy of wabi-sabi, meaning "perfect imperfection." For the kitchen pictured above, Carlson used Himalayan water backpacks as pendant lights. "The organic, imperfect finish adds a nice history, but also a visual ease that we juxtaposed against a clean white modern countertop," she says. "Opposing strategies are balanced for just the right harmony and depth."
11. EMPHASIZE SPACIOUSNESS
---
It's hard to interpret a cramped space as calming. Bounded spaces can create claustrophobia, while wide windows, an open-concept layout, and generous square footage seem to offer possibilities. Mann refers to this feeling of openness as a "sense of spaciousness" — each area flows into the next without inhibitions, and with common elements that tie the various rooms and areas together.
---
12. DESIGN LIKE A FILM DIRECTOR
---
With many designers and design lovers relying on Instagram for inspiration, it's easy to image design as a single, framed image, frozen in time and space. However, if we think of design as more of an immersive film than a square still life passing through our feed, it's easier to understand how various elements inspire different emotions, like peacefulness. Films are designed to inspire emotion. The color, sound, and frame associated with each image sparks a particular emotion, driving the viewer deeper into the feeling of the story the film is trying to tell.
For Bunsa, creating a serene design is a lot like making a movie, where we're imagining the flow of time and bodies within a particular setting, and how each element within the frame interacts for the duration of the film. "Design has a very strong impact on mood," she says. "From color to texture to lighting, all of these things interchange and interplay to create spaces that can evoke different feelings and moods. It's a very filmic way of thinking about space — think about how mood is affected when you are watching a movie and how different lighting and color treatments can cause you to feel a certain emotion."