You wouldn't know by looking at it now, but This Old Hudson, Anthony D'Argenzio's picture-perfect studio and 2-unit guesthouse, used to err more on the side of diamond in the rough than actual diamond. Anthony and his wife Hillary could see past the grit, however, and imagined a tranquil Hudson, New York getaway waiting to happen. "My style has always been inspired by the old world," says Anthony, who whipped the space into shape with a mix of antiques and custom furniture, a ton of white paint, and some good old-fashioned elbow grease. Go inside this epic fixer-upper and see how Anthony merged vintage touches with a minimalist aesthetic to create a relaxing weekend retreat, perfect for cozy fall getaways.
Making an Entrance
Since This Old Hudson is divided into upstairs and downstairs units, it was important to Anthony that the shared entry feel especially considered. While most of the house adheres to a palette of "natural wood tones, weathered whites, and massive selection of grays," the entry showcases more intense color. Pops of fiery red and saturated gray make for a warm welcome. Of the gray molding Anthony says, "We knew the original wood moldings were being kept, without question. For added texture, we sanded them. After that, we just sealed them with a light wax. The color pops beautifully against the off-white walls and floors." Because Anthony prefers that color be brought in through art and antiques rather than the walls, a DIY kilim stair runner (made by mashing up three different kilims) and his thrifted collection of female portraits were added.
Creating a Workable Space
This Old Hudson offers not only rentable lodging, but functions as a photo studio space as well. Because of this, Anthony knew he needed to factor ample work space into each unit. In the bottom unit, that space was integrated into the dining room and a ten foot farm table was moved in. The table, a $300 find, required some work, but that didn't stop Anthony. "I come from a lineage of artists and cabinet makers," he says. "Growing up, I would often help my father restore furniture and even finish large cabinetry." To make the room even more versatile for shoots, Anthony and Hillary washed the entire space in a dreamy white paint.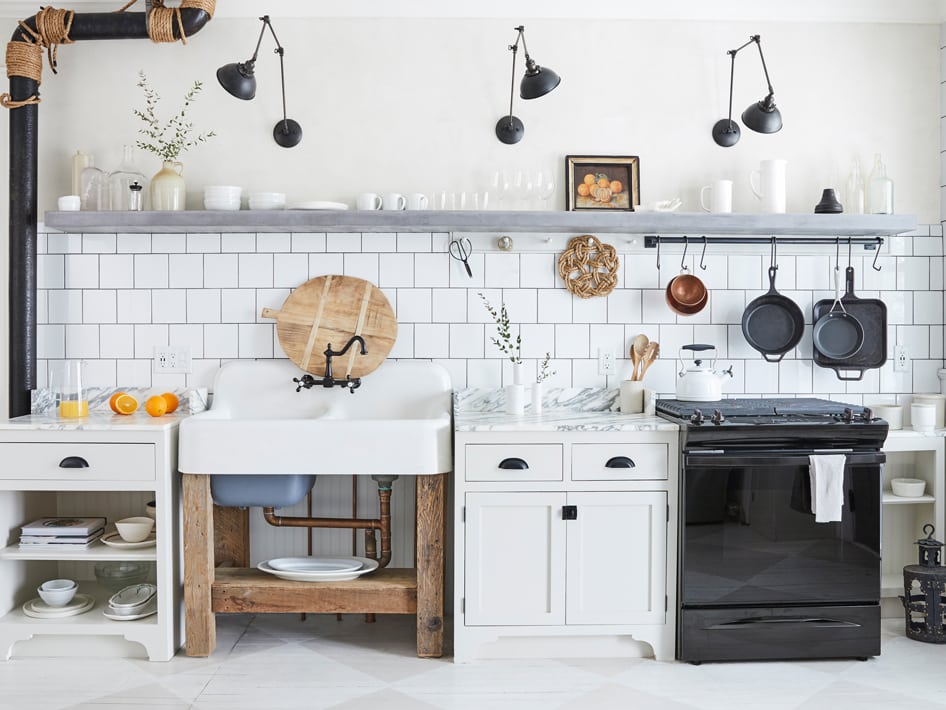 A Little Bit of This, a Little Bit of That
As the size of his Instagram following would suggest, Anthony knows how to construct a photogenic moment. The bottom unit's kitchen is no exception. "Kitchens and baths have always been my favorite part of designing a home because the possibilities are so endless," says Anthony. "I've never been one to care about matching because I love the look of an unfitted setup." The mix and match look lends a rustic feeling to a kitchen that could otherwise be described as monochromatic and minimalist. The cabinetry was sourced from Anthony's family's Los Angeles cabinet shop, while the shelving above the counters was custom made by Anthony. The pot rack was a handmade find scored online.
The New Deal
With This Old Hudson, Anthony abides by an 80-20 rule: 80% vintage, 20% new. One place he's adamant about going new? The sofas. "We decided on purchasing new sofas because they're almost always going to be more comfortable," says Anthony. In the bottom unit's living room, a new sofa feels at home amid industrial antiques thanks to its black metal legs. Another place Anthony opted for new was the lighting. "I couldn't find exactly what I envisioned for the lighting, so we made a few custom pieces. I can't tell you how many people ask me where I got them. They're pretty unique."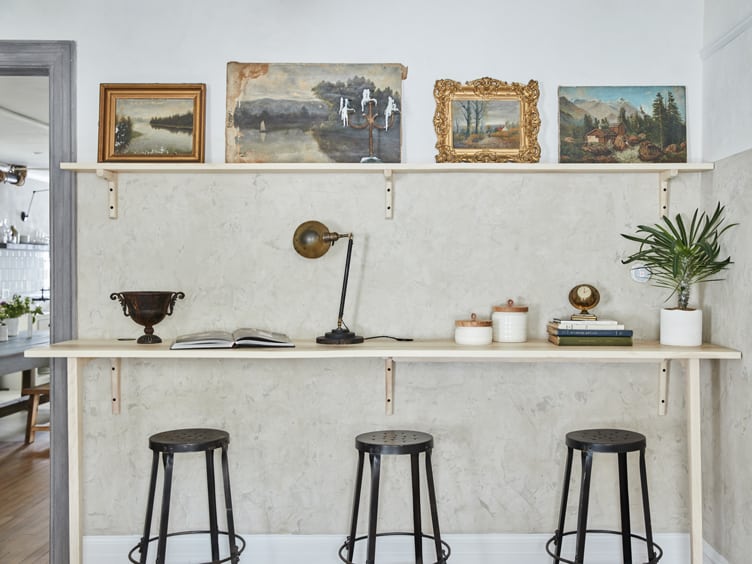 Setting the Bar with Art
In keeping with the work-play vibe of the house, the living room is outfitted with a work bar. Come happy hour, however, it can double as a space to knock back whiskey sours. To keep the area feeling equal parts inspirational and lively, Anthony hung a series of colorful vintage landscapes. "Vintage art is one of my favorite items to shop for," says Anthony. "Our collection was acquired over time, from trips all over the world. I tend to like pieces that tell a story when placed together—on a gallery wall for instance. If I find a new oil painting, I need to think about which pieces it will be living next to."
Vintage-Inspired Retreat
Despite being an avid collector, Anthony knew he wanted to keep the bottom unit's bedroom relatively minimal. "My style has evolved from a clearly passionate collector into a more minimal one," says Anthony. "I've found that less can be more, especially when achieving the type of space that appeals to everyone." To keep the bedroom feeling vintage but uncluttered, Anthony chose an upholstered bed frame with traditional curves. He dressed it in tonal gray bedding with a variety of textures. Iron shelves on either side function as nightstands. The black iron feels vintage, but their minimal silhouette ups the room's simplicity factor.
Ushering in a New Era
In the bathroom, Anthony sprung for modern fixtures that mimic old world finishes, including a sink with exposed brass plumbing and two-tone tile. The finishes allow the bathroom to meld with the rest of the house, but also maintain a modern, spa-like atmosphere. Herein lies Anthony's golden rule: Let your house guide you. "Stay true to the style, location, and overall feel of your home," says Anthony. "The fact that our property is in Hudson from the 1920s really allowed me to incorporate the Upstate rustic vibe. I couldn't have achieved the same feel if the home was located in New York City, even if it was from the same era."
Although the renovation isn't even a year in the rearview yet, Anthony and Hillary are currently in the process of renovating the neighboring property, with the intent to open long-term rentals known as This Old Hudson Residences. For those who can't wait (and hey, we don't blame you), the two units in This Old Hudson can be booked here. 
All photos courtesy of Zio and Sons