Partners Shannon Wollack and Brittany Zwickl, the duo behind West Hollywood design firm Studio Life/Style, are ready to take their distinctly California-cool vibe and go global. A slew of chic (and highly Instagramable) commercial spaces in L.A. helped them emerge as a serious name to know, as did the stunning Beverly Hills home they designed for actress Hillary Duff. With forthcoming projects in the Bahamas and Cabo San Lucas, their unique mashup of vintage pieces, clean-line counterpoints and neutrals galore, is sure to gain even more fans. To go along with the Studio Life/Style Chairish curation, we asked the designers to share all their favorite design tricks, along with an insider's guide to their favorite L.A. hotspots.
SHOP ALL STUDIO LIFE/STYLE'S FAVORITES >>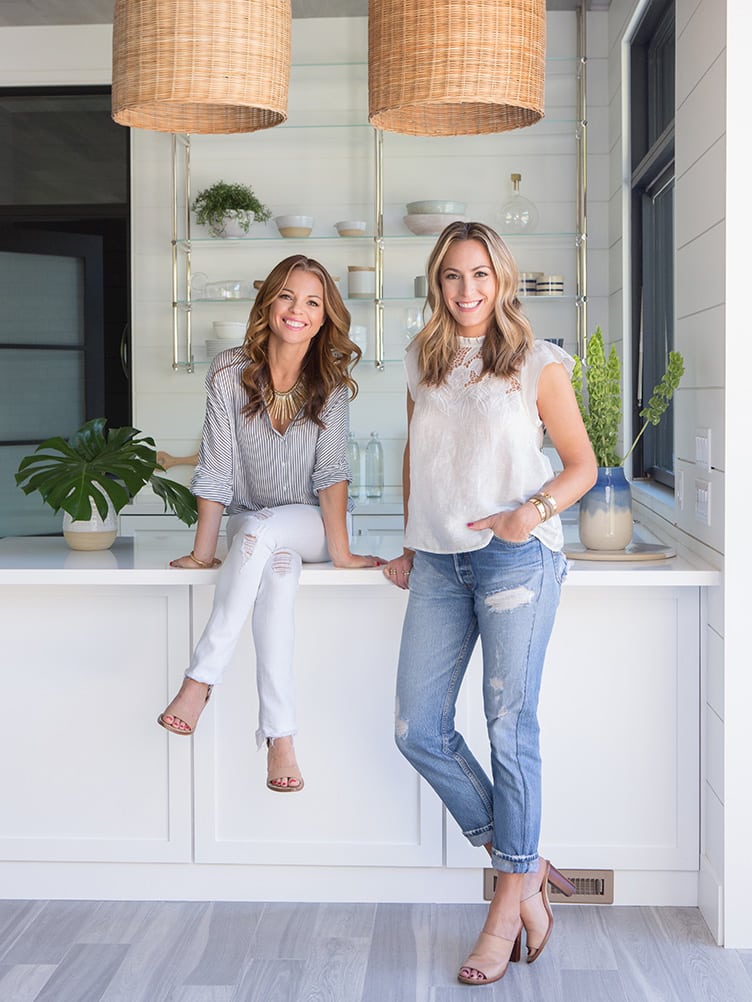 What do you love about shopping on Chairish?
There is such a good and versatile selection on Chairish, and we can find something that works for any project!
Is there any particular category where Chairish is your go-to?
Accent chairs for sure!
Favorite three items on Chairish right now?
Marcel Breuer Cane Arm Chairs, Jo Hammerborg for Fog & Mørup Desk Lamp, Italian Zanuso Style Chairs
Design
Favorite thing about designing with vintage pieces:
We love using vintage pieces when we can because they add a timeless character to a space that just can't be achieved with a brand new item.
Favorite way to add drama to a room:
Decorative lighting can really set the mood and add drama to a space. We often work with local designers to try and create something unique that creates a true "wow" factor. We work with fixtures that are anywhere from minimal, transitional, traditional, and so forth.
Favorite source for design inspiration:
Instagram and Pinterest are our go-to sources for inspo!
Favorite paint color:
Too hard to choose!  For a classic white we typically go with Benjamin Moore's White Heron or Farrow & Ball's All White.
Favorite pattern (and how you love to use):
We probably use some variation of stripes the most. They can be used in all different sizes, vertical or horizontal, paneling on walls, fabrics, rugs, etc.
Favorite design rule to break:
Mixing metals!  It depends on the space of course, but we love to mix various metals to create a more custom and interesting look.
Favorite color combo:
We love playing with neutral tones in different materials to give a space depth and texture.
Favorite way to mix high and low:
We love mixing high and low throughout a space or room, usually though various vintage finds mixed with art or small accessories, pillows, etc.
Favorite way to work a bit of vintage into a room:
We really love to juxtapose vintage and modern decor into our projects to add a little dynamism to the space. We typically work it in with an accent chair, vintage lighting, accessories, or art. A few key vintage pieces can make a home much more interesting.
Can you share with us any big projects you're working on in 2018?
There are some fun projects in our pipeline. We are working with clients within Los Angeles, but also in new and exciting destinations: Sun Valley, the Bahamas, and Cabo. In L.A., however, we just wrapped up a dermatology boutique that is located in WeHo as well as Pasadena, and another exciting commercial space in the new Caruso development in the Pacific Palisades.
Lifestyle
Favorite travel destination:
San Miguel de Allende in Mexico is one of our favorites by far! We go there for shopping and sourcing trips, and even more than that, we find so much inspiration from the city. We highly suggest checking out this one Bohemian house that Rela Gleason and her husband built in the city, it is spectacular! You can find the article on Elle Decor.
Favorite hotel to check in to:
We recently stayed at The Whitby Hotel in NYC, which was so charming, and every detail was considered.
Favorite weekend activity:
Taking advantage of our many beaches and getting outside.
Favorite app:
We probably use Instagram the most.  It's a great way to share our work, and get inspired by other artists, architects, designers and travel.
Favorite morning beverage (and how you each take it):
Every morning before my kids wake up, I go downstairs to attempt to answer as many emails as I can while I enjoy a cup of coffee with milk. This time for me is the calm before the storm! – Shannon
I try to start my day with a cup of warm lemon water and then move right into coffee!  The coffee has needed to get stronger and stronger these days! – Brittany
Favorite way to treat yourselves:
Our days are absolutely insane. Meditation is a great way to calm down in the middle of the day or after a long work day, so we usually head to Unplug Meditation. Another way we often treat ourselves is going to Facile, a dermatology boutique we designed located in West Hollywood and Pasadena. Or to another hidden gem, Tomoko Spa on Beverly Drive.
Favorite thank you/hostess gift:
Often we get Tomoko gift cards for our friends as a relaxing thank you gift. Other than that, we also just discovered these stunning cookies by Lori A. Stern. She uses delicious shortbread and tops them with real flowers. They are not only beautiful, but also to die for!
Favorite adult beverage:
Champagne is always a great go-to drink of choice.
Favorite saying/quote:
"Never take 'No' for an answer."
Favorite entertaining essential:
A good bar! Any party is made better with a good cocktail.
Favorite artist:
Alexander Calder.
Favorite TV show:
The Crown.
Favorite thing to collect:
Vintage stemware.
Local Favorites: Los Angeles
Favorite restaurant:
Jon & Vinny's is such a great restaurant. The food is amazing but the decor is also simple, relaxed and a must-see.
Favorite hotel to recommend to visiting friends:
The NoMad is currently one of our favorites. It is a beautifully designed building in the heart of Downtown and mimics the original Italianate NoMad Hotel in New York City.
Favorite local culture hub:
DTLA is a great destination to visit. There are so many different styles of architecture and design, as well as things to do in such a concentrated area of the city.
Favorite local attraction:
Seeing a show at the Hollywood Bowl!  Can't beat that venue on a hot summer night.
Favorite local flea market/vintage hunting ground:
From the Rose Bowl Flea Market, one of the most famous in the world, to the Melrose Trading Post, Los Angeles is full of great local markets and vintage hunting grounds.
Lead Photo by Stephen Busken