The founder of Apartment 48 Interior Design, Rayman Boozer is known for his bold use of patterns and color. His work has appeared in all the major magazines — Architectural Digest, Vogue, House Beautiful — and he's also been named to the prestigious Elle Decor A-List. Most recently, he designed a bedroom in the inaugural Galerie House Of Art And Design in Sag Harbor (and featured a selection of Chairish seating as part of it, mind you!).
We spoke with Rayman about his favorite pattern combinations, his passion for fashion, and the colors he thinks you'll be seeing everywhere next. See what he had to say, and be sure to shop his expertly curated selection of Chairish favorites as well.
First and foremost, how would you describe your personal style? How does it come into play in the projects you work on?
I always set out to tell a story with my work. My personal passions — travel, film, and fashion — interact to create the contours of my designs. I appreciate bohemian ideas and vibrant colors, and above everything, always strive for an optimistic finished product.
You're known for your expertise in working with color and pattern. How did you find this love of color, and what are some of your favorite choices?
My love of color grew out of my love of fashion. My color inspiration is often directly tied to a new outfit I see on the street or in a magazine. Some favorite combinations include navy and hot pink, and red and pink. While not your traditional pairings of complementary hues, these combinations provide a unique twist on popular colors.
What are some trends right now in terms of popular colors? What do you think is coming next?
Color palette sets a tone for a room, and particularly in your home, it sheds light on your personality. I see a trend towards deeper, rich hues: spruce green kitchens and obsidian den walls and accents.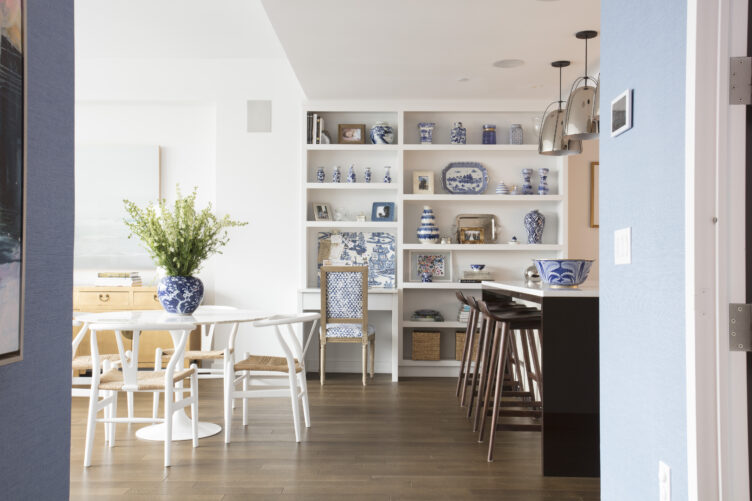 How do you mix patterns effectively? How can people do this without making a room look busy or distracting?
One way to easily mix patterns is to maintain a common color thread. And while it's not a science, for every two or three prominent patterns make sure to layer in a solid for a little breathing room.
You tend to favor contemporary furnishings — why do you think you're drawn more to them? Would you ever work on a traditional space?
I actually love the history and character imbued within traditional furnishings, but never want to live in the past. My projects often blend newer products and furnishings alongside classic design features.
You've done many different types of projects, from summer homes to lofts and even corporate spaces. Which is your favorite type of project or space?
My favorite projects are the ones where I'm allowed to be the most creative! Both residential and commercial projects include creative limitations; clients who fully buy into my ideas make me the happiest.
On Chairish & Vintage Pieces…
What do you find most compelling about Chairish?
I think the range of products and pricing is incredibly unique. I love finding something vintage and adding a new coat of paint or reupholstering with a contemporary fabric.
Are there any dream vintage/antique "gets" you wish you could have? What's a dream piece for you?
A Mario Bellini Camaleonda Sofa
How do you think vintage/antique pieces contribute to sustainability?
Well, repurposing just makes sense! The carbon footprint of a new furnishing grows year after year and, if you're creative and resourceful, something vintage will make an even bigger impact. I think it's important for all of us to seek out green alternatives in every facet of our lives.
Some Design Favorites…
Favorite way to create a statement-making moment in a room:
Wallpaper — the wilder the better!
Favorite decorating "cheap thrill":
Framing photos clipped from books, especially photography.
Favorite iconic piece of vintage design:
Favorite paint color:
Windmill Wings (2067-60) by Benjamin Moore
Favorite piece of decor in your home:
Clarence House covered sofas
Favorite designer or artist from the past you most often turn to for inspiration:
Favorite style icon:
Diana Ross
Design destination every creative should visit at least once:
Paris and Morocco
Best piece of career advice you've ever received:
Everyone makes mistakes…
Some Lifestyle Favorites…
Favorite vacation destination (the next time travel becomes an option):
The Amalfi Coast
Favorite hotel that's inspired your work while traveling:
Favorite restaurant:
Favorite small museum:
Favorite podcast:
Favorite Instagram accounts to follow:
Favorite hostess (or thank you) gift:
The 4 Agreements by Don Miguel Ruiz
Favorite flower:
Dahlias
Favorite adult beverage:
Vodka Up with plenty of olives
Favorite way to unwind at home:
A game night
Favorite entertaining essential:
You can never have too much ice!
Lead image by Manuel Rodriguez