What better way to kick off the New Year than spending an afternoon with inspiring designers and creative heavy-hitters? That's exactly what Chairish's Anna Brockway and MyDomaine's Editorial Director, Sacha Strebe thought when they decided to co-host a luncheon celebrating L.A.'s amazing design talent. Take a peek inside this intimate event and score some of Sacha's tips for how to entertain like a seasoned pro. Plus, don't miss Sacha's curated collection of picks, perfect for designing a home that's seriously feature-worthy.
The Theme
The design scene in Los Angeles is definitely hitting its stride, and as an L.A.-based editor, Sacha has a front row seat. "We have a thriving fashion and interior industry and any chance I get to promote and celebrate these creative talents is a welcome one," she said of the luncheon's inspiration. "These L.A. born and bred brands and designers are killing it. It's an exciting time for Los Angeles design and I can't wait to see it continue to be heralded and recognized." In the spirit of recognition, Chairish gifted each guest a custom "Viva La Vintage" bomber jacket. "I'll be rocking mine to the Rose Bowl," says Sacha.
The Table
Sacha's personal style was the perfect inspiration for the table décor. "I only wear black clothing (yes, finding clothes in my inky-hued filled wardrobe each day is challenging) so I wanted a table-setting that complemented my dress code and the theme of my Chairish curation," says Sacha. "Instead of black, which feels a little too stark in an L.A. winter, we chose soft dove gray linens for the tablecloth and napkins. The green and white floral arrangements provided by Moon Canyon Design added a touch of color and freshness."
The Guests
L.A. design luminaries ranging from Peter Dunham, Martha Mulholland, and Emily Henderson, to digital doyenne's like Victoria Smith of SF Girl By Bay and Jaime Derringer of Design Milk, joined in the afternoon's festivities. Sacha's favorite moment from the event? "When we all donned our "Viva La Vintage" bomber jackets for a group photo," she says. "It was so inspiring to be surrounded by all of these talented women who are leaders in their field. The conversations will be cherished."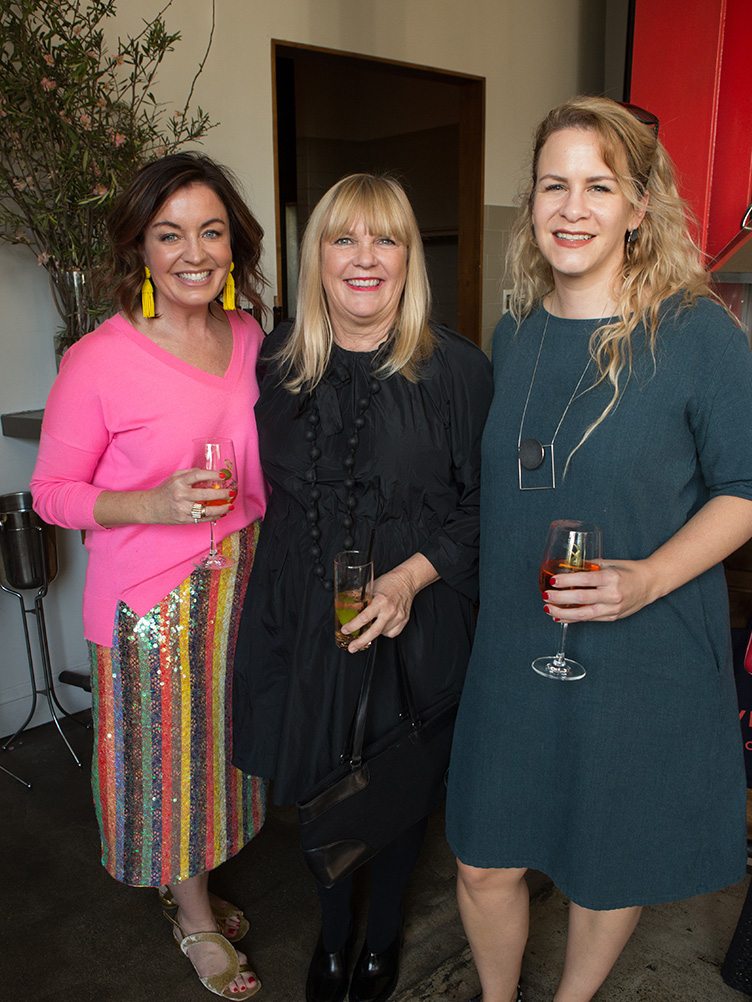 The Food & Drinks
West Hollywood's SPARTINA played host to this amazing group, and goodies like grilled avocados, pizza Margherita, and salad nicoise were served, along with the afternoon's cocktail du jour, an Aperol spritz. "I loved the deep fried feta cheese with crispy brussel sprouts," says Sacha. "So unexpected."
Sacha's Top Entertaining Tips
1. To make a restaurant party feel personal…
Choose the right restaurant to host it at! Since you don't have the warm, welcoming energy of your own home, you need to find a space that mimics that. You'll know as soon as you walk in if it exudes that sentiment or not. It also helps if you're a regular at that restaurant because you'll already know the staff or owner well and this camaraderie will add that intimate ingredient and friendly atmosphere you need.
2. When it comes to setting a standout table…
Linens are definitely my go-to. I love the organic texture and slightly unkempt look of the natural fiber. Since linen can get expensive, take a look on Etsy to purchase the fabric or find affordable handmade tablecloths or go to a fabric store and buy a few yards. I like to leave the ends unhemmed then throw it through the wash to give it a subtle distressed vibe. If you dress the table up with beautiful flowers, greenery, candles, and dinnerware you'll elevate the look. I love that balance of pretty and rough.
3. For flowers that will wow…
It's all about white and green, or touches of pink in varying subtle shades. I love arrangements that feel like you just picked them out of an English garden. They're really simple and not overly structured. For inspiration on this look, check out The Petal Workshop. They have a great combination of varying florals in similar shades that layer up on top of each other with unexpected greens off to the side and around in uneven patterns that feel fresh and modern.
4. To guarantee a memorable gathering…
Ensure your guest list is an interesting mix of people to diversify the conversation. Curate a playlist that suits all tastes and spans the tone of the evening. You don't want heavy music during the meal for example so people have to talk over the music. And make the effort to speak to every one of your guests, or at least try to. They will all appreciate it even if it is just for a few minutes.
Photography by Stephen Busken