As Editorial Director of the insanely popular lifestyle site MyDomaine, Sacha Strebe makes a point of knowing the latest and greatest of the design world, and as it happens, is a major Chairish fan. "What's not to love," she says. "I have been a huge fan of shopping vintage on Chairish for a long time because I love the variety, from high to low, and iconic to little known designers."
Given her design insider status, we were dying to know what Sacha was currently crushing on, and her answer was clear: monochromatic decorating. "Monochromatic decor is classic and timeless," she says. So how do you make the monochrome look work for you? We asked Sacha to curate a special collection of monochrome picks, and share a few pointers for nailing the impact of a single shade.

SHOP SACHA'S MONOCHROME PICKS >>

What is it about monochromatic decor that you love?
"I have stuck to an all-black wardrobe with hints of white, gray, and neutral for almost a decade now and so naturally, this aesthetic has followed through into my interior choices too. The tonal palette of black and white will be fashionable in clothing and interiors because it doesn't subscribe to trends. It's also a cost-effective choice because you'll never tire of it, and you can have fun with trends by adding small splashes along the way such as an ultra violet throw pillow or wall art. As long as the foundation is fairly neutral, you can add in any color or metal on top and it won't throw off the balance. It keeps everything grounded."
What are your favorite pieces to coordinate for a monochromatic look?

"A vintage designer sofa (I love the clean lines of Danish design either in black leather or an ecru hue), a timeless timber table to add warmth to the color-averse space, and a textured area rug to anchor it all. A hint of metallic always brightens it up a little too, either as a pendant light or in your decorative accents."
Are there rooms that really lend themselves to a monochromatic look?
"I think the bedroom really lends itself well to this because the tonal look really creates a zen-like vibe. Keeping it simple with minimal color also ramps up the dream factor thanks to its calming effect. It's a visual cocoon and that's what we all need at the end of a busy day."
What's your favorite room to see done up in a single color?
"I love a small bathroom in a single color, especially black. If you have a tiny vanity or bathroom in the guest room, ink it out and create a super unique space in a pocket of your house. It will be the talk of the party and I guarantee it'll become your favorite part of the house just because it's different and you had so much fun creating it."
What colors do you see people going monochromatic with?
"I think black will really come back in a big way, and also navy. I am obsessed with this kitchen we shared recently on MyDomaine's Instagram that had navy cabinets. I can see this tone being adopted with hints of metallic in the hardware to bring it to life. I really think this is an edgy look, but it also has subtle farmhouse vibes, especially with the industrial-esque farmhouse pendant lights. It's all about what you style it with and the accessories you use to really dress it up."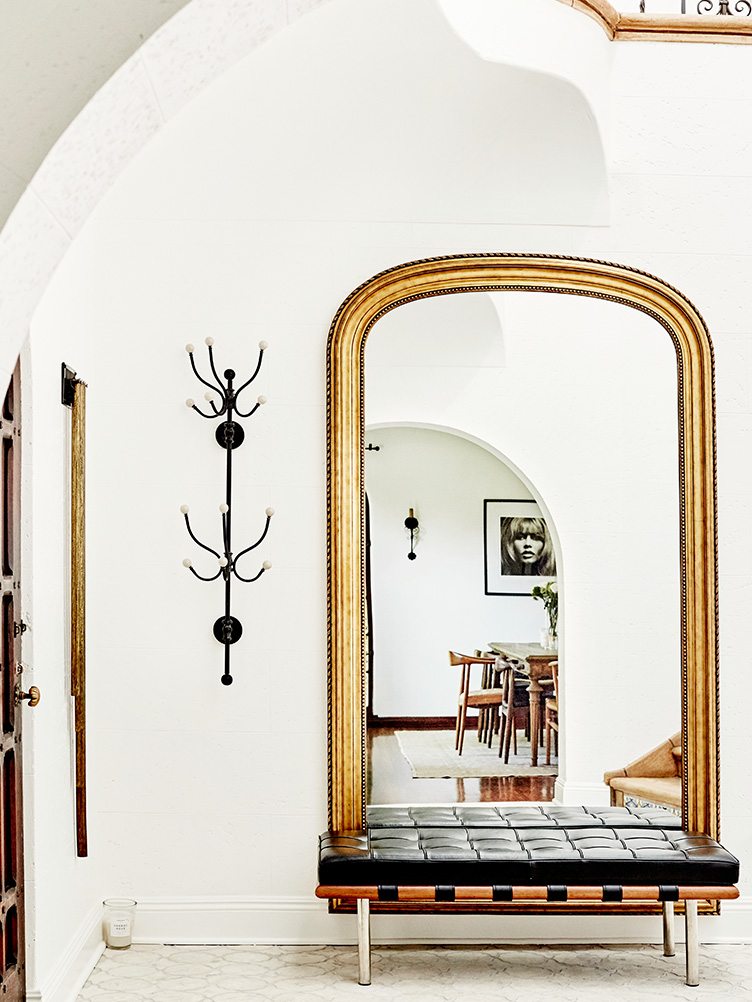 What designers have the monochromatic look down?

"Kelly Wearstler
 is the queen of monochromatic style. It may be devoid of color, but Wearstler really knows how to inject beauty and warmth with her styling so it feels vibrant and livable. Australian Style Director at Large for Belle Magazine, 
Steve Cordony
 has also really perfected the art of this tonal look."
What are some beautiful monochromatic spaces people can check out to get their decorating juices flowing?

"
Kelly Wearstler's Malibu home
 is a dreamy example of this style. It's a lesson in layering varying neutral tones on top of each other for a truly sumptuous interior. French architect, Joseph Dirand encapsulates this look. 
This Paris apartment
 he designed is one of my all-time favorites. 
Jean-Louis Deniot
 also has a handle on the style. And I LOVE 
Leanne Ford
's work. 
Her home
 is a great example, and I love her use of vintage furniture and timber throughout to add warmth. She is truly a master of the all-white interior."
What social feeds are you loving for monochromatic inspiration?
"I love Brady Tolbert, prop stylist and editorial director of Emily Henderson Design's Instagram. It's visually so beautiful and always full of monochromatic or mono-inspired looks. I also love visiting the real estate site, Fantastic Frank with homes from Stockholm and Germany that are all in the mono, minimal style. Felix Forest is one of my favorite interior photographers based in Australia and his work is always monochromatic-leaning. I love the interiors section on Oracle Fox too. Super inspiring spaces from around the world. And of course, Leanne Ford Interiors."
Lead photo by Jenna Peffley