For Lexington, Kentucky interior designer Matthew Carter, approaching interiors from a place of tradition doesn't mean turning a blind eye to the neoteric. Rather, Matthew Carter's interiors are a blend of historical and modern-day influences, resulting in rooms that feel vibrant, sophisticated, and above all, just the right amount of eccentric. If that combo gets your antennae up, you'll fall hard for Matthew's projects, each of which deftly factor in an element of place, be it Palm Beach, Napa, the Bahamas, or his home state of Kentucky. To go along with Matthew's curation of his Chairish favorites, we asked him to share a bit more about his design process, including the go-with-everything fabric patterns he can't get enough of and his favorite place to gather inspiration after a hard day's work.
SHOP MATTHEW CARTER'S CHAIRISH FAVORITES >>
Design
What do you love about shopping on Chairish?
The diversity of styles and the ease of using the site. Chairish really makes buying antiques and vintage furniture from across the country extremely user-friendly.
Is there any particular product category where Chairish is your go-to?
I seem to gravitate toward chairs, lamps, and tables.
Favorite thing about designing with vintage pieces:
My favorite thing about designing a room using things with age is that it doesn't look like it was just "installed." Regardless of style, I love rooms that look collected over time—not like the decorator just left. Old and vintage things give a room a sense of character that a room full of new furniture just can't achieve, regardless of cost.
Favorite way to add drama to a room:
Contrast in both texture, color, high/low objects, etc. For example, silk taffeta with linen velvet; sisal with lacquer; an amazing antique rug with simple curtains. Also, dark walls with a more intense robin's egg blue on the ceiling. I've always felt there is a way to combine these things so it looks like it has always been there to some extent and has staying power.
Favorite source for design inspiration:
Most definitely travel. It's amazing how getting out of your comfort zone can awaken your senses.
Favorite paint color:
Dark brown. Specifically, Fine Paints of Europe E25-30 and Benjamin Moore's Classic Brown.
Favorite pattern (and how you love to use it):
Anything slightly ethnic, in a not so obvious kind of way. My personal favorite is Fortuny's Tapa with Stripe in any color. Robert Kime's Indian Pear is up there too. I love that you can mix them with anything: hand-blocked linen florals, chintz, or simple cotton or linen.
Favorite design rule to break:
Honestly, I've always been instinct driven and have never given a second thought to many rules. If I had to choose one thing, I would say scale. I think a lot of people try to make things too "appropriate" in terms of scale. The biggest impact can come when things are slightly over-scale or slightly under-scale.
Favorite color combo:
I love mixing a pale shell pink with just about any color. It does wonders for a ceiling.
Favorite way to mix high and low:
I love natural materials like cane, rattan, sisal, etc., and always appreciate how they can instantly calm a room. The idea of mixing great antique furniture atop an abaca rug and maybe a simple rattan lamp with a cork shade sitting on a walnut commode. This just always works.
Favorite way to work a bit of vintage into a room:
Any room, from a simple farm house to a 5th Avenue living room, benefits from vintage elements being thrown into the mix. Lighting is a great way to do it: A cool over-scale vintage chandelier, a few Mid-Century lamps with beautiful Ikat lampshades, or a painted vintage chair is always a good start.
Can you share with us any big projects you're working on in 2019?
A wonderful Frederick Morgan house in Louisville, an old historic house in San Antonio, Texas, a house in Charleston, South Carolina, a house on Mill Pond in Chatham, Massachusetts and a handful of horse farms in Kentucky.
You live in Kentucky but design for clients around the country. Is there a particular aesthetic that you're known for, or that clients request?
I like to think that I am somewhat of a chameleon for my clients. I try to make sure everything has a sense of permanence. I'm really not interested in the latest and greatest trend. While Kentucky definitely has a sense of tradition and manners that probably does inform my work, I always like to interject a bit of modern into the rooms, in one way or another. I also do a lot of work in the Bahamas, Texas, California, Cape Cod. It's all different and it's what I love about my career. I'm not sure my work would be as interesting if everything were here in Kentucky.
Lifestyle
Favorite travel destination to relax:
We have a house on Harbour Island in the Bahamas. It's like a refresh button for me.
Favorite travel destination for design inspiration:
I'm not sure I can narrow it down, but my tops have been Cambodia, Vietnam, Istanbul and the Amalfi Coast for different reasons.
Favorite hotel to check in to:
The Raffles Grand D'Angkor in Siem Reap, The Mandarin Oriental in Bangkok, and the Belmond Hotel Caruso in Ravello, Italy.
Favorite morning beverage (and how you take it):
A lavender syrup latte from Lussi Brown coffee bar in Lexington.
Favorite thank you/hostess gift:
A candle from Astier de Villate.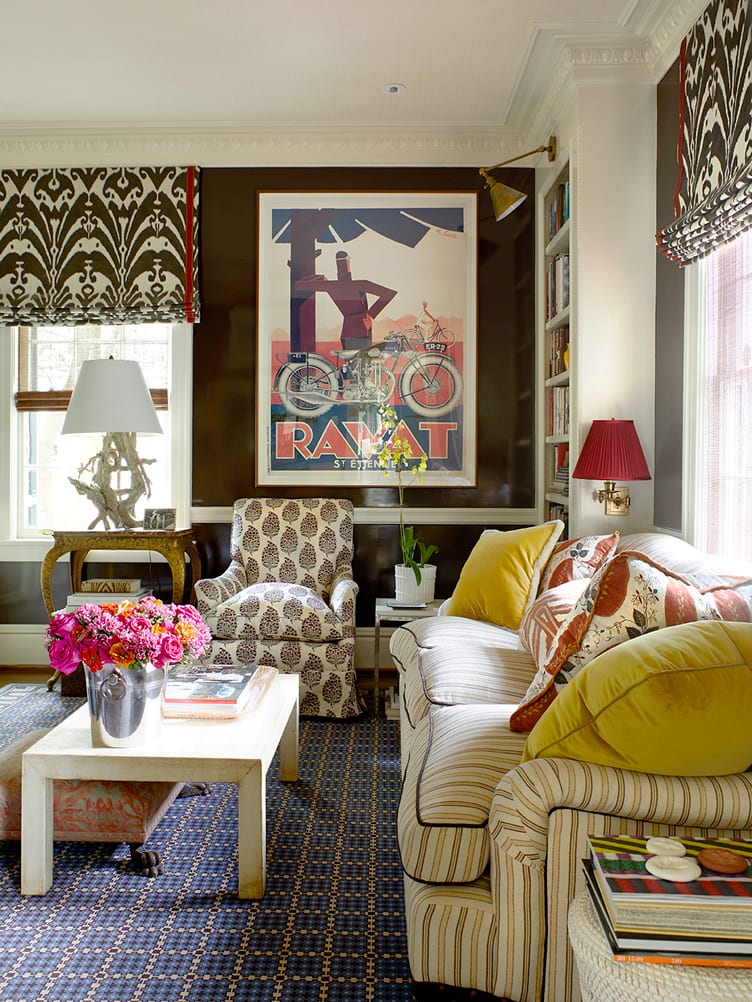 Shop Matthew Carter's Favorites
Favorite adult beverage:
An Old Fashioned or a Rum Dum in the Bahamas.
Favorite entertaining essential:
Colorful guests.
Favorite artist:
Claude Grosperrin at the moment.
Favorite thing to collect:
I have a thing for old baskets. Bahamian, Appalachian or European. I love the warmth they always seem to add to a space.
Your City: Lexington, KY
Favorite restaurant:
Dudley's on Short.
Favorite hotel to recommend to visiting friends:
21C Museum Hotel.
Favorite local culture hub:
The bourbon industry and distilleries
Favorite local attraction:
Keeneland Racecourse.
Favorite local flea market/vintage hunting ground:
Scout Antique & Modern.
Lead photo Maura McEvoy