One look at the home office Kari McIntosh designed for this year's San Francisco Decorator Showcase and it's clear that she's not afraid to be bold. And while her designs are unique and have a good dose of the whimsical, Kari never loses sight of functionality. "I always begin with an idea about function and layout of a space, and think about a strong visual starting point." Queue that striking blue and white textile print wallpaper.
Learn more about Kari's inspiration for the room, how she designs in the digital age, and her tips on designing your own home office to increase productivity while adding a bit of zen to your life.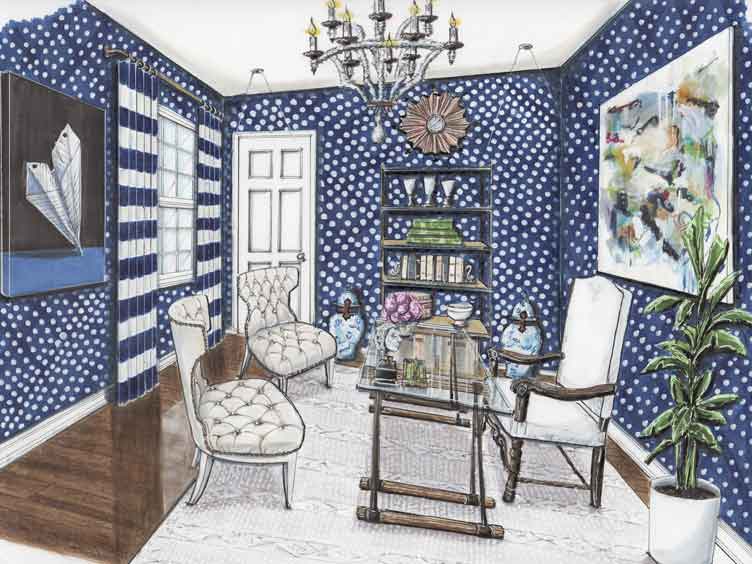 The Inspiration
When Kari learned that the home would be for a family with eight children, she drew on her own experiences as a mother to lead her design. "My mind immediately went to the logistical difficulty of coordinating so many schedules, balancing personal life, and professional pursuits." Playing with the idea of harmony and juxtaposition, she wanted to provide a place where the woman of the house could attempt to balance everything. Contrasts like light and dark, playful and serious, old and new, also play into Kari's design.
The Wallpaper
Kari had been eyeing this "Indigo Dots" wallpaper from St. Frank Textiles for some time, and was waiting for the right project to utilize it. "I featured all local companies in my Showcase space. St. Frank partners with artisans around the world to create their fabrics." Their wallpapers are based on fabric designs and this pattern was hand-crafted by an artisan in Mali. For Kari, the handmade textile the wallpaper draws from provides a wonderful energy. "Even though it's visually stimulating, there is something quite peaceful about it as well."
Shop Kari's Office Collection
The Details
Not one to shy away from strong visuals, Kari chose a contemporary painting of a paper airplane to add playful nostalgia to the space. Kari worked with Simon Breitbard Fine Arts in San Francisco to find the painting, created by photo surrealist and local artist Jeanne Vadeboncoeur. "When I saw that the title of the piece was The Balancing Point, I felt it was serendipity and instantly knew I had to feature this work in my Showcase design."
The Furnishings
In the age of digital storage, home offices have more opportunities to marry form and function. While the space necessitates productivity, there's no reason it can't also be beautiful. Gone are the days of filing cabinets, replaced with baskets and bins that add a decorative touch. "The result is an organized and aesthetically pleasing space to inspire great work," says Kari.
Shop Kari's Office Collection
5 Tips to Help Your Home Office Work It
Kari shared her top five tips to designing the optimal home office, where a good dose of personal touches balance functional needs to create an ideal work oasis.
1. Room With a View
"Give yourself a gorgeous view (whether it is out a window or of a beautiful piece of art), and surround yourself with individualistic accessories so you don't feel like you are in a corporate space."
2. Light It Up
"When choosing light for your home office, always layer light. I enjoy light from overhead, table lamps, and task lamps. Put all lighting on a dimmer switch so you can adjust throughout the day and night and specific to your individual tasks."
3. Pick a Smart Seat
"If you're debating between a task chair versus something more decorative, it's important to think about the type of work that you are doing in your office and for how long. If you envision working from home for blocks of hours with repetitive arm motions it is important to consider an ergonomic chair and possibly consulting with an ergonomic specialist on the best fit for you. If this is your home office where you will mostly be paying bills and researching on your computer then I always opt for a beautiful chair with character."
4. Think Beyond the Desk
"As long as your desk is an appropriate height for you to sit at, the sky's the limit in what you consider – whether it is a traditional desk or a beautiful table originally meant for something else."
5. Marry Form and Function
"Make sure that the objects in your office are beautiful yet functional. The more beautiful the space, the more time you will want to spend in your office, and your productivity will increase! Add plants and fresh flowers that elevate the aesthetics, and bring the outdoors in. Personalized art is also sure to elevate the room!"
SHOP KARI'S OFFICE COLLECTION >> 
Photos by David Duncan Livingston, courtesy Kari McIntosh