Tara Mangini and Percy Bright of Jersey Ice Cream Co. have an effortlessly cool vibe that's evident in the unfussy yet curated spaces they create. Think Pin-worthy without trying to be Pin-worthy. The duo founded their design firm in 2010 out of a shared love of vintage, found objects. "Neither one of us went to school for interior design. We each spent some time in advertising and graphic design before finding our way to interior design through a mutual love of flea markets, plaster wall finishes, and historic preservation." With their signature use of textured plaster walls and reclaimed wood furniture, they've nailed the Hudson Valley, upstate farmhouse look – but with a hint of Brooklyn. 
SHOP JERSEY ICE CREAM CO.'s PICKS >>
To achieve that highly coveted, lived-in look, the duo literally move in. A version of method acting for design, Tara and Percy spend the length of their projects as modern-day nomads: they sleep on mattresses on the floors of their in-progress houses, and cook their meals in makeshift kitchens. Through their unique design process, they're able to feel where the light hits best in the morning, or find the coziest reading corners. "Living where we work started out of necessity – both to keep costs down and because we often work on pretty isolated vacation homes – but it's turned into a signature of ours," the duo explains.
Here, Tara and Percy give us the lowdown on how they strike that perfect balance between a rustic farmhouse feel and modern-day living, and share their picks for getting the look.
Lesson No. 1: Find the Perfect Farm Table
According to Jersey Ice Cream Co., the key piece for creating that farmhouse feel is "a long wood dining table for big dinners that spill late into the night." Tara and Percy are all about versatile, welcoming spaces that beg for larger gatherings with family and friends, but that also lend themselves to working or enjoying a solo cup of coffee. The farm table is the perfect, unfussy blank canvas. 
Lesson No. 2: Incorporate Vintage
"Vintage pieces instantly add layers of history and character, and a unique quality that you just don't get from new, store-bought pieces," says the duo. Look for the vintage and antique finds that immediately jump out, but also dig for those subtler treasures that can help elevate your entertaining game or magically invigorate an old leather chair. "We're always searching for the tiny details that will complete a look," says Percy. "Tara is a perpetual sucker for throw pillows, dishtowels, cupcake accessories and vintage ramekins. I love an amazing brass tray or shoe horn."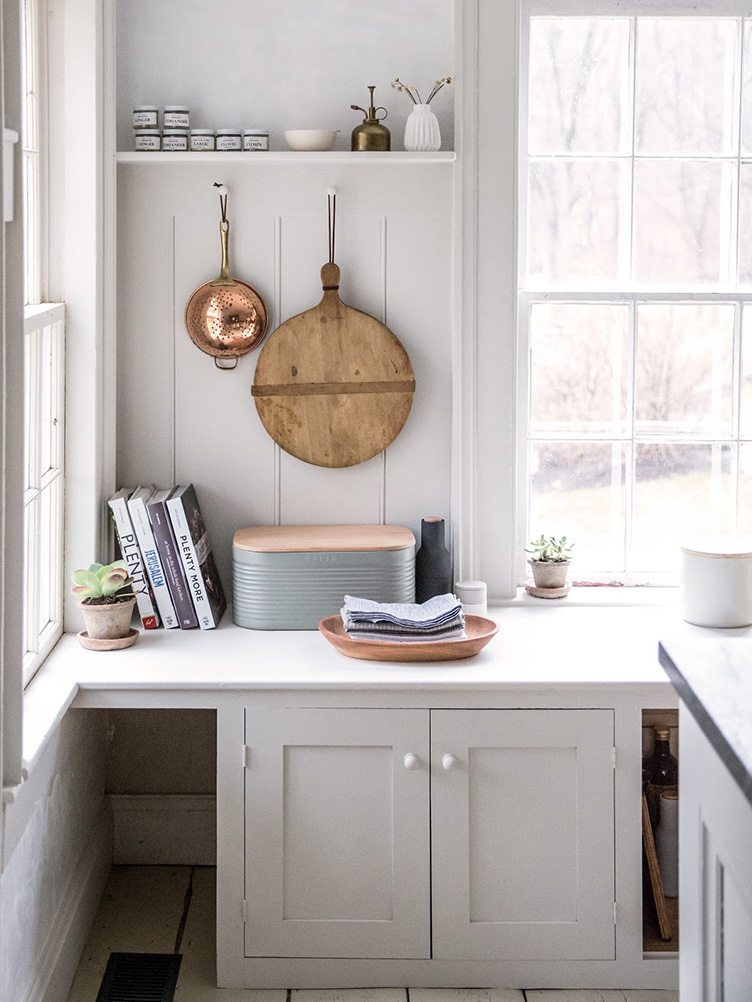 Lesson No. 3: Display Your Finds with Open Shelving
"We always gravitate toward the kitchen. We spend the most time there and, because of that, always put more thought into designing the kitchen than any other room," says the duo. Tara and Percy are big on open shelving. "To be honest, we just don't usually like how wall cabinets look," admits the designers, who often use beadboard and a Shaker peg rail or two to dress up simple shelves. To bring their look home, try displaying rather than storing cutting boards and copper cookware, and fill open shelving with stacks of simple whiteware, everyday clear glasses, and a carefully chosen sprinkling of ceramics in subtle, soothing hues. 
Lesson No. 4: Opt for Traditional Design Elements
Jersey Ice Cream Co. has a knack for honoring the character of the homes they work on, retaining details like original beams and paned windows, while adding modern conveniences that make their spaces feel decidedly now. For instance, in the the bathrooms they design, "We try to avoid glass partitions, brand new sinks and tubs, and super trendy tile designs," instead opting for classics like subway tile and vintage clawfoot tubs. When brand-new features, such as fixtures, are needed, they suggest using vintage-inspired options to retain that historical feel. "We're big fans of quality faucets in traditional designs from Waterworks and Lefroy Brooks."
Lesson No. 5: More Texture, Less Color
Plaster walls have become something of a calling card for Tara and Percy, but the texture doesn't stop there. Weathered wood furniture and door details are combined with nubby throws and pillows to create a layered look that's soothing but still boasts tons of visual interest. Using a neutral palette is what gives the duo so much room to experiment with texture. "Some rooms come together quickly–maybe we even know where each thing will go before we begin installing – but other rooms take time and hours of experimentation to achieve a rich layered look that feels right."

LOVE THE FARMHOUSE LOOK? 
SHOP JERSEY ICE CREAM CO.'s PICKS >>
Photos courtesy of Jersey Ice Cream Co.