Gillian Bryce Fine Art may very well be the biggest gallery name you've never heard of.  But for those in the know, it is synonymous with an exquisitely curated collection of 20th century modern art. The gallery's namesake and founder, Gillian Bryce, purchased her first piece of art with after-school job money while still in high school, "I wanted it so badly they let me put it on layaway," and it didn't take long for her collection to outgrow her wall space. She started selling pieces in order to keep acquiring. Fast forward to 2018 and this Atlanta-based gallery has become a haven for designers, such as Kelly Wearstler, looking to source the unique and striking. Gillian's strategy for procurement is simple: "If in the first few moments of seeing something I don't have a favorable response to a piece of art, then I pass," she says.  This intuitive approach has earned her a reputation for spotting the artwork everyone will want. "Buying art to me is intuitive and almost spiritual. I not only see it, I feel it."
Luckily, this art world pro agreed to school us on everything from how to display art, to collecting tips. So whether you're a newbie collector or in need of a gallery wall refresh, read on for a mini masterclass
Shop Gillian Bryce Fine Art
1. Know What's Trending (Or Don't)
Gillian's predictions for art this year? "Trends have steadily gone more and more modern with the 1980s making a huge comeback (to a lot of people's dismay). Pieces like Memphis Group-inspired design is super hot and hard to come by right now."  And say buh-bye to soft neutrals. "Hard edge paintings, color blocking, and graphic shapes in art and design are huge. Modern sculptures and blobby shapes are a staple now as well" she says. If none of these trends strikes your fancy, that's fine too. Gillian's advice for those looking to start a collection is simple: "Always buy what you love and from there you get a sense of your personal style.  You're the one that has to live with it so just buy what speaks to you."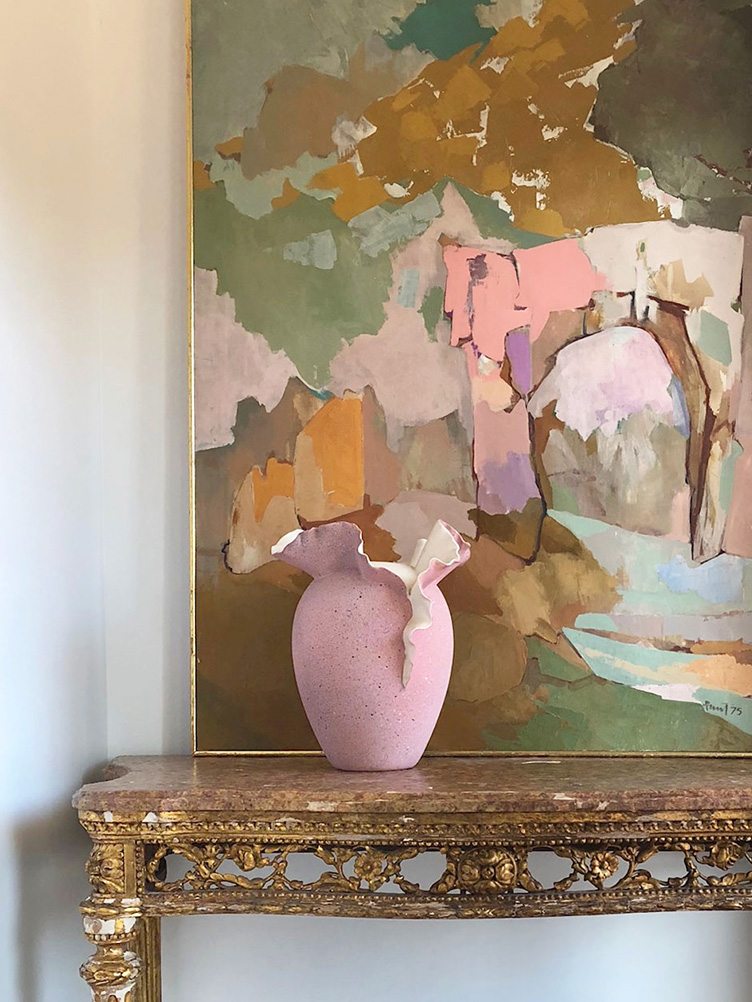 2. Where To Find Your Ideal Art
Gillian leaves no stone unturned when it comes to finding new works.  Her approach to sourcing incredible art? Look everywhere! "I go to art shows, estate sales and flea markets.  I'll also look online at auction sites and even Instagram for contemporary artists. I am looking literally 24 hours a day. Also Chairish is one of my favorite places to find good modern art." (We promise we didn't ask her to say that!) The work of designers can also be a great resources for discovering art you love. Gillian's favorite? "Kelly Wearstler. She used a lot of pieces from my gallery in the San Francisco Proper Hotel and did gallery walls where she hung pedestals on the wall. I love that she thinks outside of the box with art. Her sense of scale is off the charts and she makes every item count." Other favorites include the duo behind Cloth & Kind and Kati Curtis.
Shop Gillian Bryce Fine Art
 3. How To Navigate Money Matters
Art purchases don't need to be scary! "I always tell my clients to feel free to consult me on any purchases even if they aren't from me. Ask people who are collectors or dealers just what their thoughts are." Or if you prefer some good old fashioned research, "you can always check auction records on the artist and past sales results to get some basis for value." But Gillian's golden rule? "Remember art is always worth what someone will pay so you may find that bargain or you may find that piece that you're willing to pay more for." And if you find a Matisse on eBay for $300? "I stay away from top-tier artists like Picasso or Dali because there are so many fakes out there. If it seems too good to be true, it probably is," she cautions.
Gillian's 5 Tips for Displaying Art Like a Pro:
"Throw out the rules and be creative. Have fun with it; found objects and children's artwork can be the most compelling in a collection. Think about things that you don't even necessarily think are art."

"

Create a gallery wall and display pieces you've chosen over time. Unite them with the same style or color frames and you really can't go wrong."

"Art is not only for the walls. Find some easels and pedestals to display paintings and sculpture around your home. Risers, plinths and small easels work well to display art and sculpture on table tops."

"If you don't trust yourself to get a gallery wall right the first time, use brown paper to cut out a silhouette of the pieces you would like to hang and tape them to the wall with painters tape. This way you can move them around until you find an arrangement you love. And you don't make a million holes in your wall!"

"Think outside of the box to display favorite pieces. I've put bronze sculptures inside lucite shadow boxes and hung artist-made rugs on the wall. Marry a modern painting with an antique frame or put that mini sombrero from your Mexico trip on a bronze bust. Make art with your art!"
Shop Gillian Bryce Fine Art