We have to admit– there is one downside to our #ShopChairishLive Instagram sales. We usually don't get to see what happens to the beautiful pieces that we found + sold after they made it to their new homes. It's a little like shipping off our kid to school and never even getting a phone call! But we noticed from our #FoundAndChairished hashtag that the lovely Kyla Herbes, quite the creative genius, wanted to share her new treasures. Not only is she a fan of our live Instagram sales, she's also an amazing stylist with a great eye. See how she styled her #ShopChairishLive pieces and learn more about how she makes sure to get the items she wants!

1. Please tell us a little about yourself.
My name is Kyla Herbes. By day I'm the Creative Director (in other words, a graphic design slash typography nerd) at a small advertising agency in Chicago. By night, I write a blog called House of Hipsters, an interior design and lifestyle blog-featuring new products, rad spaces and vintage treasures. I live with my husband Thorsten and our two little humans under four feet tall. I love flea markets, Mid-Century Modern furniture, and photobooths. And since people always ask me this, yes, I do own my own photobooth. It weighs about 800 lbs. and lives in my basement, and I love it almost as much and my children. I refurbished it because I thought it would be a really interesting way to document my children's lives. They have their portraits taken in it every couple months. I love photography…it's one of those hobbies that gives me full-body goosebumps. Grabbing my camera daily and just being creative is a passion of mine.
2. How did you hear about our Instagram sale?
I'm an Instagram fanatic and have followed Chairish for quite some time. Sadly, I missed the first sale but saw a preview for the sfgirlbybay sale that particular Saturday morning. It was just one of those random things. My husband was having a manly day with his buddies, and I was watching our kids. I had about 30 minutes to get both kiddos down for rest time before the sale started. I managed to glimpse a peek at the preview pictures and knew this sale was not to be missed. Let's just say I was slightly frantic to get the kids down for nap time so momma could have some online shopping time with Chairish.
3. What's your favorite part about the live Instagram sales?
Well a few things actually. First, Chairish always has fantastic guest bloggers and interior designers featured for these sales. Victoria Smith from sfgirlbybay has an amazing eye. I'm always reading her blog and am familiar with her style. I knew immediately she would have some great finds. By the way, I think I actually cried when I found out I missed the Jen Gotch sale. The treasures she found with her brother from American Garage were a-mazing! I did recently catch the sale with Julia Millay Walsh from Domaine and managed to snap up a super colorful vintage green serape and a fabulous pair of acrylic and white striped table lamps.
Second, there's something about the thrill of the hunt when attending a flea. Not really knowing what your going to find. Possibly not even having a plan. It's just so much fun! Flea markets and estate sales go sort of quiet in the Midwest during the winter months. Don't get me wrong, they're out there, just not as plentiful. With this particular sale being in early winter, I was jonesing for new vintage treasures, and Chairish just happened to save me. You guys really made my day that particular Saturday. Thank you!
Third, sadly I don't have many flea market buddies, nor do I have a lot of time on the weekends these days to dedicate to shopping. I've tried taking the children to flea markets, and it's not always easy for them at their age. They mostly go for the caramel corn and cotton candy. That is unless they see something super rare or fragile. They have this uncanny ability to be able to sniff that sort of stuff out and beeline for it. An Instagram Sale is a way for me to enjoy my hobby and interact with people who have the same interest for a couple hours. I love to congratulate other Instagrammers on the items the scoop up…a high five so to speak. Commenting back and forth. You find a bit of camaraderie. New friends. It's really nice.
4. How did you know you wanted the insect book? What made you style it the way you did?
I saw the insect book in the preview and right away my heart said I had to have it. I loved the hand drawn bee on the front cover. In fact, that little guy is what sold me on the book itself. Had it been another insect, I probably would have passed it by. My guest bedroom has a sort of bee theme with yellow accents. Bees on the duvet and some hand drawn wall art. Nothing overtly bee, just a subtle nod. The artwork on the cover fit perfectly as did the splash of yellow. So it's funny, it wasn't the subject of the book, but rather the cover design that sold it. However, when I got the book and started to flip through it, I found it quite interesting. Victoria commented on Instagram that it was even more beautiful in person, and she was totally right. It's a beautiful book.
As for styling, it sits on top of a vintage locker that has been converted into a shelf (also purchased at a flea market). That top space is sort of awkward. A vase of flowers was too close to the ceiling. The two vintage glass bottles alone didn't ground the space. By adding the book, I achieved the perfect height, and it gave the bottles a foundation.
5. How did you know you wanted the magnifying glass? What made you style it the way you did?
The magnifying glass was just cool. I had never seen one quite like it before; only handheld ones. I like how it's adjustable and industrial looking. Since, most of the metal objects in my home are brass, I knew this piece would fit right in. It was a no brainer for me.
My mother worked in a chemistry lab, and this piece kind of had that whole mad scientist vibe to it. When it arrived on my doorstep, Thorsten said, "Imagine how many ants you could get with that thing!" Do not fear, no ants have been harmed; I promise. I keep it far away from my husband. However, the kids love to look at each other through it. They think it's hilarious when each other's eyes look humongous.
When I typed in #SOLD I didn't have a specific place for it to live, I just knew it was a fantastic and unique item. It bounced around the house for a couple weeks until it found its perfect home on the coffee table. I think that's the main idea when you attend these sales. Buy first, think later. If your gut says yes I love it, snatch that puppy up! It's just like an actual flea market, if you hesitate for a split second, it will be gone. However, I do like it when Chairish gives a sneak peek to the items. It gives me a chance to ask myself, "Hey, do you really need this or are you caught up in the excitement?"
6. What do you plan to do with the pink blanket in your daughter's room? Do you have any pictures of the work in progress?
I don't have any pictures as of yet. We recently converted her crib into a toddler bed. It's a large blanket for a full sized bed, and we really need to wait for her to grow a bit taller before we put her into a bed of that size. She's almost strong enough to hoist herself into her brother's bed, so the time is coming soon. We've been reading Little House On The Prairie before bedtime, and she's very interested in the horse drawn wagons. Even though the blanket is vintage, I think the white wagons on the ombré pink is a modern take on a country look. My plan is to layer this over a duvet, acting like a accent throw at the bottom of her bed.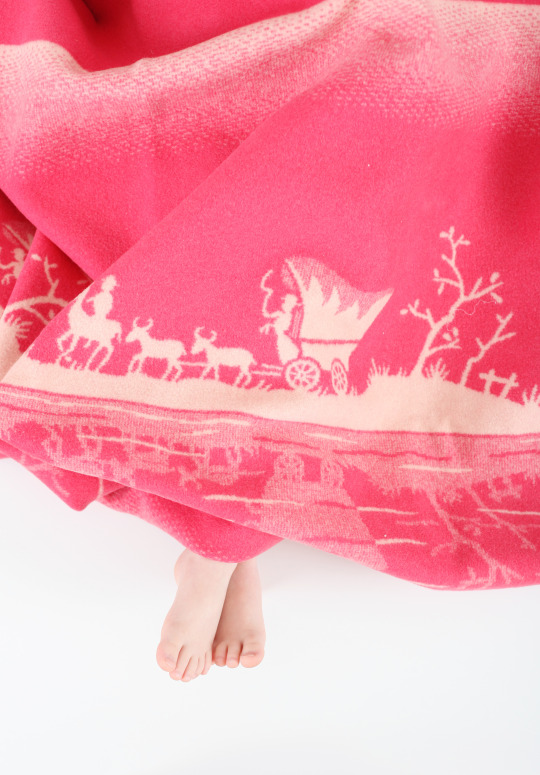 7. Any tips/advice for people on how to get the items you want during the Instagram sales? 😉
Watch for previews, be patient and constantly keep refreshing the Chairish Instagram feed during the sale. If there's anything you really want, don't put your phone down because without a doubt, the one time you do will be the time when the perfect treasure gets away from you. Even if someone ahead of you gets the item, still put your name down as a back up. You never know if they will change their mind. And my best advice, if you refresh and an item pops up in the feed that catches your eye, don't think, just buy. Type in #SOLD as fast as you can.
The best part about doing these Instagram sales is seeing what you all bring to the table, and how inspiring you all are. We are constantly impressed daily by the amazing work we see, and we want to see more! When it comes to this stuff, we're greedy :). Add #FoundAndChairished to your photos of what you bought for a chance to be featured on Chairish!