Flashing back to an era of unbridled glamour, Hollywood Regency style is among the most enduring styles of the 20th Century. Contemporary designers like Kelly Wearstler and Jonathan Adler have long made the style an iconic part of their repertoires, showing off the style's versatility by mixing it with styles as far-flung as Mid-Century Modernism and Brutalism. The glittering era of Hollywood Regency first dawned in the 1930s, coinciding with the wind-down of the Great Depression and the advent of 'talkies' (movies with sound). What transpired next was an epoch of movie stars, fashion, and over-the-top decoration.
A Style Defined by Designers
Punctuated by luxe fabrics, shiny finishes, and opulent decor, the development of Hollywood Regency design yielded not just a lusted-after interior style, but recognition for the designers who worked within the style themselves. Since Hollywood Regency's inception, interior designers like Billy Haines, Dorothy Draper, David Hicks and Billy Baldwin have become synonymous with the style and design icons in their own rights.
DISCOVER HOLLYWOOD REGENCY STYLE >>
EXPLORE HOLLYWOOD REGENCY STYLE
Billy Haines
William "Billy" Haines was among the pioneers of the Hollywood Regency style, having found his way to interior design after being exiled from Hollywood. One of the first openly gay actors, Haines assumed dozens of leading roles in MGM films throughout the 1920s and 1930s until he was faced with the ultimatum of entering a fake marriage for PR purposes, or termination. Fortunately for modern interiors, Haines chose the latter, leaning heavily into this passion for interior decorating. Many of Haines's early clients were friends from his Tinseltown days, including Joan Crawford and Gloria Swanson (not a bad roster for a self-taught decorator). As his career progressed, Haines' style moved away from the stiff, traditional trends of early 20th century and became more playful as he integrated the dramatic elements that were more common of movie sets than ordinary homes.
Dorothy Draper
Dorothy Draper pushed the boundaries of Hollywood Regency. A debutante-turned-designer, Draper is considered by many to be the nation's first professional interior designer. She created a trademark style coined, "Modern Baroque" which incorporated bold pattern, massive scale, and unabashed contrasting color alongside classical architectural elements. She also gained fame from high profile commercial projects—most notably The Greenbrier Hotel in West Virginia. Her maximalist approach injected an adventurous spirit into 20th century decorating.
Billy Baldwin
In contrast to Draper, interior designer Billy Baldwin brought a sense of refinement to the Hollywood Regency style. A fixture in the New York design scene and socialite favorite, Baldwin's signature was a clean aesthetic complemented by rich patterns, slipcovered furniture, and international flair. He also had a well-known love of cotton fabric and comfortable furniture, and made a point to weave these more humble aspects into even the most sophisticated spaces.
David Hicks
Working across the pond was David Hicks, an England-born designer who rose to interior prominence in the 1960s and 1970s. Situated at the tail end of the movement, his lasting contributions to the style were his effortless melange of old, new, abstract, and color. His heavy use trellis patterned fabric and carpeting has since become one of the most-emulated elements of Hollywood Regency design.
The Elements of Hollywood Regency Style
Dorothy Draper said it best: "If it looks right, it is right." Yet that leaves a lot up to interpretation when trying to procure the Hollywood Regency look. Here, we've outlined the must-have traits that any Hollywood Regency enthusiast should consider.
Luxurious Fabric & Finishes
Given that Hollywood Regency style was born on film sets, a cinematic flair is an essential part of the equation. With that in mind, nothing adds drama quite like fabric, which is why no Hollywood Regency interior complete without velvets, silk, suede, and lacquer (i.e. the kinds of pieces you want to reach out and touch).
Worldly Touches
Just as Hollywood Regency was picking up steam, so was world travel. As a result, worldly treasures were commonplace in Hollywood Regency designs. Chinoiserie, palm fronds, and bamboo accents evoke a sense of adventure while also giving a space a collector's touch.
Bold Pattern & Color
Hollywood Regency embraces color and pattern to achieve a visually exciting space. A black and white foundation punctuated with vibrant color and eye-catching prints is a common formula found in Hollywood Regency design, and was a known favorite of Dorothy Draper, who used it on repeat throughout her most iconic project, The Greenbrier.
Classic Furniture
When Billy Haines began designing, he was designing for film star friends who loved to entertain on the regular. To accommodate, he selected furniture that facilitated socializing and accentuated partygoers, including pieces that were low-slung and visually unobtrusive. Seating and tables were also strategically arranged to encourage conversation.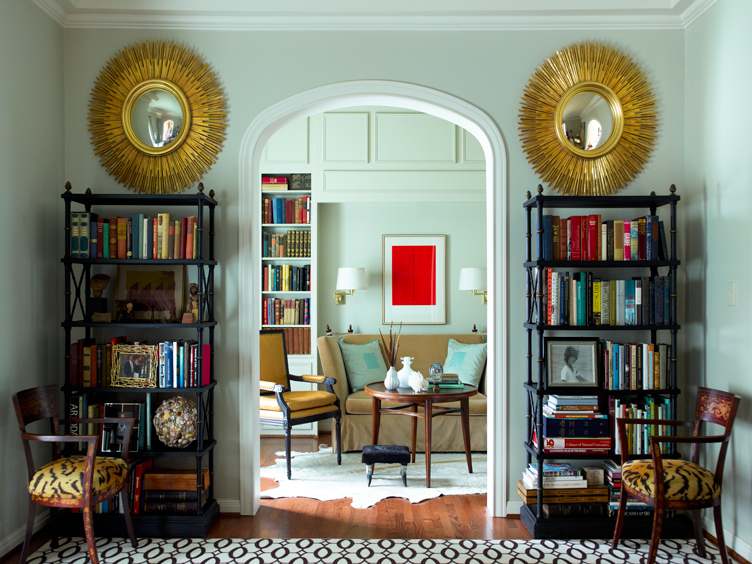 Glam Accessories
Glamorous accents sprinkled throughout should come as no surprise since Hollywood Regency needs a generous dose of glitz to live up to its namesake. There's no blueprint, though. Glamour can take many forms, including mirrored furniture, crystal chandeliers, pops of animal print or fur, metallics, and statement art.
Though it has evolved far beyond its La La Land roots, Hollywood Regency style remains a timeless interior ode to the drama and allure of its birthplace. Its layering of glam finishes, unique pieces, and boldly contrasting palettes is what makes the style both so intriguing and enduring. On paper Hollywood Regency shouldn't work, but it's actually a thoughtfully constructed drama. Remember, it takes restraint, editing, and keen eye to make decadence look this good.
Lead photo by Eric Piasecki / OTTO Archive