Furniture lovers assemble! Whether you count yourself to be a Mid-Century Modern enthusiast or just a casual admirer of the style, the allure of Eames furniture is undeniable. Rainbow colors and attractive shapes? Yes please! Eames furniture tops the charts when it comes to style, function, and durability. As a result, Eames furniture is some of the most iconic in the world (looking at you, Eames Molded Fiberglass Chair!). Want to know more about the design mavericks behind the scenes of Eames? Read on! 
Ray and Charles – The Eames Dream Team
After meeting at the prestigious Cranbrook Academy in Detroit (which has a powerhouse alumni that includes Florence Knoll, Harry Bertoia and more), Charles and Ray Eames were married in 1941. Ever the adventurers, the newlyweds shook up tradition and opted for a road trip-style honeymoon / cross-country move to Los Angeles. Once in California, the duo embarked on exploratory project with their favored medium of the time: molded plywood.
Five years later—and boom!—Ray and Charles struck divine design with their first molded plywood chair. Soon after, the Eames introduced their Molded Fiberglass Shell Chairs, which catapulted to icon status faster than you can say I Dream of Eames. Today, Eames Shell Chairs bedeck airports, hotels, and offices, making them recognizable to even the most newbie of design novices. But the Eames were no one-hit wonders. They followed up the Molded Fiberglass Chair with dozens of other arresting designs, including the Aluminum Group Chair and the easy chair which puts all other easy chairs to shame: the sumptuous Eames Lounger.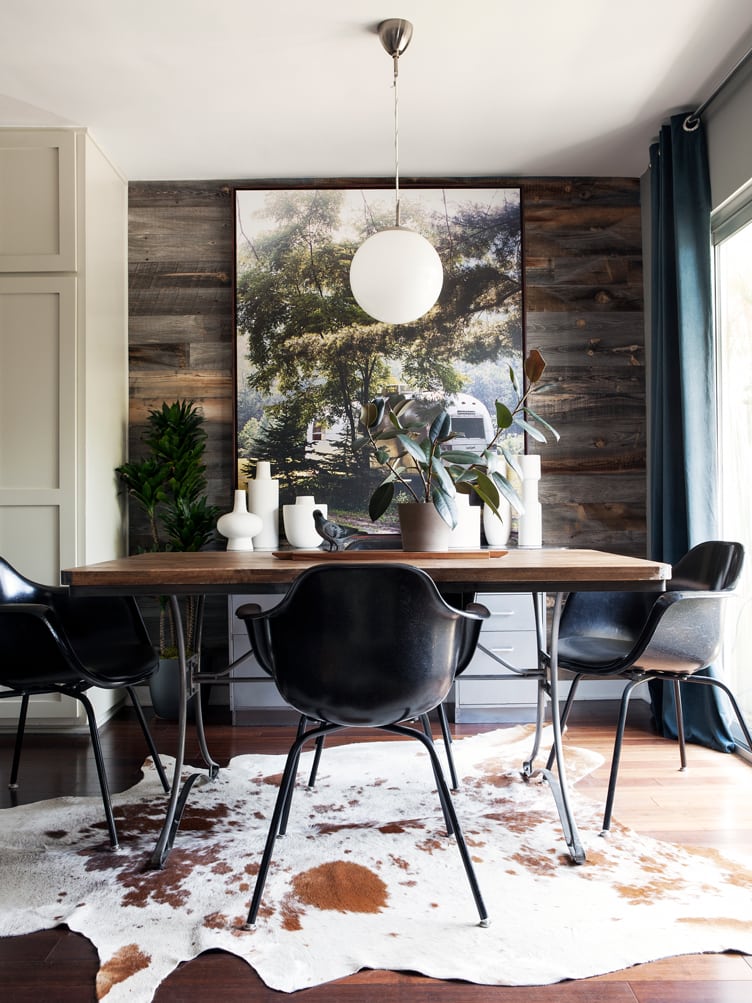 Eames Shell Chair
As far as Eames furniture goes, the Eames Shell Chair is the vanguard. Since its creation, the Eames Shell Chair has evolved from fiberglass and plywood to maple, white ash, ebony and walnut. Whether you want eco-friendly fiberglass, upholstered fabrics, or stained wood, there's an Eames Shell Chair to match your fancy. Following Ray's concerns about how fiberglass production negatively impacted the environment, the new eco-friendly version (made using a less volatile, monomer-free "dry bind" process), became available in 2014. Believe it or not: it's 98% recyclable!
Where It Works Best: Their slim yet spectacular profile makes Eames Shell Chairs a delicious dining room table chair option. They also work fabulously as a compact desk chair. Their saturated colors makes Eames Shell Chairs the perfect accent chair for any corner in need of a pop of color.
Eames Wire Chair with Bikini Pad
The Eames' Wire Chair with Bikini Pad was designed in an effort to pare down the chair form into the bare essentials. This Mid-Century Modern beauty was initially questioned by Eames fans who thought that wire didn't exactly spell out comfortable, high-quality seating. However, the sleek bikini cover eventually won the critics over and soon everyone was calling keeps on this one-of-a-kind Eames Chair.
Where It Works Best: Like the Eames Shell Chair, the Eames Wire Chair also works a compact silhouette, making it the perfect accessory to a dining table, vanity, or desk. 
Eames Aluminum Group Chair
We love a good swivel. While the Eames Aluminum Group Chair was first intended as an outdoor chair, its swivel mechanism made it a smart choice for indoors too. Around a round table or next to a sturdy desk, this is a chair for when you're looking to get. things. done. This glossy aluminum chair began production in 1958 and often finds itself in competition with the Eames Lobby Chair, which went into production two years later.
Where It Works Best: This Eames Chair is the perfect buddy to your desk. It is comfortable and oh-so-stylish. It will have you positively swiveling through your to-do lists. 
Eames Molded Plywood Dining Chair
The Eames created their first molded plywood dining chair (popularly known as the DCM) in 1946. With a sculpted plywood back and seat that is held together with metal rods, this timeless piece of furniture was called "Best Design of the 20th Century" by Time magazine. Which is all to say: it's a total 10 out of 10. Due to this Eames Chair's popularity, the Molded Plywood Dining Chair was later introduced with plywood legs for a slightly more polished and kicked-back look. 
Where It Works Best: When it comes to sleek dining table options, the Eames Molded Plywood Dining Chair is a no-brainer. Considering they're the perfect mix of refined and relaxed, a DCM chair also works beautifully in a space-crunched living room or entry. 
Eames Lounge Chair and Ottoman
If Eames furniture had a calling card, it would be the Eames Lounge Chair and Ottoman. This luxurious design was first introduced in the mid-1950s and since then, it hasn't lost its mojo. The casual reclining position and plush urethane foam padding ensure both comfort and support, while the buttery leather beckons to would-be nappers. As a bonus, every Eames lounge chair is made by hand, with up to seven layers of plywood glued together and bent to form the chair's signature ergonomic shape.
Where It Works Best: Anywhere with a roof. Literally. The Eames Lounger is so comfy that it will likely have you forfeiting time spent outdoors. For the best of both worlds, scoot it up next to a window in a study or living room for some of that precious vitamin D. For best returns on lounging, position a side table next to the Eames lounge chair for essentials like books, coffee cups, or your phone. Weekend plans made!
Eames Coffee Tables
Like the majority of Eames chairs, Eames coffee tables feature molded plywood construction along with sleek, sculptural shapes. The most classic Eames coffee table, a round coffee table with a dinner plate-style top, is the perfect mixture of function and whimsy. More adventurous homeowners may choose to swap the classic round Eames Coffee Table for one of the couples' narrower (and rarer) elliptical surf tables, or even one of their rectangular coffee table varieties (which for a limited time were bedecked with a snappy mosaic tile inset—swoon).
Where It Works Best: Their lightweight form makes an Eames coffee table ideal for small apartments where shuffling furniture to make way for company (and after-hours conga lines) is a way of life.
Eames Storage
Books, electronics, memorabilia—whatever your passion, Eames makes chic work of stowing all of the accompanying accoutrements. The Eames' signature molded plywood is on full display in both their large and small storage pieces, making them perfect or those who consider themselves avid fans of the DCM chair. For those who may not need a full wall of storage, but are still pining for a bit of Eames, the atomic-inspired Hang-it-All Coatrack may be just the thing. Featuring one of the Eames' most iconic uses of color outside of their signature shell chairs, the Hang-it-All Coatrack can be popped just about anywhere, from an entryway to a bathroom!   
Where It Works Best: Eames storage pieces are the flawless mix of panache and Mid-Century Modern minimalism, making them perfect for any space where you're pining for some va-va-voom!