Mid-Century Modern aesthetes might be partial to the era's more exclusory designers—think, George Nakashima and Guillerme et Chambon—but even the most astute of collectors would be hard-pressed to deny the shapely perfection of Charles and Ray Eames namesake seats. In fact, if a single piece of furniture were to be officially inducted in the collective American zeitgeist, the Eames Molded Fiberglass Shell Chair could arguably be it.
Of course, Eames Shell Chairs are far from the only iconic Eames chairs, and that's exactly what makes Charles and Ray Eames style so alluring. From the seductive smarts of the Eames Lounger to the simplistic beauty of the Eames Molded Plywood Dining Chair, there seems to be no limit to the Mid-Century Eames chairs catalog. For anyone who's new on the Eames scene, the offerings can easily overwhelm. To make Eames style easier to navigate, we're spotlighting some of the most iconic Eames dining chairs and accent chairs, from foundational favorites to once-in-a-lifetime splurges.
The Dream Team, Charles and Ray Eames
Ray and Charles Eames met at Cranbrook Academy in Detroit in 1940. Charles was an instructor, but was originally admitted to the school on an industrial design fellowship. Ray had enrolled to further her studies in abstract painting. At the time, Cranbrook was a notorious design incubator, responsible for churning out other notable design alumni like Florence Knoll and Harry Bertoia.
Having bonded over their shared pusual of invention and innovation, Charles and Ray were married in 1941. Eschewing tradition, the couple opted for a road trip-style honeymoon that culminated in a permanent move to Los Angeles. Once in California, the duo embarked on an exploratory project with their favored medium of the time: plywood. Employing a homemade gadget deemed the "Kazam! Machine," which was fashioned from a heated panel and a bicycle pump, the duo molded plywood into functional shapes.
Ray and Charles' work with molded plywood earned them commissions with the United States Navy, who asked them to produce wartime supplies such as molded plywood splints, stretchers, and experimental glider shells. Following the war, the Eames had accumulated enough experience to put their own plywood chair, now recognized as the Eames Molded Plywood Dining Chair, into production.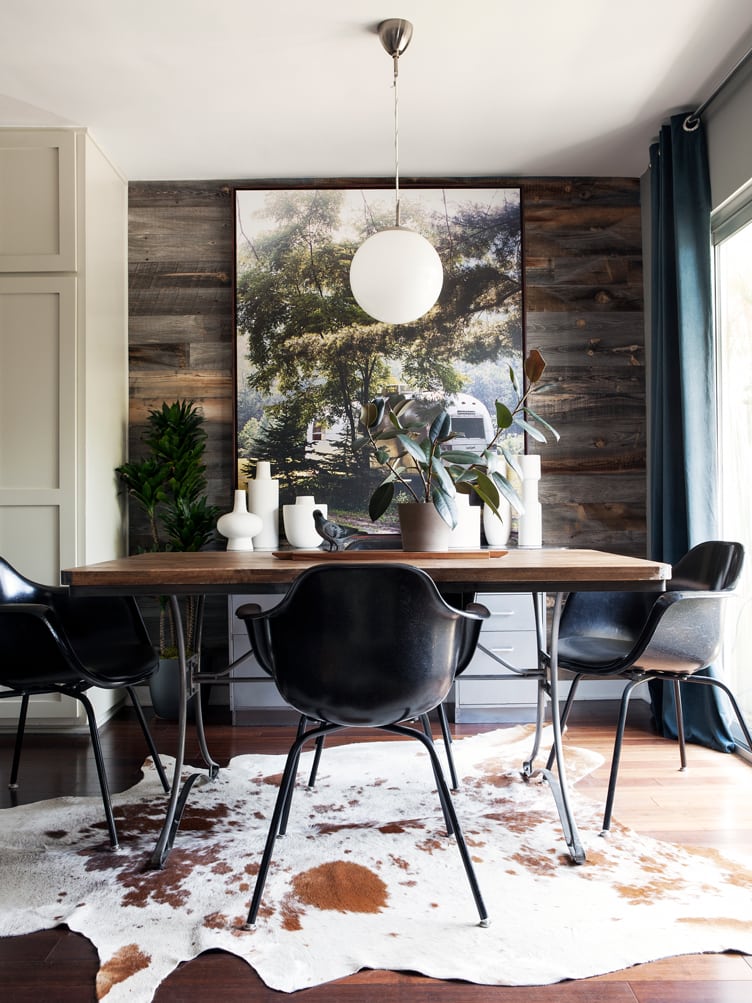 Eames Molded Fiberglass Shell Chair
Soon after the Eames Molded Plywood Dining Chair debuted, Herman Miller assumed production of Mid-Century Eames chairs, and the Eames introduced their career-maker, the Molded Fiberglass Shell Chair. The legendary chair, which catapulted to icon status faster than you can say I Dream of Eames, ratified the Eames reputation as Mid-Century masters. Today, Eames Molded Fiberglass Shell Chairs are a mainstay of public entities, making cameos in landscapes as diverse as airports, government buildings, classrooms, and even libraries.
Keystone traits of this Mid-Century Eames chair include a bumpy, textural finish that could almost be likened to adobe. Notable surface variances include cavities, subtle color gradation, and highly visible fiberglass striations. Fiberglass striations are coveted by collectors because they serve as a clear-cut indicator of a chair's advanced age. Original fiberglass chair production ceased in the 1950s due to Ray's concerns about fiberglass production's impact on the environment. Only recently was Herman Miller able to put the iconic chair into production as the Eames originally intended, thanks to advancements in a new, monomer-free "dry bind" process.
Where It Works Best: Their muted, archival colors make the Molded Fiberglass Shell Chair a perfect companion to any nook in need of a personality overhaul. Drop one into an entry to carry out a task as benign as collecting mail and packages and you'll undoubtedly be surprised by the sculptural integrity it lends to the space. Similarly, a credenza that may be a bit undersized for a large wall can be scaled up nicely with the addition of an Eames dining chair on either end.
Eames Wire Chair with Bikini Pad
Ever the experimenters, the Eames developed the Eames Wire Chair as part of a mission to pare down the iconic Eames Shell Chair to just its foundation. What emerged was essentially a chrome skeleton, which arguably has more in common with Cranbrook alum Harry Bertoia's Diamond Chair than any of the Eames's other designs. To soften the chair's wire ridges, the Eames elected to outfit the chair in a one-piece leather seat pad. Nicknamed the bikini pad, the pad featured incised cut-outs to highlight the chair's grid-like architecture.
Where It Works Best: Anyone on the hunt for an Eames dining chair would be remiss to not consider the Eames Wire Chair with Bikini Pad. The chair's permeable nature also makes it an ideal choice for rooms that are outfitted with floor-to-ceiling windows, or any interior where a normal chair might feel too visually heavy.
Eames Aluminum Group Chair
All hail the office chair that can transition from corporate offices to just-dropped start-ups to editorial boardrooms with aplomb. The chair in question, the Eames Aluminum Group Management Chair, first hit the production line in 1958. Featuring a lightweight aluminum frame that makes it the antithesis of the stodgy executive chair, the Eames office chair has earned a cult following among white collar nine-to-fivers, who deem it the only self-respecting ergonomic chair on the market. Adding legitimacy to its body-alignment powers are a supportive 5-star base, tilt-swivel mechanism, and adjustable seat-height.
Where It Works Best: Part of the appeal of the Eames Aluminum Group Management Chair is that it's a work chair that doesn't lead with its corporate connotations. Bedroom moonlighting as an office? Opting for this modern Eames chair over a strictly ergonomic model will preserve your bedroom's status as a legitimate sanctuary. Also, if you've been eyeing Eames style chairs, but can't justify the spend, consider this body-enhancing chair your free pass to splurge sans guilt.
Eames Molded Plywood Dining Chair
Exalted by Time magazine as the Best Design of the 20th Century, the Eames Molded Plywood Dining Chair was the first chair to be created with the Eames' "Kazam Machine." While the chair doesn't lead with its ergonomics, the quest for good posture does inform the chair's shapely design. An elevated seat and gently tilted back holds the user in a subtly reclined position, while rubber shock mounts provide a buffer against any jolting movements. Assembled entirely by planes of intersecting plywood, the Eames Molded Plywood Dining Chair showcases no additional materials. With no extra embellishments to divide attention, the flat planes of plywood prove an excellent canvas for showcasing show-stopping wood veneers.
Where It Works Best: Those who are in pursuit of the Eames Molded Plywood Dining Chairmay may notice that it sometimes bears the acronym "DCW." The shortcode stands for Dining Height (D) Side Chair (C) On Wood (W). Consider that the greenlight to fulfill your desire to outfit an entire dining table with these sensational seats.
Eames Lounge Chair and Ottoman
Launched in 1956, the Eames Lounge Chair and Ottoman begs the question what came first: the CEO or The Eames Lounge Chair? When constructing the Eames Lounger, Charles and Ray took an-every-i-dotted-and-every-t-crossed approach, resulting in a chair that appeals to both the right brain and left brain-inclined. To this day, every Eames Lounger is made by hand, with craftspeople gluing seven layers of plywood together to create the chair's signature molded shell. A five-star swivel base and urethane foam pads wrapped in buttery-soft leather complete the chairs' ingenious construction.
Where It Works Best: You'll often see Eames Loungers flying solo, complemented by sweeping glass walls, but that's far from their only shtick. Part of the appeal of an Eames Lounger is the way it seems to metamorphically pivot to complement virtually any era or style. For instance, an Eames Lounger works equally well playing opposite a Brooklyn brownstone's marble fireplace as it does the wood paneled walls of a debonair den. Eames chair reviews confirm it to be true, the Eames Lounger and ottoman is an investment worth making.
Eames Coffee Tables
While Charles and Ray seemed capable of dreaming up endless iterations of the chair, other furniture pieces were more personalized endeavors. The Eames Coffee Table, for instance, which debuted in 1949, was designed for the Eames' own Pacific Palisades home. Borrowing design techniques formulated for the Shell Chair, this Eames table features a rectangular wood top set atop an eiffel-style base constructed of turned wood and powder-coated steel. The Eames Molded Plywood Coffee Table from 1946 also utilized existing design techniques to procure its unique shape. Composed of an indented circle plywood top supported by simple metal legs, the piece employs the same molded plywood techniques as the Eames Molded Plywood Dining Chair.
Where It Works Best: Lightweight construction makes an Eames table an especially apt fit for a small apartment where shuffling furniture to make way for company (and after-hours conga lines) is a way of life. The Eames Molded Plywood Coffee Table is also a champion choice for a child's playroom that aims to feel more chic than bleak. The dimpled top buffers crayons and other roll-prone toys from making their way to the floor, while its simple design works in tandem with almost any space.