Brimming with history and culture, Atlanta is the next great design destination you need to add to your travel bucket list. With inspiration around every corner and a culinary scene that will take your tastebuds on an adventure around the world, Atlanta truly has something for everyone. To help you plan the perfect itinerary, we asked some of our favorite Atlanta locals to share their favorite places to eat, shop, and get inspired, plus the one thing you shouldn't leave town without doing! Start planning your next trip with our Design Insider's Guide to Atlanta.

Discover Atlanta's Hottest Furniture Finds >>
Where to Stay

"The St.Regis is our go-to hotel for clients due to the proximity of Atlanta's design center, shopping, restaurants and our office. The service at the St. Regis can't be topped! Hotel Claremont on Ponce de Leon is a great spot for cocktails on the roof, or have dinner at Tiny Lou's in the basement. The kitschy, yet chic decor will make any happy hour feel like a little vacation!" — Mallory Mathison

"Hotel Clermont just reopened recently after an extensive renovation, and it's the place I've been recommending for all our out-of-town guests. The restaurant in the hotel, Tiny Lou's, offers amazing French-American cuisine, and the rooftop is the perfect spot for cocktails with a view of the Atlanta skyline." — Yvonne McFadden

"The St. Regis, its centrally located to the best shopping and restaurants in the city!" — Clary Bosbyshell
"I love the St. Regis for several reasons: great location for walking to wonderful restaurants, amazing spa, and it's a fun pool and lunch spot in the warmer months." — Anna-Wooten Loggins
Where to Eat & Drink
"For a casual spot head to Superica (two locations) for the BEST fajitas. For a more upscale spot, head to St. Cecilia for fresh pasta or Le Bilboquet for a French flare." — Anna-Wooten Loggins
"Sotto Sotto in Inman Park and KR SteakBar in Buckhead are my favorites. They both have courtyards that are dreamy on a summer evening under the lights. KR SteakBar has the best Antipasto Misto and Sotto Sotto's Lasagnette alla Bolognese is the yummiest dish in town!" — Mallory Mathison

"Atlanta really has so many beautiful and delicious restaurants. My favorite is Le Bilboquet, and the Cajun Chicken is my go to" — Clary Bosbyshell

"Souper Jenny is our go-to for a quick and delicious lunch. Their Brie and Pear Baguette with homemade jam is amazing. Since I'm a vegetarian, it's always nice to find places with creative menu solutions." — Yvonne McFadden
Where to Get Your Culture Fix
"The Atlanta History Center and Walking on the BeltLine." — Clary Bosbyshell

"Ponce City Market and Krog Street." — Anna-Wooten Loggins

"We love the Westside Provisions District since it's right around the corner from our office. It's important to us to support our local vendors, and that area has so many excellent boutiques and restaurants." — Yvonne McFadden

"Westside Atlanta is a bustling area of town teeming with art galleries, antique shops, boutiques and amazing restaurants!" — Mallory Mathison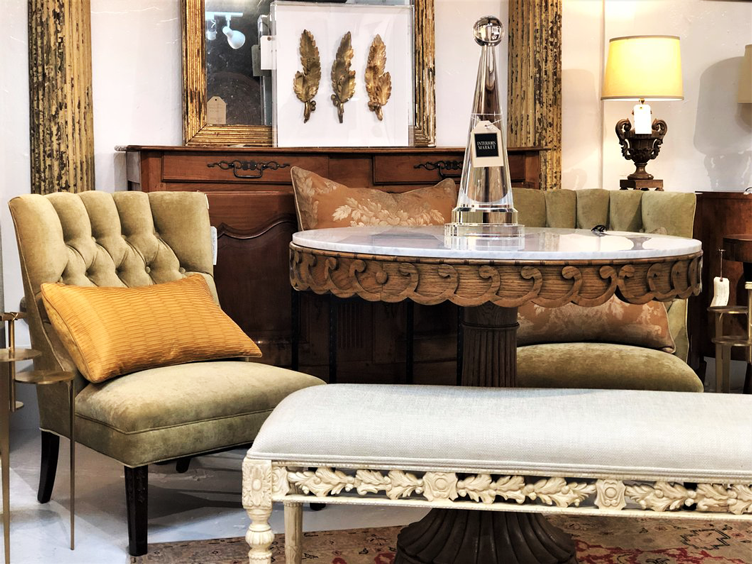 Where to Go for Vintage Goodies

"Interiors Market on Bennett Street and all up and down Miami Circle! Scott's Antique Market is amazing for antiquing. We are so fortunate to have it here in Atlanta once a month, featuring visiting vendors from all over the country. My FAVORITE hunting ground is Antiques & Beyond on Cheshire Bridge Road—you can root around in there for hours and find so many treasures!" — Mallory Mathison

"We are lucky to have Scott's Antique Market come to town once a month where vendors from all over the South East come to sell their goods. I also love Inner Pieces, Decades, and Antiques & Beyond for vintage and flea market finds!" — Anna-Wooten Loggins

Looking for more places to shop? Check out a few of our favorite Atlanta-based Chairish Sellers:

From Paris to Palm Beach
White Elephant Interiors
MiNTY
Optimum Traders
Le Chateau European Interiors
Blue Iris / Iris Bleu
Blue Iris / Iris Bleu Jewelry
A. Tyner Antiques
Modern & Moore
City Issue
Interiors Market
Where to People Watch

"Rent a scooter, take a stroll or ride a bike on the BeltLine and hop in the fun restaurants and breweries along the way." — Anna-Wooten Loggins

"The BeltLine, Piedmont Park and Le Bilboquet at lunch on Fridays." — Mallory Mathison

"Victory Sandwich Shop in Inman Park is definitely a hot-spot for people watching. They have the perfect set-up right on the BeltLine that's great to go to when the weather is nice." — Yvonne McFadden

"Umi Sushi, with all the movies being filmed in Atlanta celebs are always dining there!" — Clary Bosbyshell
Where to Get Inspired
"The Swan House—every detail of the incredible house is full of inspiration and beauty!" — Mallory Mathison

"Our local antique vendors always have the most unique and inspiring vignettes." — Yvonne McFadden

"The Atlanta Botanical Gardens or the High Museum of Art." — Anna-Wooten Loggins
Don't Leave Town Without…
"Visiting the Atlanta History Center!" — Mallory Mathison

"Go to The Varsity, walk the BeltLine and drive around Buckhead to see all the beautiful old homes!" — Clary Bosbyshell

"I highly recommend people visiting Atlanta should experience all that Ponce City Market has to offer. It's such a unique spot, and between their shops, food hall, and rooftop, there's something to do for everyone." — Yvonne McFadden

"Literally, ALL OF THE ABOVE! We have amazing restaurants, green spaces, and entertainment venues. Look up what's happening the weekend you are visiting, and I promise there will be something for everyone." — Anna-Wooten Loggins

A huge thank you to our Atlanta experts! Be sure to check out their amazing work.

Mallory Mathison
Clary Bosbyshell
Yvonne McFadden
Anna-Wooten Loggins