There's nothing like curling up with a good book and relaxing at home. Whether you're catching up on your favorite author or just not-so-secretly catnapping for a few hours, it's a wonderful way to spend a quiet afternoon. And there's no better place for doing that than in comfy reading nooks, with pillows, throws, and poufs galore.
Scroll down to see an assortment of some of our favorite designer reading nooks, including built-in spaces, reading areas with chaise longues, or simply oversized, uber-comfy armchairs. And when you're looking to create a reading nook of your own, be sure to shop for beautiful shelves and even some vintage books right here on Chairish.
This contemporary bedroom by DZINE was truly designed with readers in mind. A separate built-in reading nook comes with illuminated bookshelves, while a throw and some pillows add a bit of softness to the edges.
Maureen Stevens Design used a pared-down palette to create this light-filled artistic reading area next to a vanity. An oversized armchair provides the perfect place to read while a soft fabric pouf invites you to put your feet up and relax.
Designer Allison Caccoma found inspiration at sea with these nautically inspired reading nooks, perfect for a child (or an adult with a sense of fun, let's be honest) to curl up with a good book — without any rocking from the waves.
This guestroom by Suzanne Kasler Interiors features a built-in reading nook with bedding designed to pair with the colorful pink sofa.
For this modern art collector's home in Mill Valley, California, Holly A. Kopman Interior Design selected a pale pink chaise longue and a softly colored grasscloth wallpaper to create a serene, thoughtful reading area in the main bedroom.
In this coastal bedroom by Rachel Reider Interiors, a Romo wallcovering and teal accents draw the eye while a cushioned bay window and armchair provide comfy reading spaces.
In this second space by Rachel Reider Interiors, a full reading area is set up to the side of a guest bed, with chairs, a small table, and a built-in.
In this East Hampton bedroom, Daun Curry added a plush padded reading nook in a soft lavender shade to encourage true relaxation.
A painting by artist Abby Sin adds bold color and a metallic effect to this cozy reading area by Sarah Barnard Design. The upcycled leather chair is paired with a contemporary walnut and marble side table and a pillow from Ethiopia.
A gray chaise longue and matching side table create the reading area of this light-filled bedroom by Kathleen Walsh, perfect for enjoying a book… or just a glass or two of rosé.
A soft tufted barrel chair in pale blue and a matching ottoman create a window-facing reading area in this main bedroom by Nystrom Design.
Not all reading areas have to be traditional and light. For the reading corner of this main bedroom, designer Sanjyt Syngh embraced the dark side with plush, rich fabrics in jewel tones.
A serene gray, white, and blue palette defines the reading area of this bedroom by Katie White Interiors, with nautical-inspired drapery leading to the balcony.
Paisley drapery by Schumacher adds some design kick to this quiet, softly hued reading area in a bedroom suite by Jeanne Finnerty.
Period Architecture created a cream-colored, traditional reading area near a dormer in this classic home in Berwyn, Pennsylvania.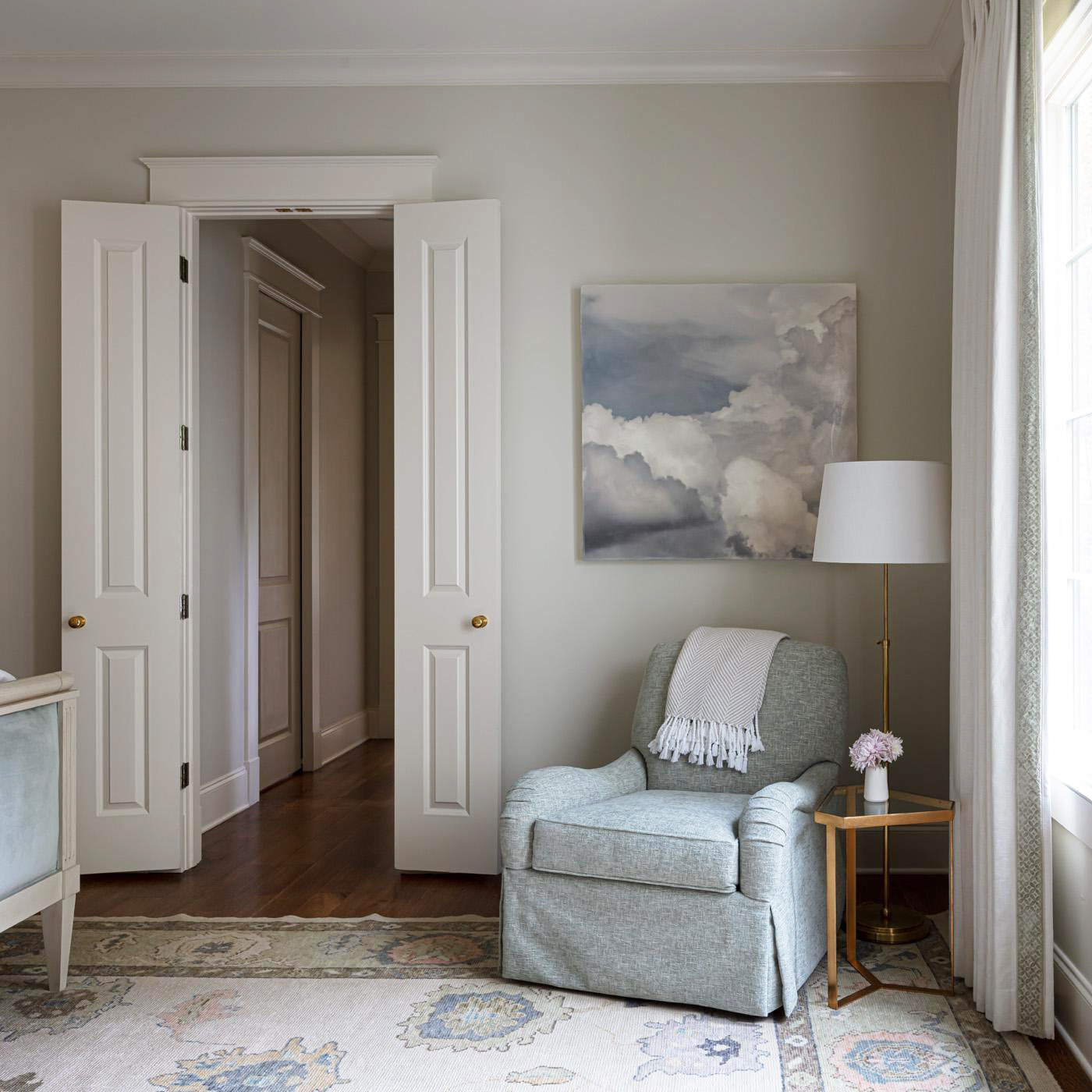 M. Steffens Interiors used softy, dreamy pastel hues to create a calming reading area for the corner of this transitional bedroom.
Murphy & Co. Design created a reading nook that doubles as a sleeping alcove in this traditional wood room, with a rocker to add an extra dose of comfort.