Whether it be a universally beloved classic or your childhood favorite, nothing beats the feeling of curling up with a good book. If you've accumulated dozens of novels over the years, why not dedicate a spot in your home to display and celebrate them? While we would all love a home library that looks like it came right out of the Beauty and the Beast, most of us don't have the square footage to devote a whole room to a book collection. But, even if the constraints of space are at play, we all still want to embrace our inner bibliophile. So then, how does one create a literary oasis within their apartment? Should the books be the main protagonist of the room? Or is it more important to create a cozy reading nook with a nice, plush oversized chair and a throw rug?
To help uncover the answers, we've assembled a collection of gorgeous designer libraries to gather inspiration. From dedicated reading nooks carved out in kitchens, offices, and living rooms, these makeshift libraries display how with the right elements, any annex can be turned into a book-decked hideaway.
4 Ways To Craft Your Home Library
No matter how much room you have in your home, you can create your own literary retreat. Here, discover four ways to work a home library into your space and give your books the spotlight they deserve.
1. Do "Double Duty"
Space limitations can require that rooms cater to dual tasks. Thankfully, a library doesn't require the equipage of a home office or nursery. With the addition of a bookcase, you can create a cozy library at home just about anywhere. Have an empty wall in your home office? Why not install tall bookshelves? Storing and displaying your book collection on high-up shelves is a spot-on way to let your prized publications take center stage in an office. As a bonus, being surrounded by your most treasured tomes can provide a jolt of inspo, especially when the dreaded 2 o'clock slump hits.

You can also draft a kid's room or playroom to double as a home library. Install shelving above a desk or customize a built-in that integrates a desktop, drawers, and overhead storage for books aplenty. If you prefer your library at home to be more visible, consider incorporating your bookcases into more communal spaces in your home, like the dining room. Set up a few matching freestanding bookshelves or étagères—open display shelves that were popularized in 19th century France—in your banquet room to give your dinner guests food for thought.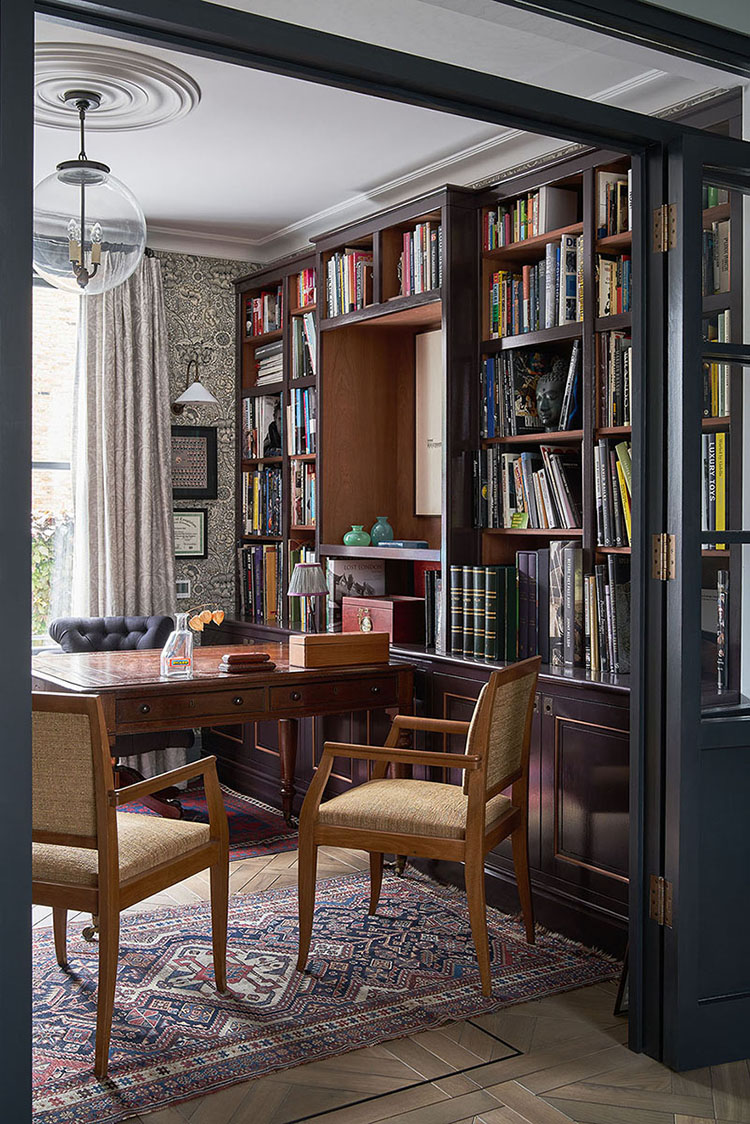 2. Practice Shelf-Care
In designing your home library space, the shelves that display your books can be just as important as the books themselves. While we would all like custom built-in, floor-to-ceiling bookshelves, contracting custom cabinets can be a considerable undertaking. Instead, go for multiples of freestanding bookcases that nearly swipe the ceiling. Lofty shelves provide adequate space for hundreds of titles, while giving you the illusion of those coveted floor-to-ceiling bookshelves.
And just because we're talking literature, doesn't mean your at-home library needs to be entirely buttoned up. Opt for an étagères in a fun, bright color like red, or a Japanned bookcase covered head-to-toe with gold and brass detailing. If you want to stick with classic wood shelving, strategically intermix pops of color with small pieces of framed art or accessories. Decorative items aren't limited to just knickknacks—accessorize using your books too! Color-coordinating your books can be striking to the eye, while electing to display some books vertically and others horizontally can lend an appealingly rakish look to your home library.
3. Comfort is Key
Picking out the perfect spot for your literary alcove and the best storage for your books is certainly important, but your home library isn't complete if it's not cozy. The easiest way to evoke a feeling of snugness? Opting for ultra-comfortable seating that's inviting to curl up in. Even if you're more of a minimalist, don't discount comfy seating. Lounge-y pieces like Eero Saarinen's Womb Chair work like a charm when surrounded by more minimalist and understated furniture pieces.
Another important element is to make sure that your storage and seating are to scale. If you have towering bookshelves, go for more substantial seating like a settee or a lounger couch. If you have shorter, freestanding bookcases, opt for a plush chair with a low-back that won't dwarf them. Add a cozy blanket and throw rugs to elevate the comfortability factor of your library at home even more.
4. Layer Lighting
Have you ever strained your eyes while reading a book in dim lighting? Not only can straining your eyes exhaust you, but it can deliver a whopper of a headache—yup, it's not a pleasant experience. Avoid the affair all together by incorporating proper lighting into your home library. Like in any interior space, layering lights helps bring a room to life by adding both functionality and versatility.
Home libraries can benefit from using two particular types of lighting: ambient and task lighting. Ambient lighting should cast a general illumination on your space. The most common types of ambient lighting are overhead lighting like flush mounts and track lighting. Acting as a supporting cast member to ambient lighting is task lighting—think, desk lamps and floor lamps. These directed forms of light are especially crucial for reading in your library at home. Use a mix of both ambient and task lighting to add depth to your space and elevate your home library's overall function and appeal.
Featured Image: Design by Atelier Davis / Photo by Emily Followill