A true cult icon, the Butterfly chair (one of its many known names), is exceptional for both its brilliantly simple design and its broad appeal. The Butterfly chair may get a bad rep for seemingly appearing on dorm room move-in checklists, but this chair is beloved by designers for the lightweight frame, endlessly customizable sling seat, and universal comfort, as the latest cover of Architectural Digest attests, featuring two Butterfly chairs in the home of celebrity designer Daniel Romualdez. Boasting an overall laid-back aesthetic that appeals to a casual lifestyle, the Butterfly chair also exudes an overwhelmingly clean and sleek modern look that interior design aficionados can't help but swoon over. While the permanent collection at the Museum of Modern Art in New York houses one of the original three 1938 designs, today, Butterfly chairs are widely available. Lucky us!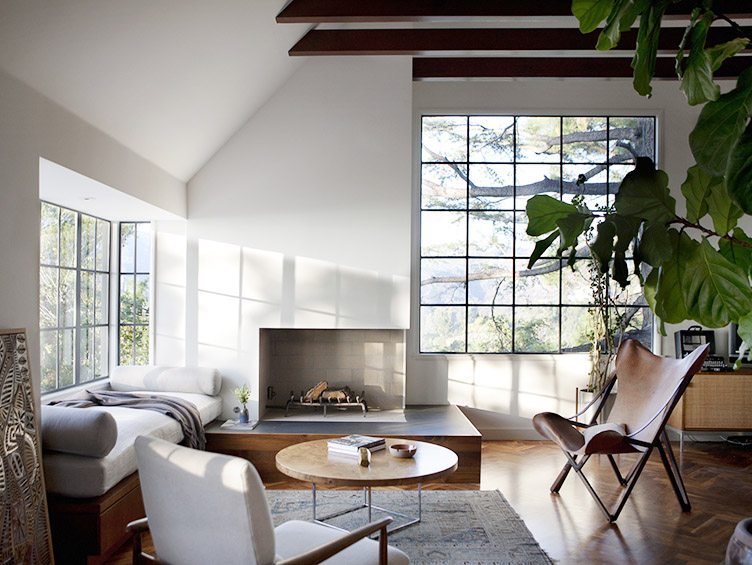 THE HISTORY
The original Butterfly chair was crafted by a group of three Buenos Aires-based architects from the firm Grupo Austral. Antonio Bonet, Juan Kurchan, and Jorge Ferrari-Hardoy, met while working in the Paris studio of Le Corbusier before they christened the Butterfly chair by its more official name: B.K.F. Also known as the Hardoy, sling or safari chair, the eminent seat wooed Edgar Kaufmann Jr., a former industrial design curator at MoMA, who is credited with bringing the piece to light (he ordered one for the museum and one for Frank Lloyd Wright's "Fallingwater," which was his parents' weekend home).
Recalling portable campaign furnishings used by British armies, the Butterfly chair is said to have roots in Joseph Beverly Fenby's 19th-century Tripolina chair, a folding design made of teak or ash woods and brass or zinc joint hardware that could easily be mistaken for a B.F.K. on quick glance. In 1941, shortly after its debut, Artek-Pascoe became the first American company to sell the chair—it was an overnight success. Six years later, Knoll acquired production rights and the rest is history. Familiar, modern, low-commitment, portable, adaptable for indoor and outdoor use, and a downright slap in the face to traditional seats with straight backs and rigid posture, the Butterfly chair celebrates comfort and accessibility, offering a lovely counter to the myriad styles of iconic seats that have had their moments in time. For many connoisseurs, it's a baby step to embracing Modernism.
THE FRAME
Evolving the wood-and-metal Tripolina frame, Hardoy created a welded frame of ultra-light, ¼-inch steel rods bent into curved angles to form a shape reminiscent of butterfly wings. A good way to spot a poorly-designed replica is the frame. Cheaper or inauthentic models may use different types of steel and include hinges or joints, which do not follow the original design specs. Folding versions are in demand for the flexibility they offer, however, they do not honor the original intent. The fluid, balanced frame those steel rods promote and the unique shape the silhouette achieves are a huge part of the chair's appeal.
Since frames were originally made of somewhat impervious steel, it's not uncommon to come across a vintage frame (rather than a vintage frame with its cover still intact). In these cases, it's recommended to have a custom cover made as covers and frames have varied so greatly over the last 75 years finding a vintage match is near impossible. Keep in mind, however, that custom-making a cover for an existing frame can also be risky, as not every upholster or leather specialist can achieve a perfectly suspended seat that is not too tight nor too loose.
THE COVER
In line with its Argentinean heritage, the original sling seat was handmade by the artisan Cuatrini, a well-respected saddle maker who worked for Rossi & Caruso, one of the country's top makers of polo mounts at the time. (Today, Rossi & Caruso still sells their gorgeous leathers in the form of handbags, luggage, boots, and more). While leather covers are truest to the original designs, hides are also a popular style that offer that same blend of luxury, durability, and Argentinean allure. Along with the production of myriad affordable versions came the advent of canvas and fabric covers, which are smart options if the chair is intended for outdoor use—especially if the fabric is performance grade. By having the fabric suspended from its "wings," the covers are more akin to a hammock, conforming to the body and moving with you as you settle in. This rejection of form is what made the seats so popular with teenagers looking to defy convention.
THE RESULTS
Like any sculptural object, the Butterfly chair commands attention in a room, while also managing to blend in and work with a variety of decorating styles. Often showcased in a sitting room as a pair, a well-made chair can also stand on its own and is an ideal option for a nook, where lounging is the sole purpose of the space. The exceptionally airy design promotes the feeling of lightness, adding balance to a room that features heavier upholstered furniture. No matter where you choose to use the Butterfly chair, there's no denying that it offers a relaxed, easy seating option without sacrificing style.
Endnote: Knoll only produced the chair from 1947 to 1951. The company attempted to obtain the patent and sue others who were manufacturing unauthorized reproductions, however their attempts failed. Because of the vast numbers of knockoffs, a B.F.K., Artek or Knoll original is a rare and coveted find.
Featured image courtesy of Living4Media