Possessing a near unmatched design mutability, the Butterfly chair sets our hearts aflutter. Exceptional for both its functionality and broad appeal, the Butterfly chair has been coming out of the cocoon as of late, even landing on the cover of the most recent issue of Architectural Digest via the home of celebrity designer, Daniel Romualdez. Some designers may sideline the Butterfly chair for its synonymy with dorm room living, but more often than not, this floor-skimming seat racks up accolades for its lightweight frame, endlessly customizable hammock seat, and universal comfort. Curious to learn more about this bold and foldable seat? Read on to learn more about its origins, worldwide migration, and incredible 21st century metamorphosis.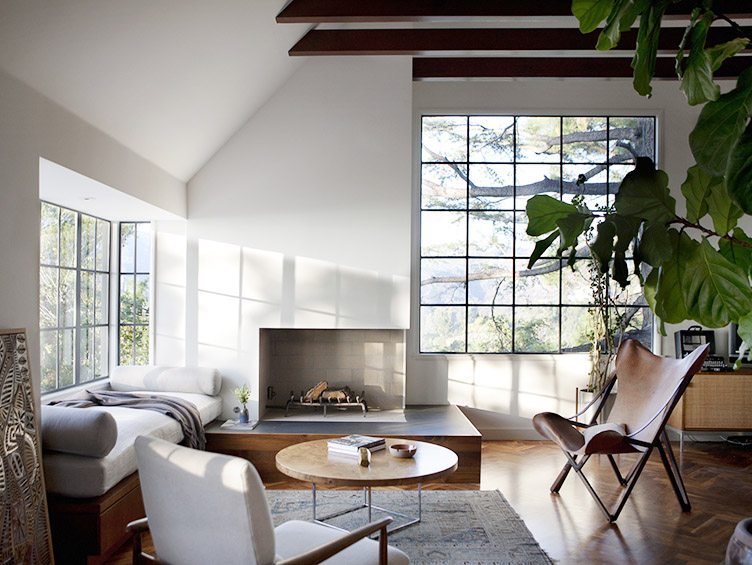 THE HISTORY
The original Butterfly chair was designed by three Buenos Aires-based architects, Antonio Bonet, Juan Kurchan, and Jorge Ferrari-Hardoy. The trio met, who collectively made up the firm Grupo Austral, met while working Le Corbusier's Paris studio. They originally christened the Butterfly chair B.K.F., a name that still carries some search weight today if you're sleuthing the 'net for a butterfly seat. Also known as the Hardoy, sling or safari chair, the butterfly prototype wooed Edgar Kaufmann Jr., a former industrial design curator at MoMA who is credited with popularizing the prolific seat. Not only did Kaufmann pick up one for Frank Lloyd Wright's "Fallingwater"—his parents' weekend home—but he also ordered one for the MoMA's permanent collection.
Redolent of the portable campaign furnishings made illustrious by British armies, the Butterfly chair is said to have roots in Joseph Beverly Fenby's 19th century Tripolina chair, a collapsible construct made of teak or ash woods and studded with brass or zinc joint hardware, and could easily be mistaken for a B.F.K. at a passing glance. In 1941, shortly after its debut, Artek-Pascoe became the first American company to sell the Butterfly chair—it didn't just flutter off shelves; it flew. Noting the phenomena that could be rightfully deemed the "butterfly effect," Knoll acquired production rights six years later.
Familiar, modern, low-commitment, portable, adaptable for indoor and outdoor use, the Butterfly chair celebrates comfort and accessibility, offering an innovative counter to history's more stiff-backed seats. For many connoisseurs, the Butterfly chair is a prelude to embracing full-fledged Modernism.
THE FRAME
Evolving the wood-and-metal Tripolina frame, Jorge Ferrari-Hardoy of Grupo Austral created a welded frame of ultra-light, ¼-inch steel rods. He manipulated the frame into hairpin angles until a shape reminiscent of a butterfly's wings emerged. In fact, Ferrari-Hardoy's work was so meticulous that the easiest way to single out a Butterfly chair knockoff is the frame. Replicas may use inferior steel or integrate hinges or joints, which are not a part of the original design specs. Important to remember is that although folding Butterfly chairs are revered for their flexibility, they don't hold true to the original Butterfly blueprint.
Since original Butterfly chair frames were originally made of impervious steel, it's not uncommon to thrift a vintage frame today, even if the original seat cover has long since seen its last siesta. In cases where the original seating cover has gone missing, it's recommended to have a custom cover commissioned. Since covers and frames have varied wildly over the last 75 years, finding a vintage match is near impossible. That said, hold out for a seamstress you trust, as not every upholsterer or leather specialist can achieve the ideal seating suspension that is neither too taut nor too loose.
THE COVER
In line with its Argentinean heritage, the original sling seat was handmade by the artisan Cuatrini, a celebrated saddle maker who worked for Rossi & Caruso, who, at the time, was one of the country's top polo mount makers. (Today, Rossi & Caruso still peddles their next-level leathers in the form of handbags, luggage, boots, and more). While buttery leather covers are the Butterfly chair's most authentic skin, hides are also a popular style that offer that same blend of luxury, durability, and Argentinean allure.
Along with the production of more affordable Butterfly chair versions came the advent of canvas and fabric covers—smart options if the chair is intended for outdoor use, especially if the fabric is performance grade. By having the fabric suspended from its "wings," the covers are more akin to a hammock, conforming to the body and moving with you as you relax into a state of repose. This rejection of form is also what has made Butterfly chairs so popular with teenagers looking to defy convention.
THE RESULTS
Like any sculpture worth its weight, the Butterfly chair commands attention. Yet it also manages to blend in and partner fluently with a variety of decorating styles. Often showcased in a sitting room as a pair, a well-made Butterfly chair can also stand on its own. In fact, it's an ideal option for a nook dedicated to the sole purpose of lounging. The Butterfly chair's exceptionally airy design promotes a feeling of lightness, adding balance to a room that features heavier upholstered furniture. No matter where you choose to use the Butterfly chair, there's no denying that it offers a spontaneous yet sophisticated seating option without sacrificing an inch of style.
Endnote: Knoll only produced the chair from 1947 to 1951. The company attempted to obtain the patent and sue others who were manufacturing unauthorized reproductions, however their attempts failed. Because of the vast numbers of knockoffs, a B.F.K., Artek or Knoll original is a rare and coveted find.
Featured image courtesy of Living4Media