We love Southern flea markets and antique fairs for their endless collections of eclectic and character-filled finds. Whether you're interested in shopping beside A-List designers, seeking out interesting stops on your next road trip, or wheeling and dealing with your sweetest Southern charm, here are a few fleas in the South you simply must visit.
Shop Chairish's Round Top Collection
Round Top Antiques Fair, TX
Beloved by designers and serious collectors alike, the Round Top Antiques Fair in Texas is a must-see for any avid collector. The 51-year-old flea consists of over 2,000 vendors packed into a 30,000 square foot barn known as Big Red Barn during the winter, and the nearby Continental Tent during the spring and fall. Both spaces are filled to the brim with an exquisite variety of Americana, Texas primitive, and Continental furniture and accessories. When exploring Round Top, make sure to stop by our favorite show: Marburger Farm, a treasure hunter's paradise. Featuring over 350 dealers from the U.S. to Europe that are true experts in their fields, Marburger is a curated antiquing experience that's always worth a visit for fresh vintage finds.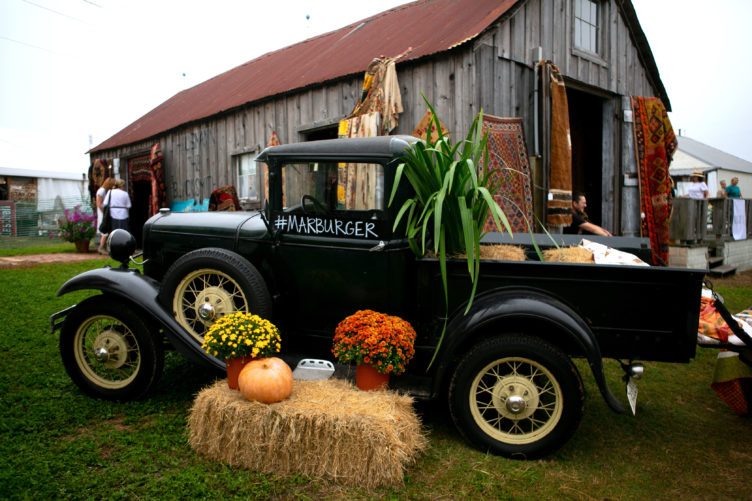 127 Corridor Sale
Dubbed "The World's Largest Yard Sale," this thrifting experience spans 690 miles from Michigan to Alabama along Highway 127 and lasts four days, beginning the first Thursday of August each year. Known as much for its array of trinkets and treasures as for its gathering of cultures and dialects, 127 Corridor is Americana at its finest. As you road trip through beautiful country landscapes, you won't be able to help but falling for the small-town sense of community the sale fosters.
Raleigh Flea Market, NC
Originally founded in 1971 as a six-table stand situated within the Historic State Fairgrounds, Raleigh Flea Market now has over 600 vendors, selling everything from antique items to pottery and arts and crafts. With a strong community created by returning sellers who have been selling on-site for decades, this flea has become known for its warm, family-friendly environment, where sellers are always eager to help buyers on the search for specific items. The Raleigh Flea takes place every weekend, rain or shine, and spotlights a different nonprofit every week.
SHOP CHAIRISH STAFF PICKS
Nashville Flea Market, TN
On the last weekend of every month, locals gather just south of downtown Nashville in The Fairgrounds for this one-of-kind flea, known best for its rotation of monthly themes that guide dealer curation. Founded in 1969, the Nashville Flea draws around 1,000 dealers monthly and features vendors from 30 different states. It's open on the fourth weekend of every month, except for December when it falls on third weekends. Similar to many of the top Southern fleas, this flea takes place mostly outdoors, so make sure to wear layers and pack your hats and sunglasses.
Renninger's Antique and Collector's Extravaganza, FL
Held three times a year at the Renninger's Twin Markets in Mount Dora, this flea is a favorite off-the-beaten-path treasure hunting ground for many collectors and Chairish sellers. At Renninger's, you'll stroll across the rambling Florida hills under shady oaks as you "Extravo" shop—a term coined by frequent local buyers who can't help but vet for the shop's insane finds. Hosting over 800 dealers from across the U.S., the market showcases antiques on a 130 acre property, and its off-the-beaten-path location paves the way for gems you won't find at more well-known fleas. We'd recommend buying a Friday ticket for $10 for prime pickings, or a three-day pass for $15 to immerse yourself in the full experience.
Lead photo by Sarah Moore