Bathroom décor ideas aren't always the first thing that comes to mind when decorating your home, but with how much time we spend in our bathrooms, it's a good idea to invest in decorations that make us feel comforted every time we're in ours. Whether you're feeling like your current bathroom décor has gotten a bit stale or you're just looking to create a more inviting feeling of relaxation, it's not too hard to transform your bathroom from something drab into something that a room that's comfortable and pleasant. Here are some bathroom decorating ideas to turn your bathroom into the most relaxing room in your house.
Use a Soothing Wall Color
Bathroom remodel ideas start with the fundamentals. This includes your fixtures and cabinetry, but also the wallpaper, tile or paint job. Using a soothing color of paint or tile can radically transform your bathroom, so if you're looking for a more involved and permanent process, this is a great first step. Opt for neutral colors and light tones – near-whites and light colors should be prioritized. A light blue or light gray color can create a feeling of warmth without feeling stale and can completely transform your bathroom. Similarly, using a wallpaper that's easy to apply and has a nice pattern on it can go far – just be sure that the humidity of the bathroom won't affect how well it seals to your walls.
Opt for Neutral Fixtures and Finishes
Keeping things simple by using matching white fixtures in your bathroom is a great way to keep things orderly and calming. Plus, due to the abundance of white bathroom fixtures, this is also an affordable option for bathroom remodeling as well. By using white fixtures in your bathroom, you can more easily match your fixtures to your tile, wallpaper or paint, décor and hardware, so it's worth it to keep it simple.
Add Life with Plants
Plants are a perfect way to add life to any room, and this is especially true for the bathroom! Adding a potted table plant to your countertop or shelves or a hanging plant that can be placed in the corner can turn a normally stale bathroom into a fresh and inviting space. This is an affordable and easy way to update your space, and plants will thrive in the humid environment as well – making them especially easy to take care of.
Utilize Storage
Beyond your usually cabinets, try to add some shelving or other storage options to your bathroom. These rooms generally do not have a lot of open space available which can make it difficult to decorate in a way that catches the eye. By adding shelving to your bathroom, you can maximize your décor space, giving you room for all of the necessities you can think of. Additionally, storage will often act as a decorative element itself, meaning that you can highlight a color scheme or theme with the right antique or vintage bookshelf or console table.
Swap In a New Set of Linens
Sometimes all you need to spruce up your bathroom is a fresh, new set of linens. A new set of towels can help you determine how you want your bathroom to look and feel, giving you more inspiration and room to grow. If you're trying to keep your bathroom aesthetically calming and tranquil, using spring toned towels or near-white colors will keep things looking great. Plus, towel sets are a great way to introduce accent colors to your bathroom – so if there's a certain color you're looking to use consistently throughout the room, this is a great place to start.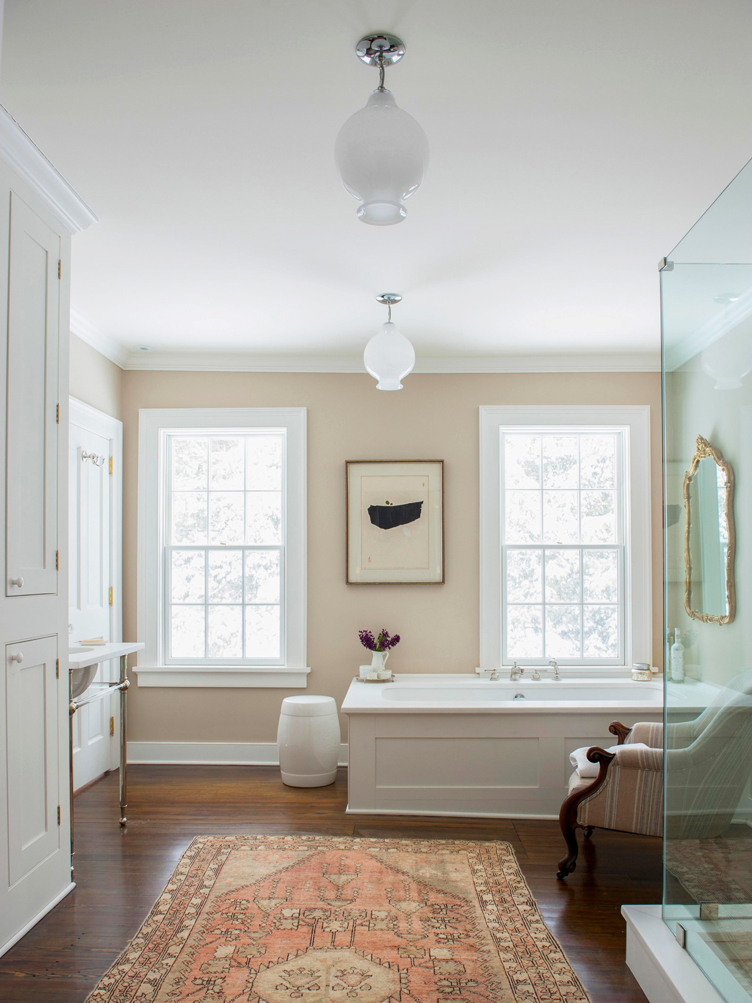 Use a Bath Mat That Catches the Eye
Your bath mat doesn't need to be gross! Additionally, you don't need to use a bath mat! Rugs can make a beautiful addition to any bathroom due to their intricate designs and comforting details. Going with something that's a little more eye-catching can add dimension to your space. Plus, rugs are much more durable than you might imagine, and most synthetic or wool rugs will do absolutely fine in the bathroom as long as they are cleaned regularly. With a good level of ventilation, you won't need to worry too much about your rug becoming dirty or ruined.
Decorate with Art
Similarly, art is also something people will often forego in their bathroom due to the humidity levels. Fortunately, a well-framed piece of art will often do absolutely fine in a bathroom – especially if the room is well-ventilated. There's no reason why your walls need to be bare, so add some artwork or pictures to your bathroom and treat it like any other room in your home. Go for calming images, like landscapes and patterns to really deepen the element of relaxation in your bathroom.
Add Some Fresh Scents
Finally, one great way to really freshen up your bathroom is to use some fresh new scents. This can be both the soaps that you use as well as the candles that you have in your bathroom but changing out scents will reinvigorate and redefine your bathroom experience. If you aren't already using candles in your bathroom, now is the perfect time to start – the soothing aromas of lit candles in your bathroom make every shower and bath a calming experience that will have you not wanting to leave the tub.
When it comes to freshening up your bathroom in a soothing and calming way, there are many different approaches that will work for different people, so make sure to experiment with some of your favorite décor items to see what works best for you. The key thing to remember is that the bathroom is just like any other room in your house – it benefits from decorations like plants and paintings, so don't worry too much about what you place inside. As always, have fun with it!
Lead photo design by Studio Preveza / Photo by Sam Frost