I always feel like putting together a great room is sort of like planning the perfect party. You need to have the right mix to keep things lively and the best stuff happens on the fly.
So when I heard about Neo Vintage Decor, a little shop run by a former event planner, I knew I had to go! I was not disappointed a bit. This place is full of genuine conversation starters! Where else can you find that duck phone from Silver Spoons that quacks instead of rings? Seriously!
Neo Vintage Decor is a celebration of owner Shawn Meaux's wonderfully playful sense of style. He combines pieces from different eras to create a layered, collected and fun look that I absolutely love!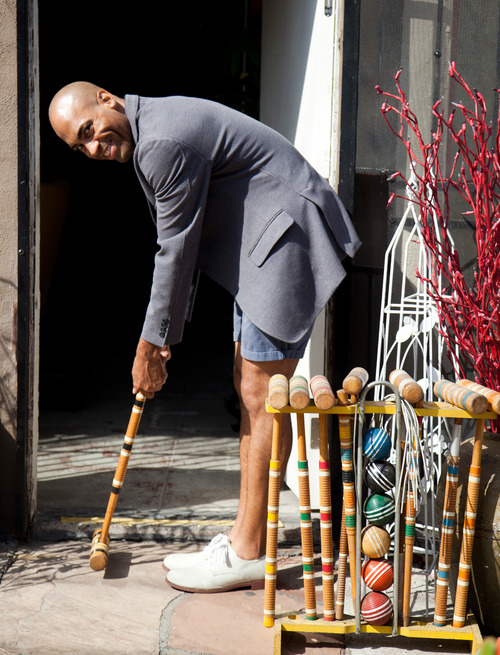 I have to mention the zippy way he reupholsters pieces using unexpected textiles—especially the outside upholstery panels of two bergere chairs redone in raffia with a celadon double welt – BAM!
Sorry Mr. Brockway but I had to score a few pieces for moi!  I bought a pair of lucite and brass sconces for my little daughter's room and a brass nautilus shell to use as a match strike. You'd be hard pressed not to find something in this store! That's why we knew we had to get Shawn to list some of the choicest things from his shop right here on Chairish!
So Shawn, how did you get started?
A few years back, instead of moving, I decided to completely redecorate my place. Some friends liked it so much, they asked me to help them redecorate their homes and soon after, their friends were calling me for design services as well. On my shopping excursions for projects, I kept finding all of these amazing pieces that I couldn't pass up and I quickly amassed a storage unit filled with furniture, artwork and accessories. I started selling items online at first and eventually became so successful that I just opened a showroom!
First piece you sold in the store? 
Louis XVI Caned-Back Arm Chair.
Average price points? 
I have items in every price point for every budget: artwork from $20 to $6000, seating from $50 to $5000 and accessories form $15 to $1500.
Best customer ever? 
A lovely lady and her mother who bought 18 pieces from me in a single visit. 
Design Superhero? 
Dorothy Draper.
Sum up your aesthetic in 3 words. 
Collected. Casual. Elegance.
Favorite pop of color? 
Chartreuse.
If you weren't selling furniture, what job would you have? 
Movie producer.
Which piece in your store has the best story? 
A Gauguin-style painting from an estate sale in the Hollywood Hills. It was found in the crawl space underneath a house owned by a Hollywood stage actress from the 1940s.
If you're in the mood to find some colorful treasures of your own come visit Neo Vintage Decor on Chairish!