Each new year brings a new chance to consider the styles that are making waves, and 2022 is no exception. Beyond a continued growth in vintage and antique sales (and the recommerce economy in general), we're forecasting for the year ahead, from a renewed love of tapestry styles to metallics, marble, and more. Below, learn more about each of our favorite trends, and be sure to shop an exclusive curation featuring all of them. Whether you're a midcentury modern lover or a Middle Ages art buff, there's something for every personal taste.
And to hear more about each of these trends, listen to The Chairish Podcast, hosted by our very own Michael Boodro, for an interesting in-depth take.
Antique French & Flemish Tapestries
It's like a visit to the tapestry rooms at the Metropolitan Museum. These French- and Flemish-inspired styles bring the artistry of centuries-old techniques to new life in everything from chairs to pillows and even bed frames. Renaissance courts only wish they had it this good.
Marble-ization
Though many people think of marble as being the domain of kitchens and polished floors, the style has cleverly found its way around the home in pieces like tables, decorative accessories, and table lamps. The forms can twist and turn, creating an almost modern psychedelic effect with a classic creative element.
Tortoise Ornamentation
They're not just for eyeglass frames anymore: tortoise patterns are everywhere these days. We love bringing the world of plants and animalia indoors, and these unique takes on a beloved natural pattern have us excited for where it might go next, from tables to lamps and mirrors.
Metal Shades
We're fans of elegant lampshades — and pleated shades have been a favorite of ours for several years now. But there's something extra-compelling about these bold metallic shades that pair with lamps of all styles, whether they be table lamps, sconces, or even floor lamps. Turns out we're heavy metal fans too.
Upholstery in Overdrive
We'd say it never went away, but… upholstery on everything is truly back in style. It's a stylish way to add a bit of color and pattern — not to mention comfort — to furniture and you'll be seeing it everywhere in 2022, whether in more traditional pieces or more edgy, modern takes on the classics.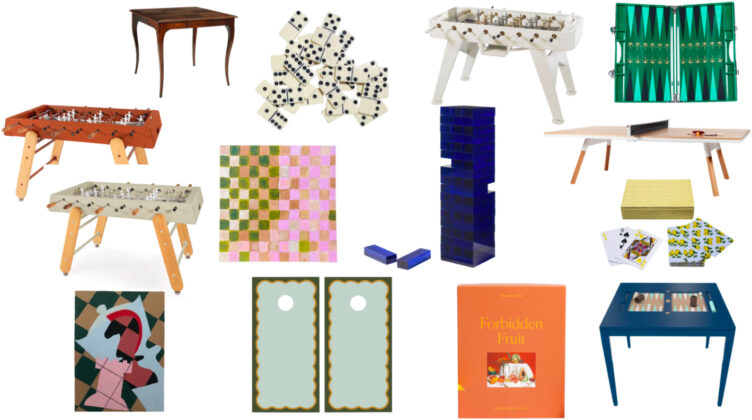 Game Room Guides
The game night trend was part of our 2021 holiday gift guide, and it shows no signs of slowing for the rest of 2022. We're seeing chic game elements, from vibrant backgammon boards to foosball tables to stylish Jenga tiles (yes, really), flying off the virtual shelves.
Contemporary Surrealism
Surrealism isn't just Dali; more contemporary interpretations of the style can play more subtly with the eye, causing you to take a second look. These paintings, drawings, and photographs subvert expectations and present something unexpected, a bit strange, and firmly tongue in cheek.
Nostalgic Florals
Find a new love for floral patterns that feel timeless but never old-fashioned or stuffy. Flower patterns can appear in every type of furnishing — and in every hue — from sofas to lighting and from tableware to artwork. And no, florals aren't just for spring; they work at any time of year. Groundbreaking.
The Grand Tour
Channel your inner Lord Byron and embark on your own personal Grand Tour through Europe… even if it's virtual and done through vintage and antique finds for the time being. We're seeing a renewed love for artifacts inspired by these continental adventures, including Greek-inspired statuary, chaises, and pottery.
In-Stock & Ready-to-Ship Vintage Discoveries
Vintage is readily available, good for the environment, and it's simply never been more stylish. In 2021, we published our first Home Furnishings Resale Report, measuring the ways in which vintage and antique pieces are better for the planet. Plus, they're already available to ship or be picked up, eliminating lead times and helping Earth at the same time. Win win.