Tharon Anderson is our kind of designer. Inspired by her roots (but not certainly bound by them), capable of balancing "fun" with "sophisticated," and completely fearless when it comes to pattern (as in, textiles-on-the-ceiling-type fearless), Tharon has earned herself our wholly undivided attention.
SHOP THARON'S CHARISISH FAVORITES HERE!
A coastal girl at heart, Tharon grew up in Nantucket and developed an affinity for all things nautical, before leaving the island life behind to work for notable designers like Dell Mitchell architects in Boston, and Peter Pennoyer in New York. Soon after, she opened her own NYC firm, and began procuring her uniquely fresh take on preppy New England style-meets-sophisticated urban digs.
But don't expect to see any starfish and buoys! Tharon merges the two contrasting realms with powerful print, casually elegant furniture forms, and color-soaked palettes. Her genius lies in her ability to hint at the classic look we know, while completely reinventing it. With all of this in mind, we were thrilled to fire-off all of our need-to-know questions at Tharon, recently. From her favorite way to use pattern to her Nantucket hit-list, get to know this recently-appointed House Beautiful Next Wave Designer better below!
Favorite source for design inspiration?
Of course, I find myself falling down the Instagram rabbit hole but I prefer paging through shelter magazines. Print is not dead!
Favorite design rule to break?
 I'm not really a 'more is more' person. I don't like clutter or too many accessories.
Favorite paint color?
Benjamin Moore White Heron has become a go-to white for us, it's the perfect white that doesn't go too creamy or too stark.
Favorite way to add drama to a room?
Statement lighting!
Shop Tharon Anderson's Look
You grew up on Nantucket but work in NY. Do you weave any island themes into your client's' work?
Absolutely! I think there's an inherent influence of the ocean in our aesthetic. Most of our spaces are light and airy.
Favorite pattern (and how you love to use)?
Block print textiles. I love using them for pillows, upholstery, window treatments…. you name it!
Favorite color combo?
White, gray and black.
Favorite thing about designing with vintage pieces?
Vintage pieces add character and personality to a space! With so much technology and widespread social media, it is easy for a discerning eye to recognize and identify pieces. It's always refreshing when we can offer clients some one of a kind pieces.
Favorite way to work a bit of vintage into a room?
Usually with lighting, case good, or console.
Favorite way to mix high and low?
Always splurge on custom upholstery! Side tables and ancillary furniture don't get the same kind of daily use, so I try to save money there.
Favorite travel destination?
Nantucket. We make an effort to spend a lot of time at our home on the island with family and friends – especially during the summer months. Spending time by the ocean is always therapeutic and inspirational to me.
Shop Tharon Anderson's Look
Favorite hotel to check in to?
My mind went right to Klein's Camp; a small lodge located on a Masai concession in the northern part of the Serengeti in Tanzania, bordering Kenya. It is a magical place to stay.
Favorite weekend activity?
Depends on the time of year – in the summer it's the beach/boat! We travel non-stop, so when I find myself home in NYC on a weekend, I enjoy simple remedial/organizational tasks. Organization has been a key component to the success of my business.
Favorite way to treat yourself?
A deep cleaning facial or a special pair of shoes.
Favorite beauty/grooming product?
 SkinCeuticals Clarifying Clay Mask and Ursa Major all natural deodorant.
Favorite morning beverage (and how you take it)?
Hazelnut coffee with milk.
Favorite adult beverage?
Lavender Martini
Favorite thank you/hostess gift?
A handmade ceramic piece from Nic Newcomb Pottery. He's a good friend and I am addicted to everything he makes – especially the Open Bowls and Dinnerware.
Favorite entertaining essential?
Cheese and wine!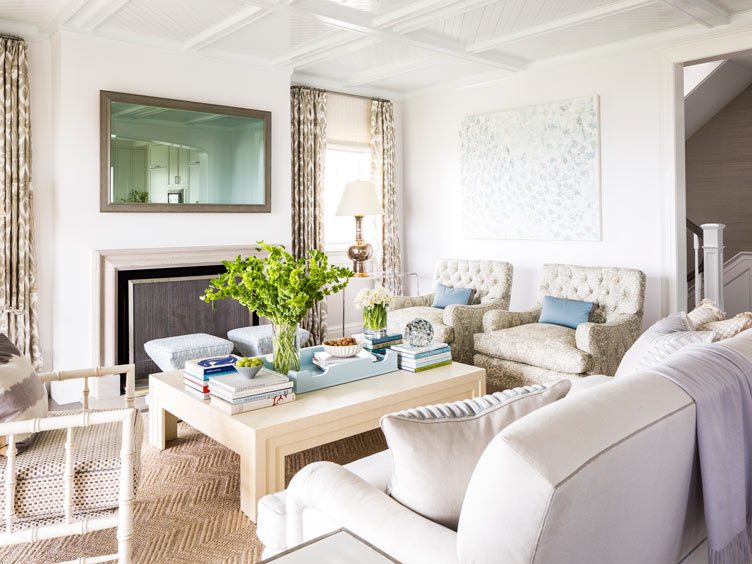 Shop Tharon Anderson's Look
Favorite saying/quote?
"Simplicity is the ultimate sophistication." – Leonardo da Vinci
Favorite artist?
Sally King Benedict. I'm lucky to call her my friend, too.
Favorite emoji?
The smiley face with the jazz hands. I think it conveys excitement perfectly
Favorite app?
Pandora! I always have music playing.
Favorite TV show?
We just finished the four-part documentary "the Defiant Ones" which was incredible. The story will resonate with any entrepreneur.
Favorite thing to collect?
Elephants. My husband loves them too and they remind me of our honeymoon in Africa.
Favorite restaurant?
Straight Wharf Restaurant
THARON'S LOCAL GUIDE TO NANTUCKET:

Favorite hotel to recommend to visiting friends?
I always prefer friends stay with us.
Favorite local culture hub?
All of downtown. There is so much history, talented artists and artisans, delicious restaurants, galleries, and activities to engross yourself in.
Favorite local attraction?
The beaches. Some of the most beautiful in the world!
Favorite local flea market/vintage hunting ground?
Brimfield, MA! Sort of local… 🙂
SHOP THARON ANDERSON'S CHAIRISH FAVORITES >>
Lead photo by Zach DeSart