We're seriously crushing on Chairish Stellar Seller SWI Vintage, known for their ability to take a piece with good bones and turn it into a glam wonder.
Founded by Cincinnati duo Anne Shanahan and Tenesa Wildermuth, SWI Vintage gives new energy to classic pieces by specializing in one-of-a kind Hollywood glamour, chinoiserie chic and opulent Regency pieces.
We sat down with this #girlboss team to learn more about their unique (re)design process, trends they are seeing, and words of wisdom for Hollywood Regency newbies and lovers alike.
Check out the amazing before-and-after classic Ficks Reed pieces below, and shop their beautiful pieces on Chairish.
What is your design motto?
Make it personal! Has to be your look and the things you love. But don't let that keep you from hiring a good designer.
What style best exemplifies SWI Vintage?
Hollywood Regency and Palm Beach Chic.
What is the best design tip you've ever received?
We have a few essentials: Every light should be on a dimmer. Don't be afraid of color. And a touch of Chinoiserie will bring you luck!
What inspired you to collaborate as interior designers?
Our love of furniture, fashion, interiors and creativity!
What's a design trend you're seeing (and liking)?
Gold, Chinoiserie and a touch of modern (unexpected elements).
How do you define your (re)design process?
We start by hunting for a piece with great shape and lines. Then we lacquer it and add details that will highlight the uniqueness of the piece and make it relevant to today's interiors.
When transforming a piece, what do you look for?
The pieces we look for are iconic, American made, and have quality. They are crafted from beautiful woods and are usually brand name.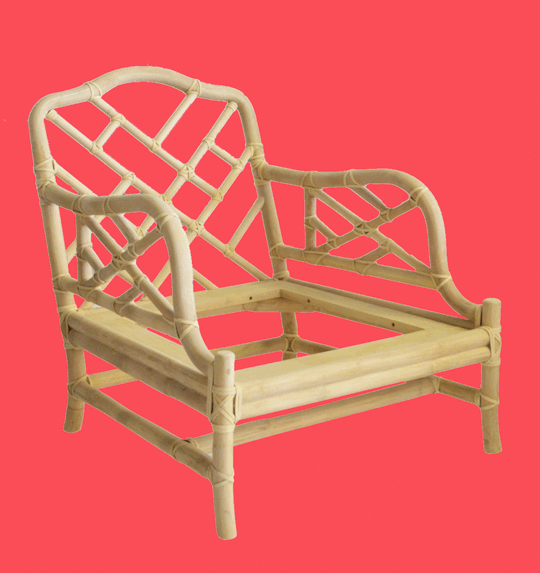 When finishing a piece, what are some thing that you rely on to give it that extra flair?
New hardware, paint color, trim. The small additions/changes will totally transform the piece. But you have to be incredibly selective on how you use the finishing touches.
What's one easy way for someone to switch up the look of their room?
Bring the outdoors in! Bamboo and rattan pieces mixed with your furniture creates a whole new look.
If a newbie wanted to achieve a Hollywood Regency look, what design tips would you have?
Mix up your time periods! Mix up your materials. Don't be afraid to pair a vintage gold mirror with modern Lucite table. Mix your woods with bamboo and rattan. Or different lacquered finishes with natural wood.
What's the one trend that your clients always seem to ask for?
Clients often ask for color but are afraid of it. Don't be afraid of color!