Say secretary today and our mind jumps to smooth-talking Siri, not antique office furniture. Yet when you consider how endlessly versatile the secretary desk is (being the result of a most soulful union between a cabinet and a desk), it seems high time this multitasking workstation got its due. Discover how to style one in virtually every room in the house.
In the Living Room
If you've been looking for a way to incorporate a workspace into the living room (but not one that announces itself like va va voom), a secretary desk can be a sneaky way to factor one on in. To make your secretary desk read more like traditional living room furniture, consider opting for a secretary with a tall top cabinetry portion. Not only will tall cabinetry make your secretary look more like a bookcase than a desk, but the upper cabinetry will also provide a prime spot to display a killer cache of objects. Be it an armful of framed photos or a load of ceramics too pretty to hide in kitchen cabinets, a secretary can act just like a china cabinet, while also doubling as your OOO work station.
In the Dining Room
When it comes to the dining room, a secretary with a hutch that sports glass doors is perfect for displaying "the good stuff"—you know, that special occasion dinnerware that silently taunts you for not using it more. To up the ante, we love the idea of sprinkling in a few choice items like candlesticks for a hint of gravitas. And as for the drop-leaf, feel free to leave it extended and style up a vignette with a few of your favorite tableware pieces, or utilize it as extra serving space during a dinner party.
In the Entryway
In the entry, with all of its penchant for collecting clutter, a secretary desk is a virtual magician, making life's less than attractive necessities—think mail, knapsacks, and pooches' leashes—disappear. To ensure you get max function out of your secretary, you'll want to make sure you have enough room for the desk's drop leaf to unfold while still allowing room for people to scooch by. Yes, in a squeeze you CAN leave your secretary folded, but the extended leaf really is a dream for dropping items like keys, handbags, and that aforementioned mail. Given that the entry is guests' first impression of your home, spring for a secretary desk that captures your home's vibe. Be it Mid-Century Modern, French Farmhouse, or Neoclassical and regal, cash in on a secretary that matches.
In the Bedroom
The secretary desk is a great workstation and, lest we forget, a cabinet with tons of storage as well. Try popping a secretary desk into a bedroom to maximize a small footprint and create a truly multi-functional space. Put those bottom drawers to work by filling them with sweaters and tees, and utilize the top shelves by filling them with stylish baskets and bins, which can secretly hold socks, scarves, and other stray accessories. In terms of seating, nothing says "out of office" like a slipcovered or upholstered chair, which will ensure your bedroom maintains that oh-so important unplugged feel.
In the Kitchen
The kitchen might not be the first spot you'd think to place a secretary desk, but where better to have a piece that can function as your home's command center? Use the desk's interior pigeonholes as mail slots or a way to organize bills, and the dropped desk portion as the permanent residence for a family calendar. The flat top or hutch shelves, depending on which style you prefer, can be filled with favorite cookbooks or some eye-catching kitchen essentials like mixing bowls or pitchers.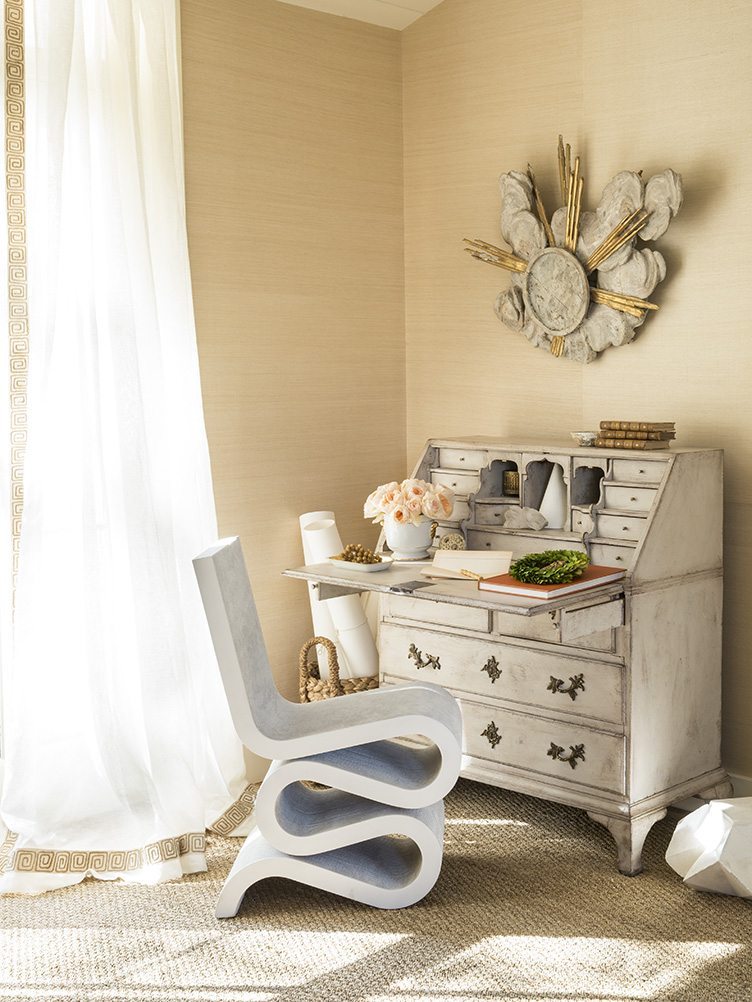 As a Corner Office
A secretary desk gives the term "corner office" a whole new meaning, since it can literally transform any unused or awkward nook into a fully functioning workspace. Whether it's the wall alongside a set of stairs, a double-wide hallway, or just a random bit of empty wall space, a computer secretary desk can be ready to server when you need it, and close up to save space when you don't. There's such a thing as a corner secretary desk, which really maximizes space, but you can also just tuck a standard secretary desk into an unloved corner at an angle.
In the Nursery
Baby on board? In a nursery, a secretary with a reinforced drop leaf can be cast in the role of an uber-chic changing table. Use a tall secretary with open shelving for displaying toys and books, and use the bottom drawers to store the essentials you'd rather not see. As a bonus, a secretary desk is one of those pieces that will grow with your kiddo, making it perfect for a nursery that intends to gracefully transition from baby space to big kid bedroom.
Bonus: Instant Bar
Calling all glassware fiends! If you thrift vintage glassware like it's your side hustle, consider displaying your loot in a vintage secretary fashioned as a bar in the living or dining room. While a tall secretary desk with a hutch is ideal for showcasing larger collections of decanters, glassware, or choice bottles of booze, a small secretary desk sans hutch can be the perfect thing for a well-edited bar collection. A tray with glasses, spirits, a bucket for ice, and a few key extras like citrus, bitters, and bar snacks, makes for an instant party setup that invites guests to help themselves.
Fun Historical Tidbit:
Despite the term secretary often being identified with females, it was actually male secretaries who first led to the term's coining. In the 18th Century, men hired as secretaries to large estates would work directly out of their employer's homes. A secretary desk situated in their boss's living room or parlor would serve as their cubicle, and upon leaving, the men would close up the secretary, decisively returning their employer's home to off-duty status.
Lead Photo by Eric Piasecki / OTTO