It's been a while since the secretary desk, a brown furniture stalwart, was touted for its stylistic clout. But all that's changing thanks to an army of work-from-homers who are looking for do-it-all desks that are compact enough to be tucked virtually anywhere. With its narrow girth, expansive banks of upper and lower cabinetry, and fold-up writing ledge perfect for perching a laptop, it's clear the secretary desk is ready for a 21st century redux. For those considering a secretary in their home, we've collected nine ways to style one and make it a seamless fit in nearly every room.
In the Living Room
The secretary desk, which could be summed up as the most soulful union between a desk and a cabinet, may seem like a living room long-shot, but with a keen attention to detail it's possible to source one that feels customized to the space. Steer clear of those secretary desks that omit a top cabinet portion, as secretaries with a lopped-off silhouette can feel too casual for a formal living room. Instead, seek out secretaries with a hutch or upper cabinet, which can be used to lend height and create an elegant focal point in a living room. Don't let height stop you from piling on artful collectibles like ginger jars, seaside specimens, or sculpture, either. The more you treat your secretary with a hutch like a display cabinet, the more it will look like a living room mainstay.
In the Dining Room
Casting a secretary desk in an entirely new role is an easy way to take it from antique to au courant, and while you might not be inclined to do an entire work session in a dining room, it can be a fine place to hop on a video call should your usual hideout be impeded upon. To make an antique secretary feel a part of the dining room narrative, choose one that sports a glass-door hutch. A hutch is a perfect place to spotlight special occasion silver, majolica soup tureens, or a sprawling collection of jasperware. To up the ante, pepper in a few choice items like candlesticks or small, framed paintings for a hint of gravitas. As for the drop-leaf, when not occupied by a laptop, it's just the right size for hosting a 5-pound roast.
In the Entryway
Consoles tend to earn all the respect when it comes to entryway storage, but with its abundance of drawers and hidey-holes, an antique secretary desk may just beat the console at its own game. In an entryway a secretary desk is a virtual magician, making life's less than attractive necessities—mittens, knapsacks, dog leashes, you name it—disappear. Leave the drop-leaf unfolded as a drop zone for items like keys, handbags, mail. Given that the entry is guests' first impression of your home, spring for a secretary desk that captures your home's style, be it a Mid-Century Modern secretary, Chinoiserie secretary, or something else entirely.
In the Bedroom
Sanctuary status aside, the bedroom is probably the room most often drafted to double as an office. With that in mind, an ersatz desk won't do. But a secretary desk, in all of its ladylike glory, is a different story. Bridging the gap between desk and dresser, an antique secretary desk can take the place of nearly any traditional bedroom piece, making it simple to factor one into any bedroom setup. In the most bantam of bedrooms, a nightstand can even be swapped for a secretary desk. Choose a lower headboard to complement a tall secretary desk, or a high headboard to offset a dresser-style secretary desk.
In the Kitchen
The kitchen might not be the first location you'd think to plunk a secretary desk, but where better to house a piece that can function as your home's command center? Use a tall antique secretary desk with interior pigeon holes to file mail or organize bills, and fashion the drop leaf as a permanent residence for a family calendar. The flat top or hutch shelves, depending on which style you prefer, can be filled with heavy-rotation cookbooks or a cache of beautiful cookware that doesn't get the playtime it should satshed away in kitchen cabinets.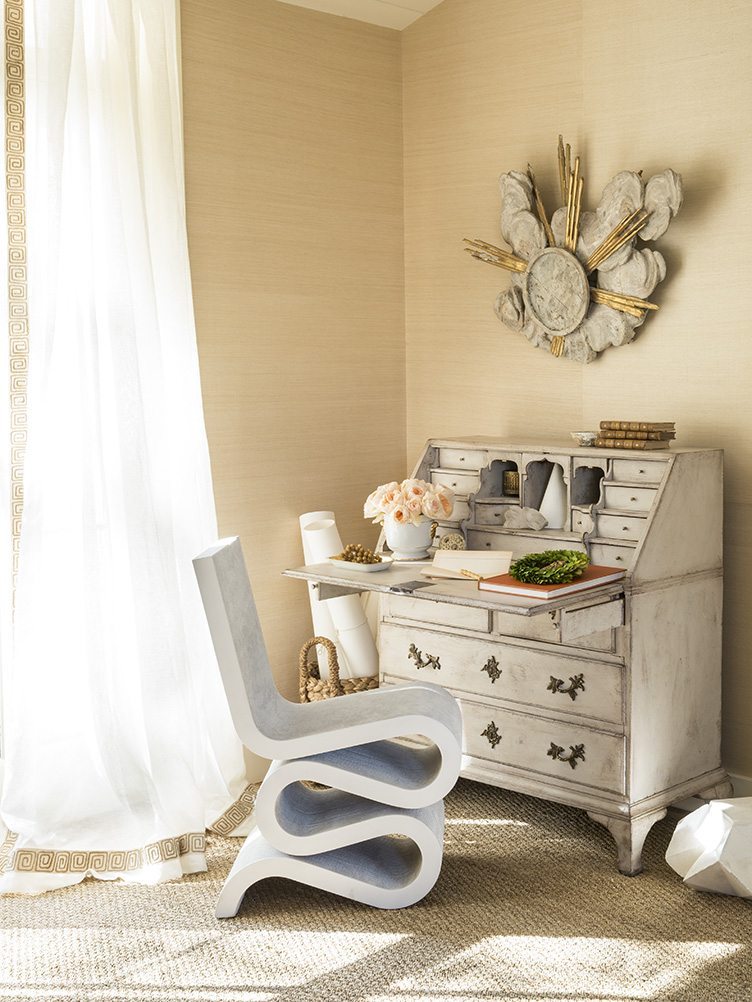 As a Corner Office
A secretary desk gives the term "corner office" a whole new meaning as one can transform any unused nook into a fully functioning workspace. Whether it's a wall alongside a set of stairs, a double-wide hallway, or just a precious stretch of empty wall space, a computer secretary desk can be deployed whenever you need it and closed up to preserve space when you don't. Try a search for a "corner secretary desk" if you're fully committed to using a corner, but you can also tuck a standard secretary desk into any corner at an angle to procure a similar effect.
In a Kid's Room
News flash: it's 2021 and kids need workspaces too! If you have an offspring who's homeschooling, chances are they need a place to dock for the day. While the kitchen table will suffice, there's nothing like gifting a nascent scholar a space of their own, especially a secretary desk, which feels like its own autonomous room more than just a make-shifted workspace. You'll likely want to avoid overly formal secretary desks and instead opt for something like a low-key Danish Modern secretary or playful chinoiserie secretary that can partner amicably with kid-centric decor. Ultimately, a vintage secretary desk is one of those pieces that can grow with your child, effortlessly evolving from classroom to a place for a teenager's trappings to a treasured family heirloom.
Bonus: Instant Bar
The ultimate way to appreciate your secretary when it's off duty? Turn it into a bar! If your secretary's holed up in a living room, dining room, kitchen, or entry, it's in a prime location for hosting cocktail hour. While a tall secretary desk with a hutch is ideal for showcasing larger collections of decanters, glassware, or choice bottles of booze, a small secretary desk sans hutch can be the perfect thing for a well-edited bar collection. A tray with glasses, spirits, a bucket for ice, and a few key extras like citrus, bitters, and bar snacks, makes for an instant party setup that invites guests to self-serve.
Fun Historical Tidbit:
Despite the term secretary often being identified with females, it was actually male secretaries who first led to the term's coining. In the 18th Century, men hired as secretaries to large estates would work directly out of their employer's homes. A secretary desk situated in their boss's living room or parlor would serve as their cubicle, and upon leaving, the men would close up the secretary, decisively returning their employer's home to off-duty status.
Lead Photo by Eric Piasecki / OTTO