Portrait photographer Claiborne Swanson Frank has a special instinct for finding beauty in elements around her, whether it be people or the natural world. Her first book, Assouline's American Beauty, included portraits of the women in her life, while her second, Young Hollywood, included celebrity snaps she'd taken after moving to Los Angeles for a time. Mother and Child was her third, in 2018, which she's followed up with a focus on the natural world in the form of Flowers, a series of floral photographs begun this year. These pieces capture the delicacy and quiet beauty of an array of flowers (artfully held by her son, Hunter). Below, see more of the series, available for sale on Chairish, and be sure to shop all of Claiborne's Chairish favorites as well.
Shop Claiborne Swanson Frank on Chairish >>>>
First and foremost, how would you describe your personal design aesthetic? How does that impact your own interiors?
I would describe my personal design aesthetic as eclectic: I love a mix of classic American, European, and bohemian influence. I like my interiors to reflect what I love in terms of design and my personal style, while bringing my family and I peace and comfort.
How do you think growing up in San Francisco and moving to New York — and then LA — affected your sense of design and style? How do the vibes of the East Coast and West Coast figure into your work?
I am very inspired by the East and West Coasts in terms of design and style. I constantly celebrate them in my work. My childhood years through my early twenties were spent in California. In the last 15 years I have married and raised our children on the East Coast. I have a deep love and loyalty for both and they have molded me aesthetically into the woman and artist I am.
You've published three books of your photographic work: ​American Beauty​, ​Young Hollywood​, and ​Mother and Child​. Can you tease some of the themes you'd love to cover in future books?
Some themes I'd like to cover include wisdom, beauty, nature, spirituality, and ageing.
You're selling some new photographs on Chairish, specifically of floral subjects. Tell us a bit about them and your inspirations in creating them.
It was spring of last year and I was at home in quarantine when I started this flower series. I began with tulips from my garden that were captured on my iPhone after hours of homeschooling my young sons Hunter and Wilder. I then brought out my Canon Mark IV and began to spend late afternoons after homeschool photographing flowers. Hunter, my six-year-old son (at the time) became my hand muse and flower handler. These flowers were my daily therapy and escape from a world that was unknown. They brought me light, peace, and joy in a dark time. My house was filled with them and they had a very special way of lifting our spirits.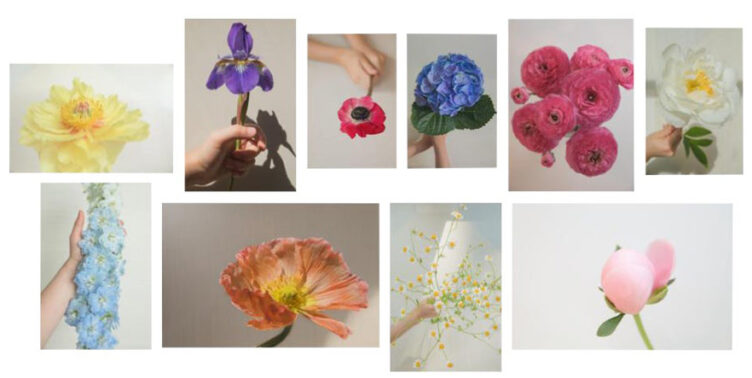 You've also worked on some of the most iconic fashion brands, including Aerin, Michael Kors, Veronica Beard, and Ferragamo. How do these collaborations come about, and who are some brands you'd love to work with in the future?
I have been lucky to work with amazing brands and these collaborations came to me organically through my work relationships, friends, and family. I believe when you are on the right path the universe opens doors and the right people and opportunities appear. I love creative directing and working with brands: There are many I would love to collaborate with. In the end, I am a storyteller. I love working with brands that inspire me to tell their stories through images — those that I feel connected to and passionate about.
Art (and photography in particular) are big categories on Chairish. Any pointers in terms of the best ways to display art at home?
I don't think there is a right way to do this. Hang art you love in places you can see. Hang art that makes you happy, inspires you and brings you joy.
Any tips as a parent for ways to keep your spaces chic but also kid-friendly?
We just do our best to keep food out of rooms that are vulnerable, try to keep our dog off the sofa… all the normal stuff. But to be honest, our dog sleeps on our bed, my children eat in our room and I mostly just pray they won't destroy the place!
On Chairish & Vintage Shopping…
What do you find most compelling about Chairish?
I love how Charish merchandises art, furniture, and accessories in such a fresh and thoughtful way. Charish is redefining the world of design and art and making it accessible to all.
What are some of your favorite pieces on Chairish now?
I love this restored pair of vintage rattan and wicker palm frond club chairs; this bespoke coquillage plaster light fixture; this pair of floating molded wicker chairs; and this pair of wicker drapery ghost armchairs.
How does sustainability factor into your design choices and love of vintage?
I always gravitate to vintage. I feel the older a piece, the more charm and soul it injects into your home. I would way rather something old than new. I feel good about it from a sustainability standpoint but I also tend to love the look and feel of vintage more anyway. I was raised surrounded by antiques and vintage pieces. I love and respect the legacy and stories behind these beautiful items.
Are there any dream vintage/antique "gets" you wish you could have? What's a dream piece for you?
Endless list of dream "gets"… so many I would love to own that the list would never end.
Some Design Favorites…
Favorite way to create a statement-making moment in a room:
Wallpaper all day long and painted floors.
Favorite decorating "cheap thrill:"
Plants, trees, and flowers.
Favorite paint color:
Bunny Mellon Grey
Favorite piece of decor in your home:
My wallpaper, stenciled floors, and my art.
Favorite style icon:
Lee Radzwill, Lauren Hutton, Slim Keith, Audrey Hepburn, Ali Mcgraw
Design destination every creative should visit at least once:
America, France, and Italy
Best piece of career advice you've ever received:
"Follow your heart, chase your dreams, and never stop praying."
Some Lifestyle Favorites…
Favorite vacation destination (when travel becomes an option):
Europe and South America
Favorite hotel that's inspired your work while traveling:
Favorite restaurant:
Favorite small museum:
Favorite podcast:
Oprah Super Soul and Joel Osteen
Favorite Instagram accounts to follow:
Too many to list!
Favorite hostess (or thank you) gift:
Flowers
Favorite flower:
This is hard… peony, poppy, dahlia
Favorite adult beverage:
Rosé or a very cold IPA
Favorite way to unwind at home:
Hanging out in my garden, riding bikes in my driveway with my kids, followed by a movie with my husband.
Favorite entertaining essential:
Music and wine
All photos by Claiborne Swanson Frank