Lucky for us here at Chairish, with each new year comes a whole new set of interior design books meant to educate, move, and inspire. Whether you're looking for insight on the nuts and bolts of home renovation, some eye candy to get the creative juices flowing, or a history into some of the world's most renowned designers, these 12 books will do the trick—with the added bonus of looking stunning on your coffee table! We're always interested in the latest book releases, so follow us on social for updates. Looking for vintage art books? We've got you covered right here on Chairish. And, if you're curious to learn more about the process of publishing design books, be sure to listen to our podcast episode about the topic here.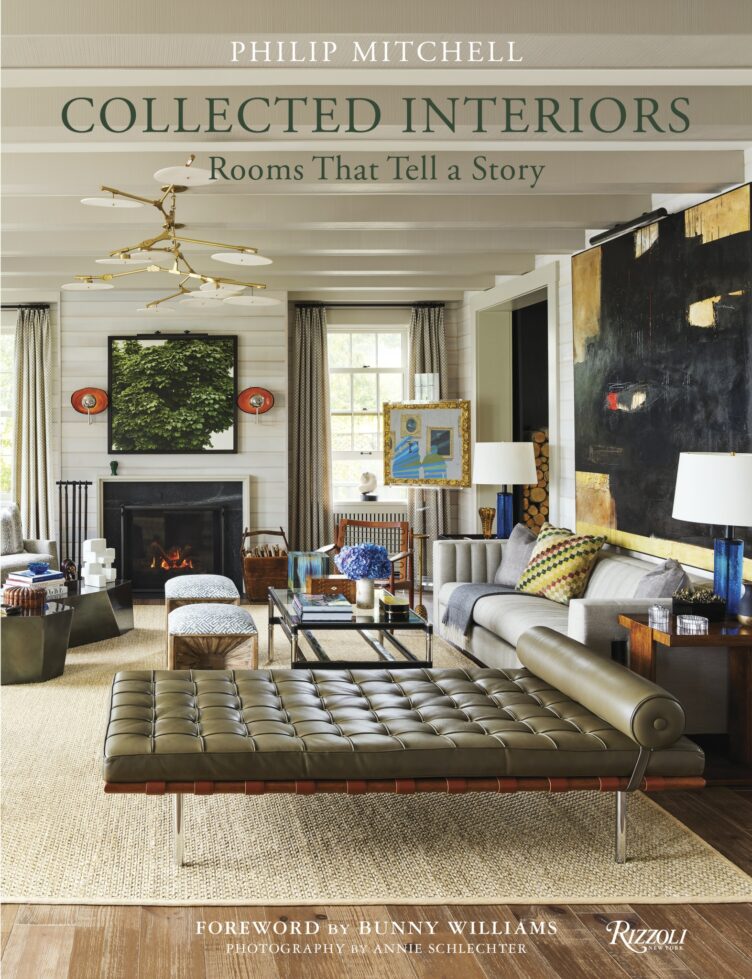 A master of "modern maximalism," interior designer Philip Mitchell expertly blends stately furnishings, personal family heirlooms, and contemporary art to transform nine gorgeous homes featured in this book. Throughout it all, Mitchell takes the reader along the process, explaining his design thinking and takeaways from each home.
In House Dressing, Southern interior design Janie Molster delves into her best tips and tricks on working with color, pattern, and texture to craft a dream home. Filled with gorgeous photos of Molster's bold, yet personal and comfortable, interior creations, this book is perfect for the amateur designers who live for a splash of color.
In his literary debut, renowned ceramicist Christopher Spitzmiller outlines a full year at Clove Brook Farm, his country retreat in New York's Hudson Valley. Divided into four sections for each season, the book dives into gardening lilacs and applebossoms in the spring, organizing a summer cocktail party, setting up the perfect Thanksgiving table, and holiday decorating. Attacking a wide array of topics, Spitzmiller provides abundant advice on how to make a house a home (plus, Martha Stewart makes an appearance by way of the book's forward!).
Following her 2015 New York Times bestseller Styled, interior designer Emily Henderson creates an all-in-one decorating bible in The New Design Rules. She takes you through her entire process, showing readers how she picks paint, arranges furniture, and decides on lighting in any given project. She also delves into important considerations like hiring a contractor versus an architect, the best materials to consider, and more—making the book perfect for anyone hoping to renovate their home in the new year.
Filled with gorgeous photographs of grand Connecticut estates, waterfront homes on the Florida coast, and glamorous Manhattan apartments, The Well-Loved House showcases adventurous, yet inviting and cozy, dwellings. Throughout it all, Elle Decor A-List decorator Ashley Whittaker provides insight on each home's design—from architecture to furniture plans to color and texture.
In Jungalow, designer and artist Justina Blakeney refuses to follow conventional thinking, instead advocating for a truly free and wild approach to interior design. With an authentic and approachable voice, Blakeney shares how she gains inspirations from nature, makes bold choices with color and pattern, and utilizes her own space.
Island Whimsy is interior designer Celerie Kemble's heartfelt homage to the beach. In the summer of 2004, Kemble fell in love with a coastal piece of land in the Dominican Republic, and since then, has crafted an island retreat there, utilizing her expert design skills. Throughout the book, Kemble dives into the design elements of her home, weaving in personal stories and sharing her inspirations.
Jennifer Golub brings to life the story of modernist designers Russel and Mary Wright and their mission to transform their country estate into a personal artistic oasis. The book is filled with personal histories, arresting photographs, and information about both designers' process. Check out our interview with Golub where we talked the Wrights' legacy and Hudson Valley home here.
Showcasing 14 of acclaimed interior designer Shawn Henderson's interiors, this book is a master class in constructing sophisticated and harmonious interiors through layering furnishings, finishes and textures, and choosing a refined color palette. If you're looking for inspiration on how to craft serene, elegant, and warm spaces, look no further than Shawn Henderson: Interiors in Context.
In Feels Like Home, designer Lauren Liess presents a simple, yet thought-provoking, thesis: a house is a feeling. Throughout her third book, Liess explores how our personal emotions play into the way we decorate and utilize our homes. Liess dissects the design aspects of different homes in order to show how vital the emotional aspect of a space can be.
Ever wonder how top, international interior designers craft their own homes? Rose Uniacke at Home presents a privileged chance to see renowned interior designer Rose Uniacke's London home. A reflection of her work as a designer, the book itself is a luxury object with a cotton duck canvas slipcase covering the book, which is also wrapped in pure new wool. Don't hesitate to pick up a copy yourself—only 2,500 copies were made.
One morning in 2016, New York-based floral designer Lewis Miller stealthily created a floral installation around the John Lennon memorial in Central Park. Filled with vibrant dahlias, carnations, and mums, the "Flower Flash" sparked joy in unsuspecting New Yorkers. Since then, Miller has constructed countless elaborate flower bombs around the city. Flower Flash documents Miller's process, working as a visually arresting diary of the Flower Flash and its history.
Featured Image: Photo by François Halard / Featured in Rose Uniacke at Home