Celebrating its 5th year, the highly anticipated Kips Bay Decorator Show House Palm Beach opened its doors this week. Showcasing the creative vision of 24 designers from around the country, this year's showhouse is a Mediterranean Revival estate encircled by a lush grove of palm trees. Inside, there's so much to explore, so we teamed up with The Shade Store to get an exclusive tour and take a closer look at how designers approached a common design challenge within the house: windows.
As the exclusive window treatment partner to Kips Bay Palm Beach, The Shade Store assisted designers with fashioning a wide array of stylish window coverings that tackle a host of common challenges, including how to make a space appear larger, camouflaging problem spots, and enhancing natural views.
As part of our exclusive backstage tour of Kips Bay Palm Beach with The Shade Store, we'd like to invite you to join The Shade Store's trade program. The Shade Store's trade program includes no shortage of perks for designers. They offer custom window treatments with measurement and installation services, a quick turnaround time of 10 days or less (15 days or less for COM orders), as well as free shipping. From rich drapery panels to sophisticated Roman shades, designers can create custom window treatments by choosing from an in-stock collection of 1,300+ materials, including fabrics, trim, and more. Designers are also provided access to renderings to help them envision their spaces, and with 110 showroom locations nationwide, in-person assistance is never far away.
Sign up for a trade account today and start designing your dream windows! Now, let's step inside the 2022 Kips Bay Palm Beach Show House and discover how designers used custom window treatments from The Shade Store to bring their spaces to life!
There is no shortage of atmosphere in this "Drawing Room" dreamed up by Peter Pennoyer and Alice Engel of Peter Pennoyer Architects. To enhance the sunlight that streams into the room, the firm chose to flood the space with citrus-y, summer-inspired hues. Graceful antiques, a Tibetan wool carpet, and tangerine walls all work to cocoon the room in warmth. The rich draperies were crafted by The Shade Store using a COM paprika-colored gingham from Steve McKenzie and trimmed in ruby brush fringe from Samuel & Sons. They lend tactile dimension to the space. Further enhancing the look are flat Roman shades fashioned from a charming Soane Britain fabric. The Shade Store's own hardware in Gun Metal finishes the look. 
For the Show House's garden-facing sunroom, Paloma Contreras pays homage to classic Palm Beach panache with a light green palette and palm-flocked fabrics. To temper the sunshine that pours through the room's expansive windows, The Shade Store worked with Paloma to design sweeping cream and green drapery panels and an enveloping valance that also serve as an impressive focal point in the space. The tailored pleat drapery is crafted from Schumacher linen and adorned with a Samuel & Sons trim. A custom crenelated valance adds texture while also working to soften the geometry created by the room's striking lattice-clad walls. 
To emulate the vibe of a swanky, upscale bar, designer Jim Dove opted to dress his room in an adventurous monkey-print wallpaper, a posh marble table, and a decadent, cone-shaped chandelier. For even more moodiness, he worked with The Shade Store to tee up dramatic draperies crafted from a rich, scarlet Renaissance Fabrics silk taffeta. Denim-colored trim from Samuel & Sons—in-stock at The Shade Store—completes the theatrical effect. To counteract the weight of the draperies and lend a tropical element that feels organic to the Show House's locale, Jim opted to complete the window dressings with textural, waterfall woven wood shades. 
Noz Nozawa channels a modern Palm Beach aesthetic in this whimsical sitting room, playfully deemed "No Bad Mondays." Vintage side chairs and a sofa dressed in a crimson fringe provide plenty of places to stretch out, while a sculptural coffee table acts as a prankish anachronism. To envelope the room in a dreamy pink hue, Noz worked with The Shade Store to craft airy, pleated panels from a Vervain toile for the windows behind the sofa. To add contrast and polish, waterfall woven shades created from in-stock Shade Store fabric (in this case, Bayshore in Sand from the Artisan Weave collection) were designed to outfit the room's other windows. The unexpected pairing lends an air of bohemianism that feels perfectly in sync with the old world-meets-new-world Palm Beach milieu. 
The Shade Store helped to transform Tiffany Brooks's sketch of an intricate cornice into a reality in this opulent "Bloom Lounge." The shapely cornices, constructed out of Shade Store's in-stock Holland & Sherry wool flannel in a powdery blue colorway, serve as dramatic toppers for standard pinch pleat drapery panels. Together, the two window treatments feel both sophisticated and funky. An ornate Chinoiserie wallpaper, exuberant neo-peacock chair, and cheeky Dalmatian statue complete this unconventionally cool room. 
Inspired by Brazilian design, Philip Gorrivan Design's "Sala Exotico" showcases a rich intermix, including tiger print souffle poufs placed atop a bold, geometric-style mauve rug. These unexpected pairings are further enhanced by an architectural installation-style ceiling that's softened by ethereal ceiling-mounted drapery. Layered with pleated Roman shades in Holland & Sherry fabric, the look exudes a feeling of eminent elegance—and as a bonus, disguises a low window height. 
To create a rebellious, French-feeling salon, Goddard Design Group opted for a vibrant color palette and charismatic fabrics. Window treatments, meticulously crafted by The Shade Store, serve as one of the room's most pivotal statement pieces. To cue up a one-of-a-kind look, the firm elected to have The Shade Store fashion embroidered drapery panels in a GP&J Baker fabric with a double band of box-pleated ruffles and layered over sheer panels from Kravet. To up the function, woven wood shades in an organic Reed material were added as a way to filter or block light as needed. As a final pop of playfulness, brass hands were added above the golden drapery hardware.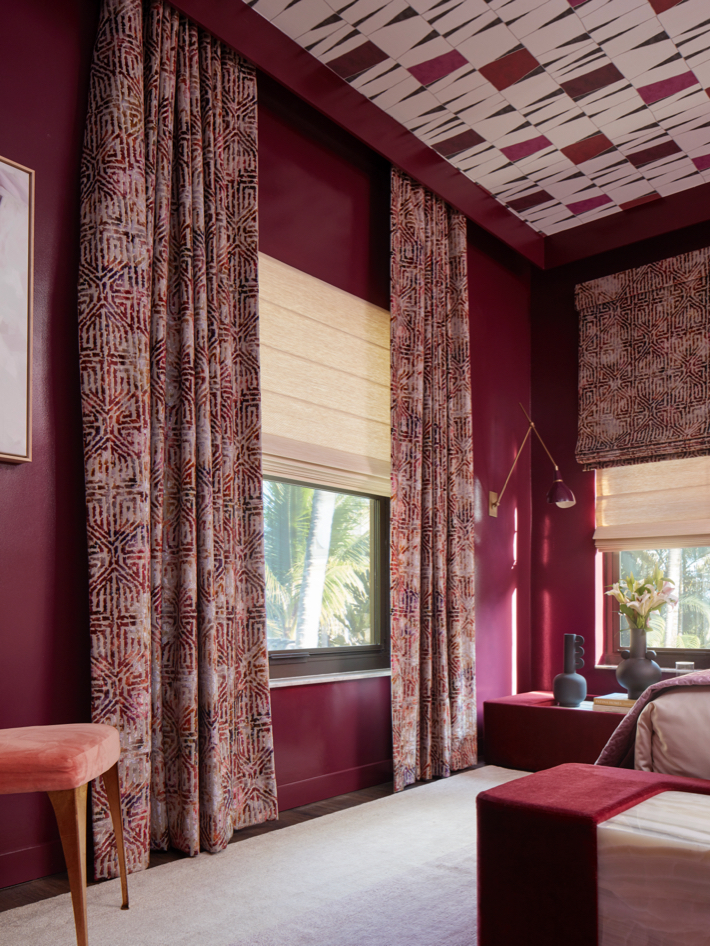 Kelly Finley of Joy Street Design's "In Real Life" has designed a guest suite that's an enveloping retreat. A sumptuous palette of purples and reds sets a tone that feels both soothing and energizing. In an effort to create a room that truly heralds modernity, Kelly integrated The Shade Store motorization into her drapery design. Motorized ripplefold drapery and motorized blackout Roman Shades, both crafted in a COM printed velvet fabric from S Harris, open and closes on demand. Set against the dark burgundy walls, the floor-to-ceiling drapery lends undeniable artistry to the space. As a final touch, the roman shades in a natural grass weave filter light and adds to the room's modernity.