With just two months left until we're in full holiday mode — yes, you read that right — we're planning ahead for ways to make the season just a little brighter and even more special. Enter Bauble Stockings, created by Atlanta-based Kate Stice Stewart, whose family had a tradition of leaving a last Christmas stocking — a "bauble stocking" — with a special gift for their mother, as a thank you for all she'd done for them that year. As an adult, Kate paid that tradition forward by creating her company, Bauble Stockings, which creates beautifully knit stockings in unique patterns and colors. The stockings are all hand-knit and finished by a community of single moms in Haiti called Good Threads Needlepoint, which provides jobs and has even built a school on the island. Five percent of sales also go to the ​​Atlanta Children's Shelter, and an additional 10% of profits from stockings designed by guest artists go to a charity of their choice.
To learn more about this incredible business and tradition, we spoke with Kimberly Whitman, an author and event planner who's designed a line of pieces for Bauble Stockings. Kimberly's work has been featured everywhere from Vanity Fair to Vogue, and she knows a thing or two about creating a beautiful setting for the holidays. We spoke with her about her creations for Bauble Stockings, her ideas for creating memorable tablescapes, and how to incorporate personal touches into holiday decorations. See what she had to say below, and be sure to shop Bauble Stockings on Chairish.
What are some of your tips for creating a gorgeous holiday tablescape? What are the most essential elements?
Design with your heart every day, but especially around the holidays. Take family traditions into consideration and add a sentimental element that will touch the hearts of your family and friends around the table. It could be Bauble Stockings, if you have a family member who likes to stitch, or maybe it's as simple as using your grandmother's candlesticks.
What's your #1 holiday entertaining must-have? What really brings the moment together, whether you're gathering a large family or just a few folks?
A plan! I know it sounds silly, but I just always have more fun when much of the work is done in advance. Little things make a huge difference when everyone is helping out too. For example, I write out everything we are going to serve on Post-It notes and pull out all of the serving pieces in advance and label them. That way, if my sister or mother is helping out, they can easily find the tray that the sweet potatoes go on! I also set the table days in advance too!
Tell us a bit about the pieces you created for Bauble Stockings. How did you start working with them?
Kate reached out to me when she first started her business and I just loved her story. She sent me a stocking and we started her tradition in our family. She asked me to contribute a design and offered to have sales benefit a favorite non-profit, Children's Cancer Fund. I was thrilled to be a small part of the business she is creating.
The story behind Bauble Stockings is that the final gift of Christmas — not necessarily the most expensive, but the most meaningful one — would be found in your "bauble stocking." Did you have this kind of tradition at your home as well?
Kate introduced me to this tradition and now I love it too!
Here's a personal one: What would you hope to find in your bauble stocking?
Something thoughtful! I love the gifts that my husband takes our children shopping for.
Your items in particular are in a blue-and-white color scheme rather than green, red, or gold. What made you choose these colors?
These designs are inspired by classic Bargello needlepoint designs. We have large stockings like this that we hang on our mantle every year and Kate suggested that we use them as inspiration. I love the way the blue-and-white stockings look hanging from evergreen garland. Our living room is full of blue and white so it works in our home and, as it is such a popular color scheme, I hope it works in many homes! I love the idea of blue-and-white ginger jars filled with magnolia branches and red holiday berries, an evergreen garland, and these blue-and-white stockings placed nearby.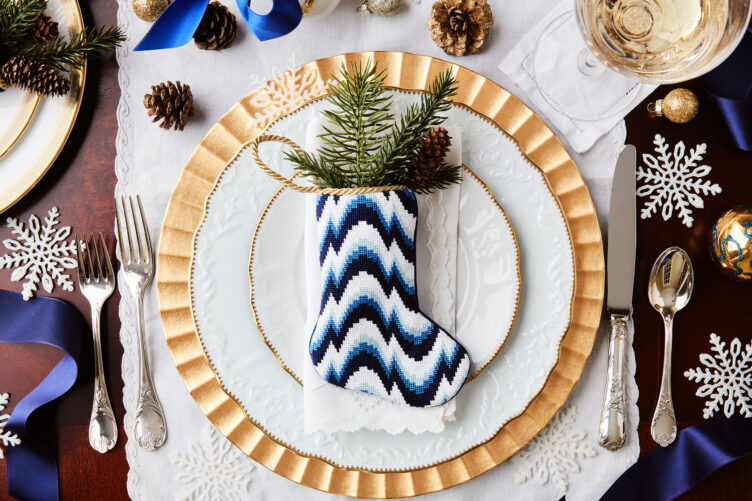 Bauble Stockings' products are all created by hand, by skilled makers in Haiti, and several charities benefit from their sales as well. Tell us a little bit about what this means to you.
This is so great — it is what the holidays are really about! I was really excited for my proceeds to go to Children's Cancer Fund, an organization that helps both with research and also with families and their immediate needs while children are in treatment. The work they do is so special and I'm proud to sit on their board and be a past Gala chair for them.
What's the best way to incorporate personal touches into a tablescape when they may not be the most "well decorated" items? How do you pull in kids' ornaments or hand-me-downs when creating your designs?
Children's touches are just the best! I love to give my children assignments for the table or decor. I often ask them to write and place the placecards or help set the table. It is so great to get them involved. I always have a space in my home that is decorated for the children and that is usually where I like to put their crafts and artwork. It is my favorite part of the house. Our tree is also full of ornaments they have made through the years. Hopefully everyone can find a really special place for those treasured items where they can complement the rest of the decor!
All images courtesy of Bauble Stockings