Today we're making holiday floral arrangements with Mona Moreno, founder of Willene Design. And we'll be the first to admit that we've been long-time admirers of her designs (see jaw-dropping arrangements on her Instagram feed). We asked Mona to share with us some of her styling secrets for dressing the table with a gorgeous holiday floral arrangement!
Mona is a world traveler with Texan roots. She's lived abroad in Italy and has spent time in design hubs like Sweden and Portugal. As a student of design, Mona has always had a knack for beautiful floral arrangements. So when she moved to San Francisco, she decided to open up shop (under the name of her great aunt Willene!).
All About That Vase

First of all, choose a vase that suits your tablescape! Mona put together a few types of holiday floral arrangements for us. Together, we chose vintage vessels and decided on the looks. Mona recommends looking for vases with a wider mouth to allow for a fuller bouquet. Furthermore, choose a vase with an interesting shape or color to complement the holiday floral arrangement!
Pro tip: get creative! try repurposing a trophy cup, ice bucket, or urn. Some of our Chairish favories include this Mid-Century Scandinavian Blue Art Glass Bowl, this beautiful Vintage Brass Urn, and the Yacht Club Cup Trophy.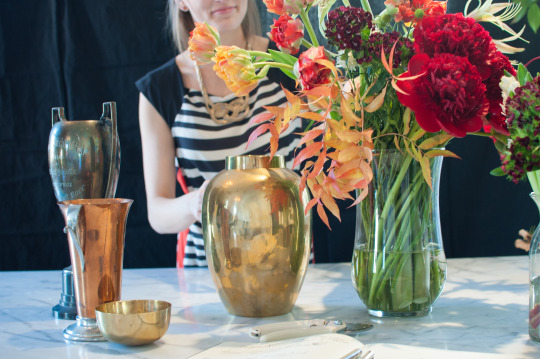 Flower Picking
Mona always starts her search for "the flower you can't keep your eyes off of." You know the one: that huge, red peony bloom, or the celosia, a burgundy, feathery flower. Favorite colors for holiday floral arrangements include classic reds and greens for winter, but not without a twist. Mona says redwood with pinecones or delicate white flower tree cosmos are a nice touch!
Seasonal flowers, of course, often make their debut during the holidays: tulips are all year round favorites, winter means snowberry, amaryllis, ferns and other greens, colorful leaves for fall, and peonies and ranunculus for spring.
Where to go: Mona buys her flowers wholesale, but suggests going to the farmers' markets (Monday and Friday mornings are the best – make sure to get there early). In the Bay Area, the San Francisco flower mart is stellar; be sure to check out your local flower market. Mona loves to support the local flower economy, while occasionally mixing in some imported blooms from Kenya or Holland.
When buying flowers, here are a few key tips:
Check if the stems are cold (warm isn't good for them!).
Check under the petals to see if they are brown (you want them to be fresh, and brown signifies that they may be past their prime).
Ask the grower how long ago they were cut (48 hours is best).
Always remember to select fresh florals, trim the ends of the stems, and change the water every few days for flowers that last.
Build the Base
Start with a good base. Mona typically starts her arrangement with a foundation of greens for strong structural support and fullness. Greens can be tricky as they are based on season and availability. The good thing is, you can always "forage" your own in your own backyard!
Go with the Flow
Let the branches determine the shape and structure of the bouquet. Mona believes that free flowing, dynamic, and colorful arrangements are much more interesting to look at than monochromatic, symmetrical arrangements.
Always be ready for a close-up! Make sure to rotate the arrangement as you add, so that the beauty can be seen from all angles. Remember to treat the arrangement like a painting, varying the texture and colors of the flowers throughout. You can make adjustments as necessary. And make sure to mind the gap:  view your arrangement from the top and all around so that you can fill in any gaps.
Keep It Fresh

Always replenish your bouquet with fresh water! Giving the ends stems a little snip (about ¼ inch) at an angle will help them stay fresh. Also, pour a capful of Sprite or bleach (yes) to help keep the flowers fresh, and to prevent mold (algae is the number one flower killer).
A big thank you to Mona of Willene Design! Visit her website to learn more about her work, and follow her on Instagram for your floral daily inspiration. To shop our vintage vases and make your holiday bouquet really 'wow' this season, click here.
All photos by Poppy Lynch