Held at 3800 Washington Street in Presidio Heights, this year's San Francisco Decorator Showcase features the innovative work of nearly 50 expert interior and landscape designers, who have conceptualized opulent environments demonstrating the wide range of design talent that the city has to offer. The setting for the showcase is an elaborate mansion known as "Le Petit Trianon," an 18,000-square foot property originally built in 1904 as an homage to a grand chateau at the Palace of Versailles outside Paris. This is the second time that Le Petit Trianon has played host to the event; the show house took up resident at the estate in 1982, only five years after the event was first conceived in 1977 to raise funds for San Francisco University High School Financial Aid Program. 
The 2019 SF Decorator Showcase will be open through May 27. Below, we've gathered room images from several top designers presenting at the show house.
Marie's Magnolias – The Royal Retreat by Dina Bandman
In this master bedroom, Dina Bandmen crafted a luxurious sanctuary dedicated to Marie Antoinette, the decadent and infamous queen who once resided at the Palace of Versailles. A Paul Ferrante coffee table from HEWN is decorated with various bright accessories, and lighting needs are met with a range of beautiful objects, including Forbes & Lomax light switches and Vaughan sconces. The decorative trims are from Samuel & Sons via Kneedler|Fauchère.
The Wo-Man Cave by Kelly Hohla Interiors
Also inspired by Marie Antoinette, this violet game room by Kelly Hohla Interiors reimagines a storage room where ballroom furniture used to live in the off-seasons. Hohla and her team selected the floral wallpaper from De Sousa Hughes because it reminded her of the botanical gardens at the original "petite Trianon." A side board from Natasha Bardaran, also ordered through De Sousa Hughes, offers a taste of the unexpected.
The Haute Bohemian Hideaway: A Tribute to Connoisseurship by The Wiseman Group
Fashion icons Pierre Bergé and Yves Saint Laurent, along with their passion for travel, inspired the Wiseman Group's design of the salon. Phoenix Day designed the floor lamp, and the lounge chair is from Ironies via Kneedler|Fauchère.
L'Espace Tranquille by Julie Rootes Interiors
Historic Parisian bathrooms provided the inspiration for an Art Deco-style bathroom from Julie Rootes Interiors. The light switches are from Forbes & Lomax, and the sconces are from Soane Britain, while the wallcovering and fringe are from Kneedler|Fauchère.
Fleurs Et Orangerie by Kari McIntosh Design
For the butler's pantry and atrium, Kari McIntosh also modeled her vision after the artistry and excess of the Palace of Versailles. Light switches are from Forbes & Lomax, and the Paul Ferrante chandelier and antique watering cans were purchased through HEWN .
En Suite Espresso & Cocktail Bar by Lauren Berry Design
Decorated by Lauren Berry Design, this chic space dedicated to coffee and cocktails matches minimalism with ornate details and a sense of luxury.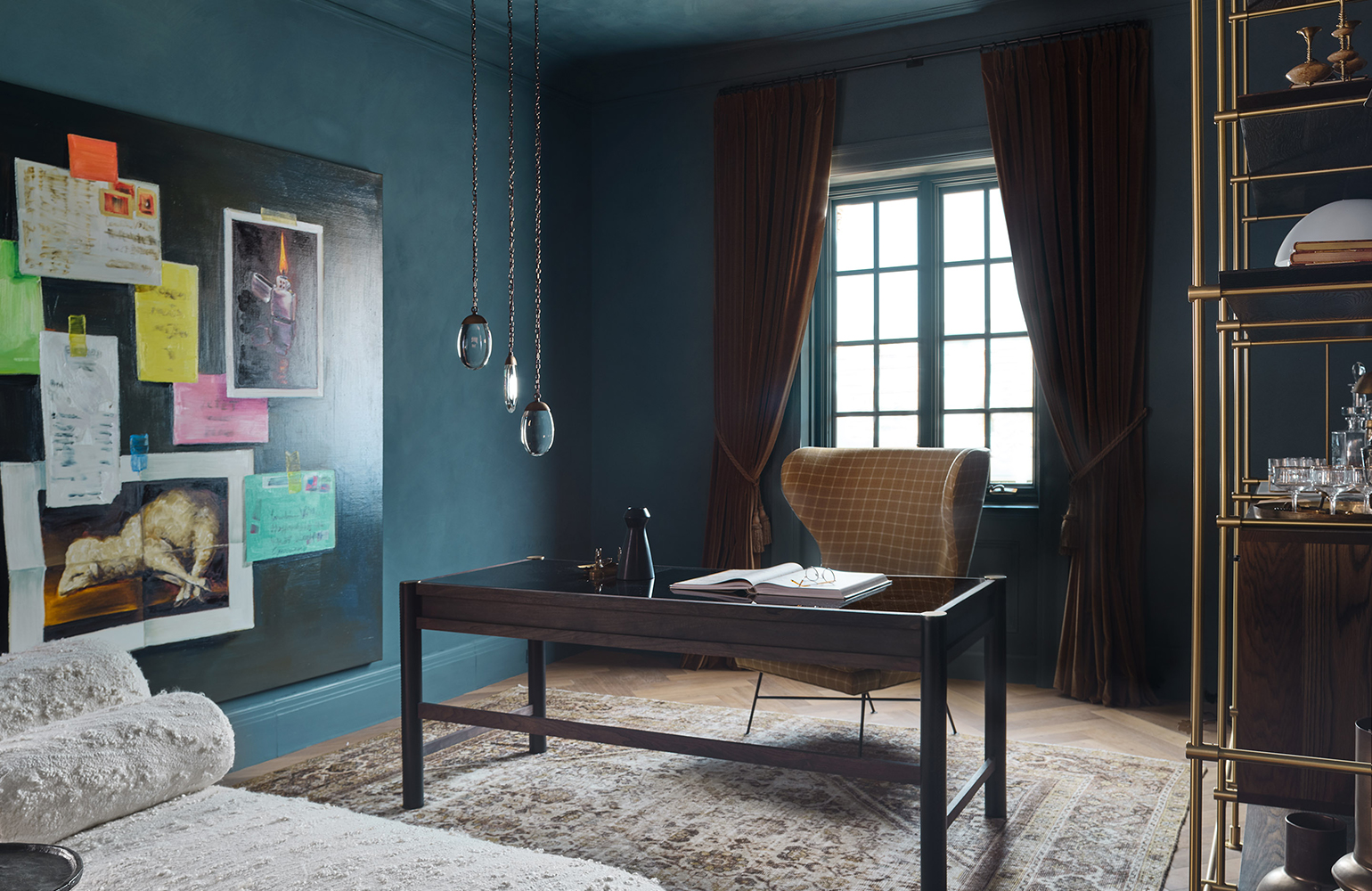 Le Salon d'Écritoire by K Interiors
A deep navy hue serves as a magnetic background color in a detailed home office environment from K Interiors.