Styling art requires a certain finesse. An artwork should be tasteful, valuable, and creative, while also reflecting the client's taste and the architecture of their space. Below, Dering Hall designers offer their best advice on working with art — often without relying on an outside consultant.
Consider Unusual Art Forms
---
Not all art falls neatly into one category — some works play with the boundary between art and object. Here, the designers behind 2Michaels used a ceramic table sculpture to complete a minimalist dining space. "I fell in love with the sculpture," says Jayne Michaels, who co-founded 2Michaels Design with her sister, Joan. "Its undulating shape and ancient yet modern sensibility really appealed to me." Crafted by Kassandra Thatcher, a New York-based ceramic artist, the simplicity of the sculpture resonates with the clean space, but its wave-like shape and earthy texture bring contemporary elegance to the dining area. "The silhouette plays beautifully against the starkness of the wall and clean lines of the chairs and dining table," says Michaels.
Find Color Inspiration in the Client's Fashion Choices
---
"Art has the potential to take a room  from beautiful to spectacular, but it also can ruin the aesthetic as well," says Joe Fava of Fava Design Group in Miami. Fava loves to work with color, particularly when styling art, and he looks to the client's clothing to determine the color palette that would best complement their taste. "Many times, the client drives the color story, and you can pick up many clues as to what they gravitate to by their fashion choices," Fava says. "I think the color choice should reflect the client, so I actually use the clients as inspiration."
Fava's spaces tend toward timelessness, rather than trendiness. However, when he's designing for a teenage girl, trendy pop art and pale blues are absolutely appropriate. "This room was designed for a teen, and I thought pop art aptly reflected the space and the young woman for whom it was designed," he says. "I wanted the space to be bright and funky, and I thought this piece was perfect."
Contrast Brings Balance
---
For Lisa Tharp of Lisa Tharp Design, a room's design revolves around the art choices. "Even if the exact piece is not yet selected, we plan out locations, scale, and the role each work will play early in our design process," says Tharp.  "We often upgrade the interior architecture, surface treatments, and picture lighting in order to ensure optimal impact."
In this space, Tharp chose a color palette that would reflect the "pale aquas and antique golds" common to design in Charleston, South Carolina, where the clients had previously lived before moving to the northeast. Although the style of their house is slightly more traditional, the Josef Albers artworks "inject confident and unexpected juxtaposition," Tharp says. That contrast creates a sense of balance. "Every element introduced into a design must strike an almost imperceptible equilibrium with other elements in order for the room to be a success," she adds. "Warm balances cool. Rough balances smooth. Light balances dark. Like a symphony, every instrument plays its part in creating the harmonious whole."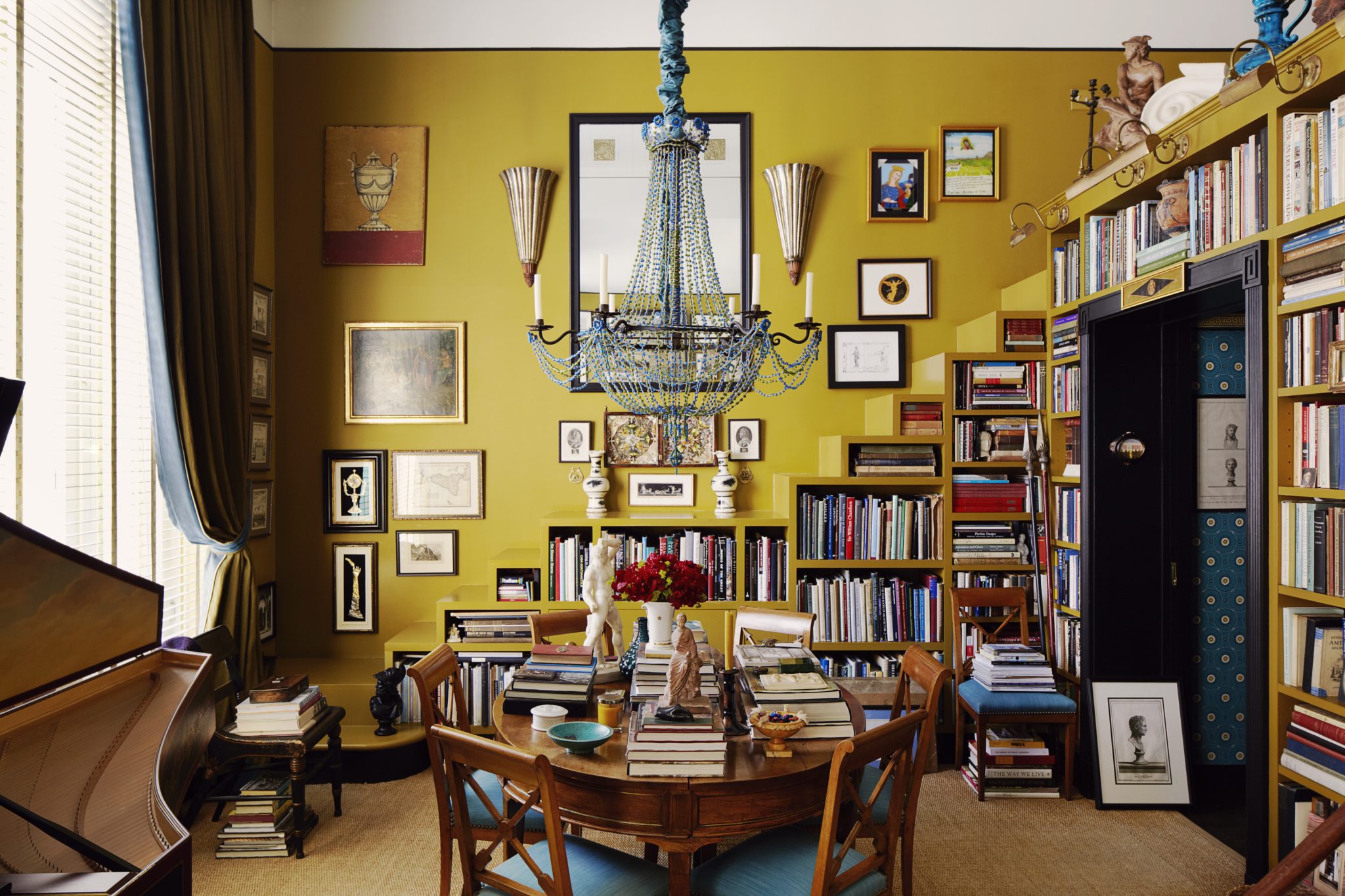 Position Pieces Based on the Size of Their Details
---
When placing art, designers often rely on a delicate strategy. "It's nice to mix up frames, but pay attention to balancing the intensity of the art," says Bill Brockschmidt, co-owner of the design firm, Brockschmidt & Coleman, LLC. Brockschmidt advises hanging artworks "so that the items with the most miniscule details can be viewed up close, while art with larger gestures is hung higher and can be seen from a distance." To properly position pieces, the designer and the business's co-owner, Courtney Coleman, sometimes create small copies of the art and rearrange them against a picture of the wall.

The space pictured above is Brockschmidt's own apartment with his husband. He has been collecting art for a long time, discovering it in a variety of locations. Many of the pieces are gifts, and others were created by artist friends; some were purchased at flea markets, and others, from travels. He notes that art can be used to complement or contrast with architectural styles. "The 18th-century engravings of antique sculpture busts are from a dealer at the flea market, and they reinforce the bits of architecture that transform the loft from industrial to classical," he says of his own space.
Keep Scale in Mind
---
Like other designers, Joe Human of designs by human notes that scale is a major consideration when selecting and designing art-filled spaces. "Always look at scale and see how you can play with that," Human says. "Sometimes a room needs a giant piece of art, and sometimes it needs multiple small pieces." A disregard for scale can cause significant design mistakes. "I've been in so many homes where a client has spent a good amount of money on an original piece, but it's placed on the largest wall in the home and it's a 12-inch by 12-inch art piece," he adds.
For Human, art doesn't need to be expensive; it does, however, need to look expensive. Framing personal items that belong to the client is a creative way to decorate a wall and make a space feel personal. Here, he framed album covers from the client's rock collection and hung diving statuettes to bring edge and individuality to the space. He believes that each artwork should suit the space. "Another mistake I see is forcing a piece where it shouldn't go just to have something there," he says. "A reproduction from Target can look like the real thing if placed in the right way with the right furniture, but in the wrong way it will always look like a reproduction from Target."
Offer Another Perspective
---
Phyllis Taylor of Taylor & Taylor suggests that changing the location of art for a client can help them to see it in a new way. "Placing their art in the same expected orientation as they have had it over the years doesn't allow clients to rediscover their art and have a new appreciation for it," says Taylor. This particular portrait of the client was painted during her years working in the Clinton Administration. The client had kept it hidden in the more private spaces of her home, but now placed in the breakfast nook, the portrait stimulates conversation with guests and inspires the recollection of memories. The picture helps the client "tell her story to visitors and friends she is entertaining," Taylor says. The designer also chose a lipstick-red wall here to match the color of the client's lips in the portrait.
Taylor's final advice is to freshen up the space surrounding artworks every so often. "The art itself may be timeless, but fresh framing trends and new background wall colors can go a long way in giving old art a new life."