Buttoned up as the name may sound, nothing adds a funky feel to a living room like a chesterfield sofa. A Brit by birth, the chesterfield is famous for its spot-it-from-a-mile-away details: boxy frame, tufted upholstery, and chunky rolled arms. With a style that swings between cottage charmer and rock n' roll glam (consider it those English roots showing!), the chesterfield is our go-to solution for virtually any style dilemma. Slip a chesterfield into almost any room and it will whip it into shape, yet won't seal the show.
As intrigued by this quick-witted Brit as us? To style it seven swagger-y (and decidedly non-stuffy) ways, read on!
Luxe & Glam
Outfit a chesterfield in a yummy velvet with just a whisper of color (lilac, peach, mint) and it immediately trades in its library vibes for those of a glamorous gal pal. When upholstered in a pastel color, a chesterfield's imposing form immediately softens, with the tufting assuming couture-worthy detail status and the rolled arms becoming downright swan-like. Not changed however, is the chesterfield's bed-width seat, making it the perfect sub for a chaise in a dressing room or walk-in closet.
Global
You might not expect it, but the chesterfield has globe-trotting chops to be reckoned with. The simplicity of the chesterfield's design makes it a smart candidate for loading up with textiles, be it a bolt of fabric draped over the back or gobs of global textile pillows. Helpful hint: opt for a linen or cotton chesterfield to make textile mixing and matching a bit easier. Since ethnic fabrics like kilims, kuba cloths, and mud cloths often feature open weave fabrics like cotton or linen, a chesterfield in the same texture will up the cohesion factor.
Scandinavian
While a chesterfield might seem like the polar opposite of minimal Scandinavian style, when styled right, one can actually feel oh-so-right in a sparse space. To achieve the perfect balance, pair a traditional chesterfield (Preferably upholstered in something neutral) with a crowd of sparse, white-washed Scandinavian furniture. If you fear that your leather chesterfield will stick out like a sore thumb among all of the scant pieces, remember that Scandinavian interiors crave warmth. While most rooms achieve the cozy vibe by way of a sheepskin or a chunky knit throw, a chesterfield sofa will seriously crank the style thermostat.
Industrial
When it comes to industrial style, a chesterfield's oversized proportions and hardware-inspired details make it a natural fit. To pull off a lasting union between the two, start with the most colossal chesterfield you can find. A hunk of a sofa will allow you to populate your space with more jumbo furniture (a token of industrial design, if there ever was one). And while a dark leather chesterfield isn't a prerequisite, keep your palette well-whetted with dark, handsome colors to up the cinematic factor.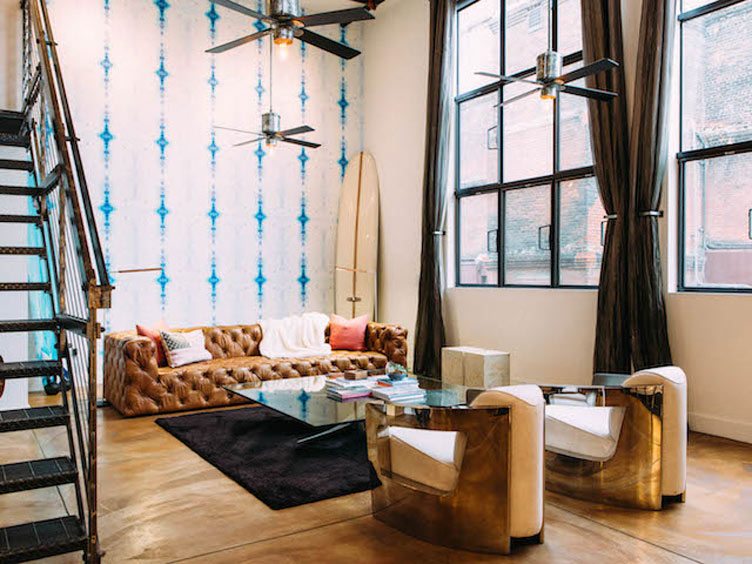 Downtown Cool
Despite its traditional roots, a chesterfield can be rendered downtown cool by nixing its traditional roll arms and opting for square arms, or springing for unconventional details like all-over tufting (not just on the seat and back). The modified form will both signify that your chesterfield is an intended deviation from the norm, and allow it the ability to display like an anomalous sculpture—just make that one very comfortable sculpture.
Mid-Century Modern
When you think about the kick-back-and-relax silhouettes that Mid-Century Modern furniture is known for, there's certainly no reason why a chesterfield can't get in on the fun! The secret to styling a chesterfield sofa in a Mid-Century space? A boom-pow color palette. Choose a chesterfield in a bold, primary hue (red, green, even yellow) to to make it jive with your Mid-Century color wheel. Another tip? Try factoring in a few other pieces that aren't Mid-Century, maybe a pair of reupholstered Hollywood Regency slipper chairs or a boho shag rug. This will create a feeling of purposefulness (the secret weapon to staving off flea market-style disarray).
Madcap Cottage
The chesterfield has a definite quirky side, making it an inspired choice for a room with an madcap or eccentric English feel. To get the look, choose a chesterfield upholstered in an idiosyncratic textile. An unorthodox print or color will start your space off on a decidedly playful note and will set the trajectory for other colors featured in the space—like wall color, paintings, and rugs. The beauty of using a chesterfield in a whimsical room is that it's a piece that can pander to eclecticism while not disappearing into the background (read: tangerine orange doesn't scare it).
Bonus: The Chesterfield Chair
If moving in a chesterfield sofa into your space isn't an option (hey, some of us live in tiny third-floor walk-ups!), consider a chesterfield club chair. While not exactly a Honey, I Shrunk the Kids-size miniature, (it's still plenty large), the chesterfield club chair is the perfect stand-in for its sofa counterpart. And while we're on the subject, modern chesterfield sofas offer up plenty of variations too, including sleeper chesterfield sofas and chesterfield sectional sofas. No matter your need, the chesterfield silhouette really delivers.
A Bit of History…
In the early 18th Century, the 4th Earl of Chesterfield, Lord Phillip Stanhope, is believed to have commissioned the first chesterfield sofa. Seeking a fashionable piece of furniture that allowed him and his colleagues to sit comfortably without wrinkling their clothes, the chesterfield sofa was whipped up for him by a local craftsman. Trading wrinkles for tufts? No wonder it was a runaway hit.