Say what you will about gray. It might be less than exuberant, but the shade has definite staying power — especially when it comes to sofas. Chalk up gray sofas' current bestseller status to the fact that they work just about anywhere (while also masterfully camouflaging dust and grime). Yes, you say, but can gray ever look, well, exuberant? Absolutely! say designers. In fact, give a gray sofa a little grace and you'll see it's actually perfect for paving the way toward lively interiors. The secret? Keep boring connotations at bay with the right styling tricks. So go on, seize the greige! Read on for our pros' best gray sofa styling tips.
Opt for an Architectural Form
Among the easiest ways to ensure your gray sofa looks brilliant and not boring? Avoid squarish, boxy sofas which can run the risk of feeling characterless. Instead, select a sofa that has a strong sculptural shape or added details like tufting or ruching. If you're a traditionalist, consider a roll-arm sofa like a gray Chesterfield, or a gray Art Deco banana sofa with a channeled back. If you're a modernist, seek out sofas like gray cloud sofas or serpentine sectionals. The more structure your sofa has, the less it's likely to look like a solid, gray rectangle.
Elevate in a Luxe Fabric
If you fear a gray sofa looking clinical, try one upholstered in a fabric other than cotton or wool. While cotton and wool are ultra-durable, a gray sofa upholstered in either can feel exceptionally dressed down. To upgrade a gray sofa, consider opting for one covered in a richer-feeling fabric like velvet, mohair, or leather. Unlike cotton or wool, which are 100% opaque, both leather, mohair, and velvet reflect light, giving them a bit of a sheen. This sheen can make a gray sofa appear luminous, adding interest and dimension. Enhance the effect even more by partnering a gray leather or velvet sofa with furniture crafted of other glimmery materials like glass, chrome, brass, Lucite, laminate, or lacquered wood.
Put Color in the Forecast
Oust a gray sofa from its gloomy connotations by adding a barrage of brightly colored accents elsewhere in your room. Part of gray's appeal is that it teams well with virtually any color, but it plays especially nicely with brights. Punch up a plain gray sofa with soft goods like colorful pillows, throws, and rugs. Extroverted shades like orange, yellow, and pink complement gray particularly well. Whereas a white sofa can provide shocking contrast, gray provides more subtle opposition. This an especially effective tactic if you're a color enthusiast who's inherited a gray sofa that you're less than enthused about.
Curate Celestial Connotations
Like black, which conjures outer space, gray has similar celestial connotations as the spectrum's darkest shade. Take a gray sofa to new heights by partnering it with astronomical elements, including Sputnik chandeliers, rugs with undulating, galaxy-like patterns, and metallics. (Extra points for factoring in a few knot ball pillows — which, in case you didn't notice, recall atomic symbols.) Surrounded by cosmological talismans, a gray sofa transforms into something far more extraordinary.
Use it to Abridge Styles
A mix of color spectrum endcaps — black and white — gray is a great equalizer by nature. Its neutral status makes it ideal for bridging opposing styles, especially when it comes to mixing antique and modernist furnishings. In general, gray skews more contemporary-feeling, so a classic sofa silhouette outfitted in a gray fabric is a great way to set the stage for an eclectic mix. To further smooth out any discordance, adopt a neutral color scheme full of classic shades like cognac and black punctuated with bolts of trendier hues like indigo or chartreuse. From there, let a gray sofa do what it does best — fill in the space in between.
Make It a Pillow Party
Pillow purveyors rejoice! If you're a sucker for boldly patterned pillows, a gray sofa is a welcome canvas. From pink to green to beige, gray complements virtually any color — a trait that can't always be said of other neutrals like brown or cream. If you're fond of swapping out your pillows seasonally or you simply like to freshen your pillows on the regular, a gray sofa is likely to be your safest bet. Short of a white sofa, a gray sofa will accommodate the largest variety of colors and patterns.
More Shades of Gray to Consider
As we all (ahem) know, there are many shades of gray. Hence, a gray sofa doesn't have to mean an austere, steel-colored seat. By adding a bit of blue or green, a gray sofa can assume an entirely different personality. Here are some of our favorite ways to riff on a gray-colored sofa.
Sage Gray
A gray sofa with a bit of a green tint is perfect for partnering with Old World meets New World interiors. The tone teams well with shades of beige and brown and complements dark woods just as well as warm-tone ones. Try matching one with Flemish Verdue tapestry-inspired pillows with one to nail an of-the-moment look.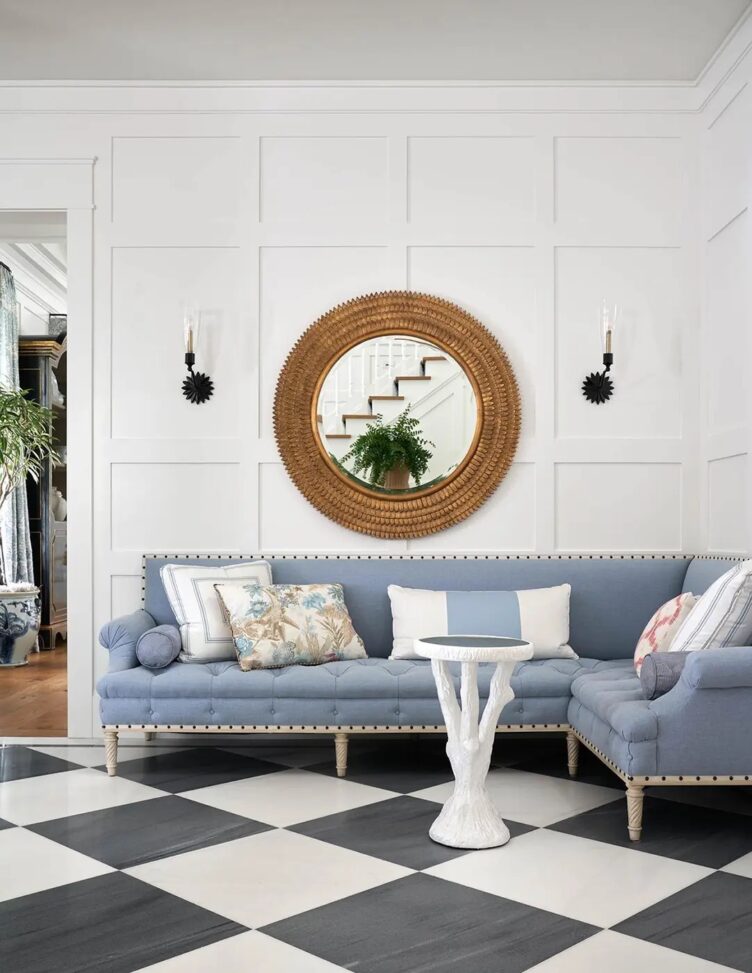 Periwinkle Gray
Few things feel as fresh as a light blue sofa with a gray undertone. Whereas a true pale blue sofa can feel too precious, a slate blue color one strikes the perfect balance between sweet and utilitarian.
Royal Gray
If a true gray feels too washed out for your tastes, consider a gray with a navy base. A rich undertone like navy makes a gray sofa a great complement to other rich jewel tones like burgundy or emerald, as well as deep-colored maximalist prints like leopard.