As a member of the legendary Givenchy family, Zoë de Givenchy has deep-rooted relationships with some of the best artisans Europe has to offer. It's these talented creatives she called on when she was developing her line, Z.d.G. From luxe linens and placemats to exquisitely hand-painted dinnerware — many in patterns specifically made for Hubert de Givenchy — this collection brings a sense of understated elegance and refined artistry to any table.
We spoke with Zoë about her design aesthetic, her favorite pieces, and her family's stewardship of Le Jonchet, the legendary estate that was the longtime home of Hubert de Givenchy and his partner, designer Philippe Venet. See what she had to say below, along with a peek at her designs, and be sure to shop a curation of her Chairish favorites as well.
Firstly, how would you describe your overall design philosophy and personal aesthetic?
A sort of practical elegance. Elegance that has an ease to it, created by a mix of the right furniture and objects, periods, and styles.
You'll see threads of the same things wherever I am: European furniture of varying periods, mixed with 20th-century art and contemporary pieces together. Serious things often grounded by something humble, like a sisal carpet for example.
I would say this is the same for my personal aesthetic; I gravitate towards simplicity and quality. I would always rather have one wonderful thing than ten mediocre things. I learned from my mother that a house is never finished; one is always collecting and evolving a space over time, moving pieces around and finding new ways for them to work together. I love to do this seasonally, with the changing light and landscape outside.
What's your personal philosophy when it comes to working with antiques and vintage pieces? Do you like to incorporate them with contemporary items as well?
The magic is in the right mix: the new with the old, the heirloom with the inexpensive. For example, I bought a rattan tête-à-tête in an antique shop in Los Angeles. It works because there's something informal and 1960s about its shape and texture, so that it anchors the other modern furniture in the room. It also ties together two sitting areas perfectly because it can face both directions.
With homes in different regions of the world, do you aim to keep a similar style in each, or do you decorate based on locale? How do you incorporate the spirit of each place into your designs?
Everything depends on the house, its environment, and how you want to live in it. I am sure you can see similar elements of our style in each house but I really believe in working with what you have and where you find yourself. Repurpose furniture from other rooms, buy one new thing that ties things together, bring the outside in, whatever that means where you are; seashells or pebbles in a pretty bowl, branches in urns, or garden roses.
My designs are all inspired by what I need. I created the bamboo collection, Ramatuelle, for our summer life, and I wanted it to be the perfect canvas for everything else on the table. Refined but informal. The color of the bamboo needed to be just right —we worked on the brush strokes for weeks — and I wanted a delicate edge and not a chunky one. I call it the favorite pair of jeans in our collection: Once found, it's an essential that you can keep dressing up or down, in the country and in town.
Your product line, Z.d.G., is all about "authenticity, beauty, and practicality," as well as sharing the work of specialty artisans throughout Europe. Tell us about that.
To me, authenticity, beauty, and practicality are the elements of true luxury. Living well isn't about how much we have, but the provenance of what we do have — and its story — need to stir a feeling. I created Z.d.G. in the spirit of our family; given that many of the artisans we work with were personally introduced by Hubert [de Givenchy], these truly are family relationships that I treasure. We get to work with some of Europe's finest specialist artisans, all of whom are family businesses themselves. It's a rare privilege.
Do you have any particular favorite pieces in your line? And anything you're excited to be launching soon?
The serene brushstrokes of the Manganese Violine are so special to me. I find the chinoiserie design and the aubergine color so unique and I know well the incredible artistry that goes into making them. I am also excited to unveil some new summer collections as they include some of Hubert's original designs for Le Jonchet, together with accompanying serving pieces and a variety of new colors that I have designed, with custom linen pairings from Venice.
Your family is now caring for Le Jonchet, the 16th-century estate your husband's iconic uncle shared with his partner. That must be a massive undertaking — what has been the most rewarding part of that project? And the most surprising?
Le Jonchet is very much a family home, and a place where we all have special memories. It is so rewarding creating new memories with our children now, fishing in the river, picnicking in the park, keeping hens, baking madeleines. Our wish is to conserve the beauty and the esprit of Le Jonchet, which Hubert and Philippe so masterfully created. I've taken my time coming to understand the garden in different seasons and losing hours on one bookshelf. It's surprising how much one always has to learn.
On Vintage Shopping…
What do you find most compelling about Chairish?
Our grandparents would have always found a second or third life for an object and I love that circularity in things. Mixing the old with the new, the inexpensive with the pedigreed — a certain magic comes with something of the unexpected.
How does sustainability factor into your design choices and love of vintage?
Rarified craftsmanship is what I find myself returning to. Buy less and buy better. It is kinder to our planet, sustains regional communities, conserves the arts, supports craftsmen, and promotes beauty. Now these are some values I can get behind!
Are there any dream vintage/antique "gets" you wish you could have? What's a dream piece for you?
Great English silver and more Venetian glass — I cannot get enough.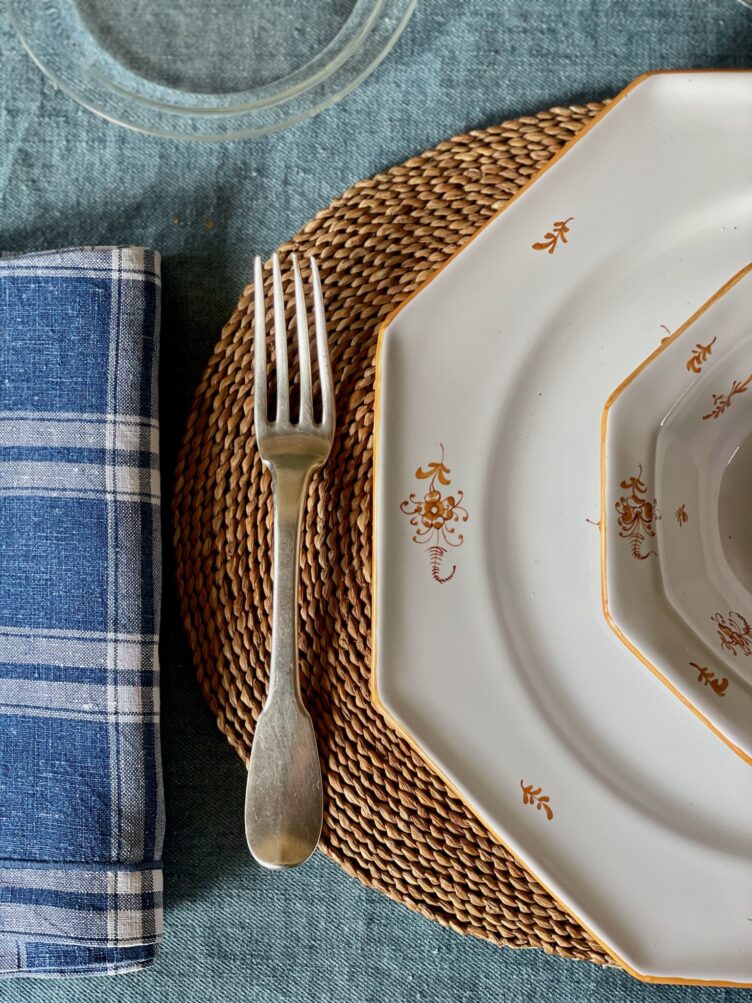 Some Design Favorites…
Favorite way to create a statement-making moment in a room:
Symmetry and scale. Where possible, buy large and in pairs.
Favorite decorating "cheap thrill:"
Sisal — wait, did I say that already? And white slipcovers.
Favorite iconic piece of vintage design:
Favorite paint color:
Favorite piece of decor in your home:
Right now, in LA, I have this 1960s Brazilian table that comes apart into six pieces and can be configured into all manner of shapes.
Favorite designer or artist from the past you most often turn to for inspiration:
Hubert de Givenchy — he is forever modern. And lately I've been down a few rabbit holes with Van Day Truex.
Favorite style icon:
Audrey Hepburn, Grace Kelly, Jackie Kennedy Onassis — women of style and substance.
Design destination every creative should visit at least once:
Fondation Maeght, St Paul de Vence — ideally in the summer.
Some Lifestyle Favorites…
Favorite vacation destination:
Harbour Island, Bahamas
Favorite hotel that's inspired your work while traveling:
Epi Plage, St Tropez
Favorite restaurant:
Al Moro, Rome
Favorite small museum:
Sir John Soane's Museum, London
Favorite podcast:
River Cafe Table 4, with Ruthie Rogers
Favorite Instagram accounts to follow:
@pierre.yovanovitch, @flamingo_estate and of course @zdgofficial
Favorite hostess (or thank you) gift
Something homemade or homegrown. In the absence of that, flowers sent the next day with a handwritten note
Favorite flower:
A rainbow of high summer dahlias from our garden
Favorite adult beverage:
A coup de champagne — preferably Ruinart — served cold with a perfectly crisp (Z.d.G.) napkin
Favorite way to unwind at home:
Great music, good wine, no particular plan
Favorite entertaining essential:
A great bartender
All photos by Nicole LaMotte except where indicated