Interior design books are a perennial favorite for Team Chairish (no surprise there). Part coffee table book, part instruction manual, and 100% dreamy photography deep dive, they allow us to be transported inside the work of the design industry's biggest talents. Below is a running list of some of our current faves — this is by no means exhaustive, so be sure to follow us on social to see the latest releases. And if you're looking for vintage interior design books to add to your shelves, browse our selection of over 6,000 choices.
A follow-up to her popular book Rooms, More Rooms delves deeper into the beloved designer's colorful, charming style. Traveling room to room (naturally), the book dazzles with rich, almost candy-colored photography from Eric Piasecki. Each page is densely layered with design elements to pore over and bold hues to emulate.
Native Houstonians Sandra Lucas and Sarah Eilers are known for a transitional style that blends their backgrounds with timeless elements. Their new book from Rizzoli offers their insights into interior design before delving into several glorious projects around the country, ranging from a family ski home in Utah to a lovely home along the Gulf Coast. Lessons for every type of designer, both professional and enthusiast, abound.
Farah Merhi had an unusual introduction to the design world; after starting a home remodel, she realized the importance of individual decor and fell in love with the process. She founded Inspire Me! Home Decor to share this joy with the rest of the world, with Inspire Your Home being its next iteration. In the book, Merhi answers frequently asked questions and engages practically with readers so they can create their own dream spaces at home.
Mark D. Sikes's first book was The New York Times bestseller Beautiful. His new book, More Beautiful, is a further exploration of all-American decorating, with a particular emphasis on indoor-outdoor living. Expect a celebration of classic styles, preppy color combinations, and all-around beautiful, welcoming interiors that charm.
This much-anticipated book delves into the collaboration between designer Michael S. Smith and the Obama family in decorating the White House during their years there. Designing History features exclusive behind-the-scenes photography and insider stories, as well as a foreword by First Lady Michelle Obama.
James Huniford (known to everyone in the industry as Ford) is known for blending contemporary with traditional elements, with an often spare yet eye-catching effect. His new monograph from The Monacelli Press breaks the rules of interior design books and presents his ideas by design element rather than individual project, with eight different sections laying out his aesthetic ideas for the reader.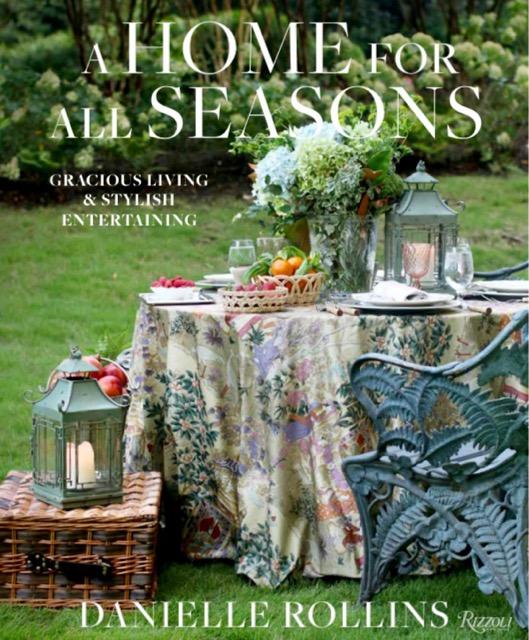 In her second book, designer and entertaining expert Danielle Rollins demonstrates how to create welcoming spaces for parties, cocktail hours, and family dinners alike. Her advice spans every room in the home, with practical tips for making life easier and more beautiful, no matter what the activity. A foreword by king of color Miles Redd makes the new release even sweeter.
In her new book, designer Marie Flanigan shares the nine elements that inspire her interior creations, including architecture, illumination, composition, and surprise. Throughout the book, she shares her recipe for creating an approachable ideation of traditional design, one that's elegant but also livable for a variety of clients.
For her first book, the EyeSwoon creator steps inside the interiors of top tastemakers and designers like Nate Berkus and Jenna Lyons to discuss how those meticulously created rooms came together. She offers practical design solutions that everyone can use, and even goes inside her own homes to discuss the process behind her work and her aesthetic vision.
A stylist and photographer who's known throughout the design industry, Alyssa Rosenheck's first book is a love letter to the South and the ways in which it's changing and evolving. It tours over 30 homes, featuring her signature photographic style, and includes interviews with creatives and tastemakers who are reinventing Southern art and culture.
Pierce & Ward are a design duo that has burst onto the scene in the last few years with Hollywood clients including Leonardo DiCaprio, Brie Larson, Kate Hudson, and Dakota Johnson. Their recent book from Rizzoli covers their journey as only they can, with richly patterned pages, luxe photography, and the unique stories behind their work. Pick this one up for the richly layered book design on its own. And be sure to check out our recent interview with the pair.
Written by Schumacher creative director (and former editor-in-chief of Veranda) Dara Caponigro, S is for Style helps readers develop their style by pairing them with a variety of signature Schumacher patterns. With fun questionnaires and design tips based on each reader's own taste, the book is instructive, informative, and beautifully illustrated with spaces clad in Schumacher originals.
Shop more interior design books on Chairish here.
Lead image: Design by Lucas Eilers; photo by Julie Soefer