Oskar Torres's design style has been referred to as "Renaissance modernism," and with good reason: It incorporates classical elements, global influences, and above all else, a sense of refinement. He has designed homes from coast to coast, and his work has been featured everywhere from Cottages & Gardens to The New York Times. And ten years ago, he expanded his business portfolio to include the Antique Textiles Galleries Home Collection, where his unique eye is able to curate the most unique and eye-catching fabrics.
We spoke with Oskar about his growing business, his special love of one-of-a-kind textiles, and the trends he's loving right now. See what he had to say, and be sure to shop all his finds on Chairish.
How would you describe your own personal aesthetic, and how is that reflected in your work?
There is refinement and simplicity in my taste, which is reflected in my fashion style and in the pieces I source from all over the world, either for my inventory and/or the interiors I create.
You trained at some of the top-tier design firms, including Stephen Sills, Huniford Design Studio, and Todd Hase. What are some of the biggest lessons you learned with them?
Working for these masters of design, I learned how to start and finish a project. How to research the high and low markets to create a nice visual mix for every project. Their experience also taught me the necessary confidence and experience to run my own business. I will always be grateful for their trust and for their friendship up to this day as well!
Your vintage and antiques business, Antique Textiles Galleries, is celebrating its 10th anniversary this year. Congratulations! How did you launch this part of your firm?
Thank you! I can't believe ten years have gone by so fast. Plus 21 years in the interior design industry (I'm not telling you my age but you can do the addition). I have been interested in textiles since I was a child; my mother was always working with fabrics. Also, the Internet market was just starting to go viral with home furnishings e-commerce opportunities. I just jumped at the rare chance of having my textiles and accessories available all over the world.
How have you managed sourcing, particularly during the pandemic? Has that shifted more recently, and how so?
From all the years of traveling and shopping, I have cultivated many great relationships with dealers. They have learned to know my taste. During the pandemic, I was constantly getting emails from dealers in Paris, India,Thailand, England, and here in the US offering me unique merchandise. I admit it: I never stop shopping! Now, many businesses that survived have reopened their doors. I'm back out and sourcing for more special finds for my ever-expanding inventory.
Have you seen more customers coming through digital methods like Chairish? Do you see that having an effect on how designers shop for vintage, in particular?
Yes, Chairish has been a great source for my business to reach a broader consumer based outside of the USA. I source for vintage items with what I think of as my "third eye:" a keen sense of merchandising. My approach is always to think: Am I shopping for a design project? Where will I place this item? In my head, there is always a place in someone's home where this piece will fit.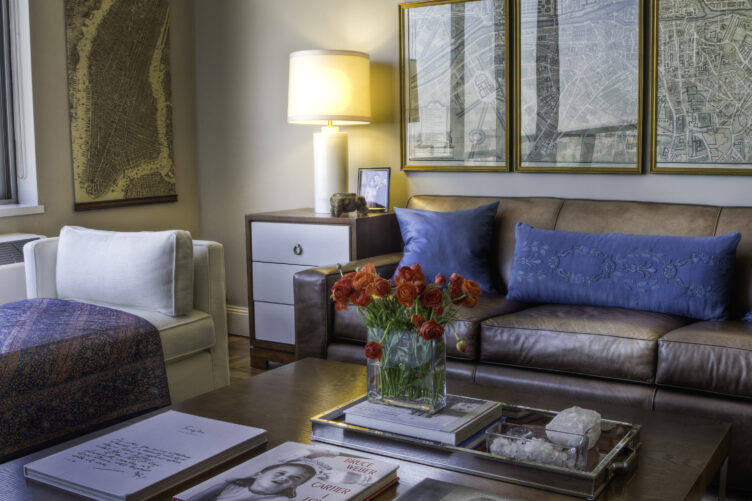 What types of pieces do you see moving these days? What are the patterns in terms of what's selling right now?
The go-to items of any interior designer are always hard to keep in stock, like bamboo mirrors, rattan chargers, garden stools, pairs of pillows, decorating books, African textiles, Fortuny fabrics, picture frames, and vintage and antique textiles.
Do you see any upcoming trends in terms of what's next for the design world? What types of pieces do you hope to be stocking soon?
Pattern on pattern is big right now. Patchwork (which I have been doing since I started ATGHC) has been big in fashion and in decor for a while now. Summer is here. I'm bringing in more bamboo, rattan, blue and white patterns, crochet throws and blankets, floor pillows, and African textiles.
Are there any styles or trends you'd like to see disappear in the design world right now?
Bad fake copies of furniture. And D.I.Y. trends need to be left to professionals!
Who are some of your favorite makers or designers, in terms of your own inspirations?
Gabriella Crespi, Mariano Fortuny, Olga Fisch (who, by the way, learned Ecuadorian weaving techniques from indigenous artisans). This is very close to my heart since I'm Ecuadorian.
What's next for your business, particularly when it comes to Antique Textiles Galleries?
To keep growing and building my inventory with Chairish.
Finally, what's a dream piece you'd love to have yourself?
Well, since you asked I have a couple… A mirror by Line Vitrine, and a sheep by Francois Xavier Lalanne.
All images courtesy of Oskar Torres