Imagine, if you will, mixing equal measures of Cecil Beaton's inimitable style, Warhol's imagination, and the charm of the English countryside, and then adding a massive dash of maximalism to the blend (there are no other size dashes when it comes to maximalism, just FYI). When the martini shaker finally settles, you'd have a concoction that approaches the mind of Luke Edward Hall, the Cotswolds-based wunderkind who's achieved a lifetime's worth of accomplishments by the tender age of 30. A commission by Lanvin in New York, a porcelain line with Italian-based Richard Ginori, and the design of a boutique hotel in Paris are just a few of the globetrotting projects that have kept Hall busy, along with his own prints and collaborations with makers like The Lacquer Company (more on those later).
We spoke with the uber-inspiring artist/designer about his approach toward collecting, his favorite places to hone his creativity, and the decor he can't live without. See what he had to say, and be sure to shop a colorful assortment of his Chairish faves.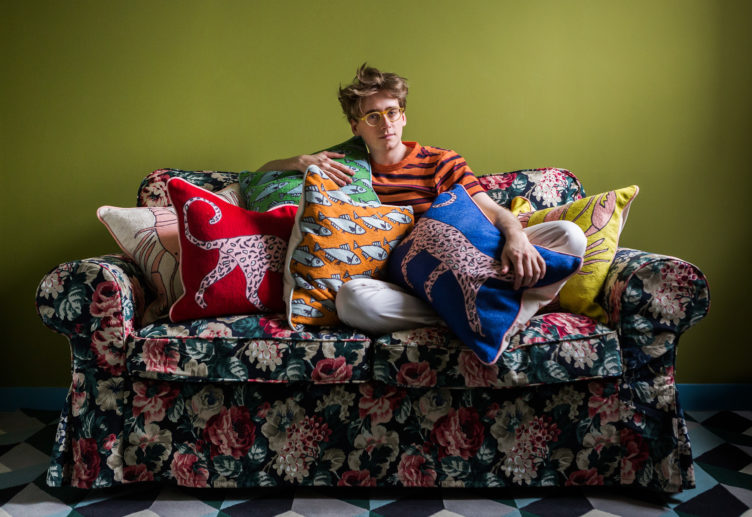 How do you approach designing art and homewares that are meant to be displayed in peoples' homes? What are the things you try to keep in mind?
When I'm applying my artwork to things for the home – a vase, say, or a cushion – the artwork usually has a very hand-crafted feel to it, which is important to me. I want my pieces to add to a home a sense of playfulness and romance. I tend to associate these last two words with my work very often.
What is your artistic process like?
I start with a lot of research – I'll spend time looking through my library of books and magazines. I may pick up on something in particular and want to research a topic further. I may visit a gallery or a museum. Then I'll start sketching. Ideas can spring from anywhere though – a character in a novel I'm reading might inspire a new painting, for example.
We absolutely love your print that's being sold on Chairish. Can you give us any background on that?
This print, 'Francesco', is of an original drawing originally exhibited in 2018 at Alex Eagle Studio in London. The exhibition was called 'Hotel Majestic' and the pieces on show were inspired by an imaginary trip through Italy and the story surrounding it. Francesco is a character from this story.
Being an artist, how do you approach collecting and displaying art in your own home?
I like collecting old exhibition posters, drawings by my friends, old prints… I've recently started collecting photography, too. I enjoy the framing process – there are a couple of framers I work with depending on the look I'm going for. One framer, Harry Eagle, makes beautiful hand-painted frames. I usually work with him on my own exhibition framing.
You recently moved to the Cotswolds. How did your approach to decorating this space differ from spaces in the past?
Here in the English countryside I really went for all those things that I've always loved but would not have worked so well in our little London apartment: a big sofa covered in faded chintz fabric, an old farmhouse dining table, china dogs and ticking fabrics. The approach has been the same in many ways, though – I enjoy layering, a mix of styles and lots of bold colour.
What's your favorite piece of decor in your home and why?
Probably our Venetian giltwood grotto chair. I adore grotto furniture. Ours has a giant shell for a back – when we saw it in Tetbury (a town near us known for its antique shops), we said to each other: this has to come home with us.
What do you find most compelling about Chairish?
The incredible variety of styles of furniture, lighting and accessories. For someone like me, who loves mixing styles, periods and colors, it's wonderful to be able to find so much diversity in a single place.
A Few Favorites…
Favorite decorating "cheap thrill:"
I like collecting bits of old china – jugs for flowers, mugs and platters. I'm a particular fan of pink lustreware.
Favorite paint color:
Difficult to choose a particular color as I'm such a color fiend, but I like Papers and Paints' colors very much. Their 1930s and 1960s ranges are super punchy.
Favorite design influences and icons:
Cecil Beaton, Oliver Messel, Stephen Tennant, the Bloomsbury Group, Andy Warhol, Jean Cocteau and Christian Berard.
Favorite design destination you think every decor lover should visit at least once:
Rajasthan for the incredible colors!
Favorite vacation destination:
Italy – Venice, Tuscany, Rome, Capri…
Favorite hotel that's most inspired your work while traveling:
La Colombe d'Or in Saint-Paul-de-Vence. Sometimes however it's the idea of a hotel in the past that inspires me – this is the case with the Grand Hotel Quisisana on Capri, for example.
Favorite small museum in the world:
Charleston Farmhouse in East Sussex.
Favorite restaurant:
The River Café in London and Da Adolfo in Positano.
Favorite Instagram accounts to follow:
Air Mail, Bode, Bellini Travel, Flamingo Estate, Jackson Boxer, Jean-Philippe Demeyer.
Favorite way to unwind at home:
A long bath, reading, and cooking. I really love to cook.
Favorite adult beverage:
A Negroni Sbagliato.
Favorite entertaining essential:
A great playlist! Good friends, good drinks, and good snacks. That's all that's needed.