From ethereal halo chandeliers to barely-there floor lamps, minimalist lighting might be simple, but it's also striking. If you're looking to lighten up your lighting game with low-key fixtures, but aren't sure where to start, read on! We've compiled a go-to guide, full of modern lighting ideas that show you how to make the most of minimalism.
Use it as Sculpture
Whereas an Empire chandelier demands to be the center of attention, many minimalist light fixtures don't even reveal that they're lighting. Whether it be a glowing glass orb that's actually a ceiling pendant or a blown glass mushroom that's also a table lamp, part of the allure of minimalist lighting is how masterfully it hides its function. With that in mind, display your minimalist fixtures like sculpture. Rather than using one strictly on a side table or nightstand, arrange one on a bookshelf, similar to how you would a decorative object. The options open up even further when you consider the burgeoning world of cordless or battery-operated lamps. Pop one on a bartop, use one as a dining table centerpiece, or arrange one on a coffee table tray.
Contrast Tradition
Even if your personal style runs more contemporary or traditionalist, don't nix the idea of minimalist light fixtures. In fact, swapping contemporary light fixtures for a minimalist design can deliver show-stopping results. When mixing in modernist lighting, let shapes be your guide. For instance, consider a horizontal fixture over a rectangular dining table, or a round pendant over a round or oval table. Choosing a fixture that showcases colors used elsewhere in your room is another easy way to create congruence. This doesn't have to be a dominant color, either. Hints of black, gunmetal, and brass (gold), can all be repeated in your fixture to create cohesion.
Create an Installation
Since minimalist chandeliers and pendants are relatively bare-bones, there are no set rules on how to display them. Take liberties and create an installation with multiple minimalist floor lamps, pendants, or table lamps. Get creative. Cluster orb pendants on a ceiling to curate a celestial effect, or use tube-style pendants en masse to simulate stars. Don't limit yourself to ceiling arrangements, either. Create intrigue with multiple orb table lamps in staggered sizes. The same could be done with floor lamps composed of glowing LED rods. Use two in one corner of a room, and one in the other.
(Don't) Cut the Cord
While traditional lamps are at stylistic odds with electrical cords, minimalist fixtures aren't. In fact, in in some cases, minimalist fixtures can even be enhanced by them. If you're on the hunt for plug-in sconces, use this to your advantage and spring for minimalist sconces with rcrods. Cords tend to blend in when partnered with minimalist design, making plug-in sconces in this style look intentional. If the idea of a dangling cord still tugs at your design sensibilities a bit, consider a minimalist sconce design that arranges the cord in a way that causes it to hang to the side, rather than straight down.
Go Oversized
Opt for an oversized crystal chandelier and it's liable to feel like a decorating mistake. But switch it out for a minimalist fixture, and going super-big can cultivate a captivating effect. Reserve the most massively-sized fixtures for those pieces with simple silhouettes. Orb pendants are among the least risky options, as are dome or "mushroom" pendants. Since even minimalist oversized fixtures run the risk of feeling visually heavy, paper lanterns can be a wise choice for these dramatic installations. At nearly 40," Isamu Noguchi's 100D Pendant, pictured above, is the perfect mix of simplicity and power.
Bring in Color and Whimsy
Minimalist lighting might have reputation for being austere, but who said things need to be serious all the time? Increasingly, minimalist lighting can be sourced in more whimsical and colorful options. Similar to working with a traditional statement piece like a colored Murano glass chandelier, you'll likely want to consider a colorful minimalist piece as the jumping-off point for your room's design. Surrounding it with a plethora of white furniture is one surefire way to make an impact, and as a bonus, this allows you to work in both traditional and modern furnishings without causing mayhem.
Embrace Recessed Lighting
If glowing rods and glass ball-encased bulbs still feel too fussy for you, do them one better and opt for recessed lighting. Essentially lighting that's either under-mounted on furniture or cabinetry, or installed directly in the ceiling, recessed lighting provides light, but doesn't require a fixture. For designers, it's a go-to in the most modernist of abodes, since it negates the need for any lighting fixture. Try recessed lighting when a room's ceiling isn't high enough to accommodate an overhead fixture, or in a particularly dark room that doesn't receive natural light. Since recessed lighting is hidden, you can add as many lights as you want without compromising your room's design.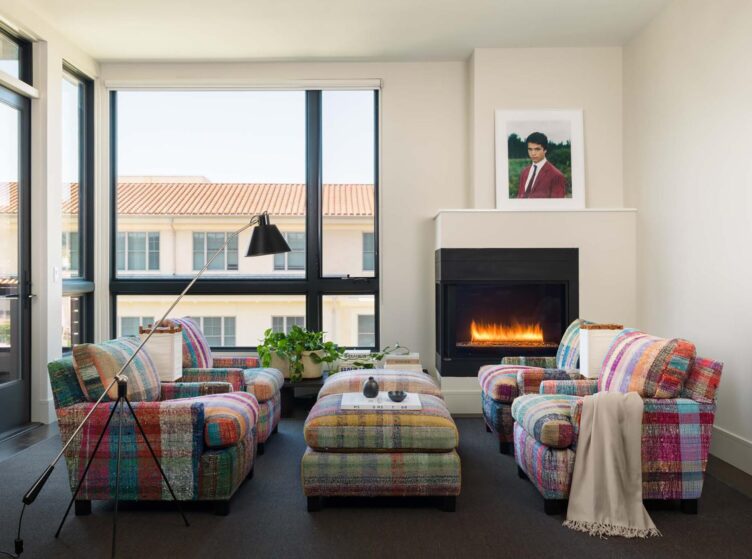 Use it as a Palette Cleanser
Whether it be a statement sofa set or a dramatic wallpaper mural, sometimes you want to tone down a room's background noise so that something else remains the star. In these cases, minimalist lighting is your best bet. Choose a simple, minimalist piece that brings nothing but the essentials to the table. When in doubt, consider a piece that could be mistaken for part of the room's natural architecture. For instance, choose a white-colored fixture if your moldings are white, or a black design if your windows are clad in black framing.
Lead photo design by IDF Studio / Photo by Suzanna Scott