With an easygoing, sunny sensibility and a fresh outdoorsy aesthetic, they don't get more Californian than Jeffrey Alan Marks. His timeless, livable designs have earned him a spot on the Elle Decor A-List as well as multiple features in Architectural Digest, The Wall Street Journal, and Town & Country. And when it comes to SoCal cred, it doesn't get much bigger than The Hollywood Reporter declaring you "one of the town's most wanted decorators." His JAM-approved collaborations have included everything from lighting to bedding, and now they've expanded into the world of chic, sophisticated tile, with his new collection with The Tile Shop.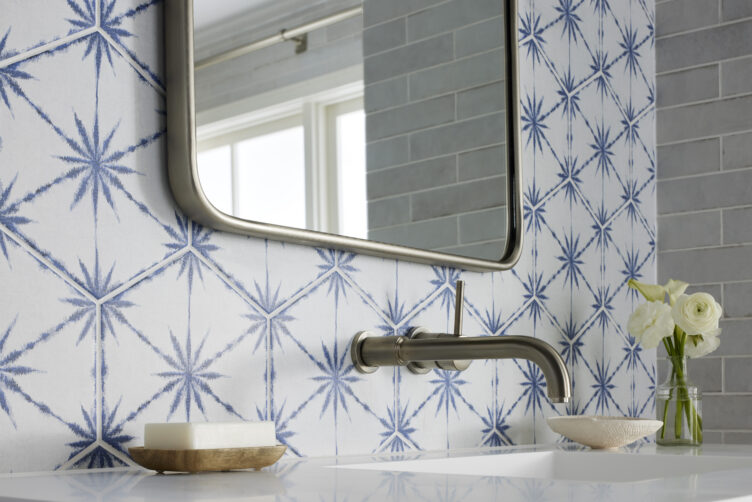 The Summerland Collection by Jeffrey Alan Marks brings the spirit of the California coastline to life, with beachy, sandwashed shades of blue, gray, and charcoal (Miramar, Rincon, and Toro, respectively). The patterns on these 9"x10" tiles are inspired by one of his elegant, airy linen fabric designs, brought to full life by the team at The Tile Shop. "Jeffrey is known for his beach-inspired creations and California cool aesthetic with a Spanish flair," says Kirsten Froelich, director of design for The Tile Shop. "The pattern and colors reflect his spirited beach style and relaxed yet tailored approach to design."
While rich in color, these pieces don't overwhelm the spaces they inhabit, and as such, can be used plentifully, regardless of geography, as the designer himself points out. "Often, I will tile a whole bathroom or kitchen—I love how tile can envelope you entirely," Jeffrey Alan Marks says. "I designed from some of my favorite patterns that I saved in my archives for years, and they work well with all types of architecture. I feel it could work just as well in a beach house as in a city apartment."
It's this versatility that makes the Summerland tile popular throughout the house—in kitchens, on entry floors, and elsewhere, in addition to the bathroom. The hexagonal shape and subdued hues make these pieces perfect for any room, with their sandy, coastal-inspired sensibility in tow. And after all, who doesn't love a day at the beach?
Be sure to follow The Tile Shop to keep up with new releases from the brand, including new patterns, colors, and collaborations.
Shown at the top: Summerland by Jeffrey Alan Marks in Miramar. All images courtesy of The Tile Shop