Nothing beats a fabulous bar cart when it comes to adding a touch of glamor and sophistication to your home. Whether you're the "hostess with mostess" or more of a casual entertainer, a perfectly styled bar cart creates an cheery focal point and inviting space for your guests. With just a few essentials and intentionally placed vintage decor, you can create a bar cart that's bound to wow guests.

1. Stock Up
The first way to ensure that your bar cart is ready for summer is to take stock of what you have and what you'll need to buy. The first essential is obviously a good cart. You'll want one that is both sturdy and stylish, as well as being the right size for your home. A cart with wheels will be more versatile than one without.
Source: Sea of Shoes
2. Get the Must-Haves
When it comes to liquor, go for quality over quantity: one bottle of Chambord will do much more for your guests than an excess of cheap Chardonnay (also expensive liquor has prettier bottles!). Gin, vodka, bourbon, and rum are staples for scrumptious mixed drinks and cocktails. Orange juice, tomato juice, as well as some fresh lemon juice or citrus peels for garnishes are also handy to have in the fridge. Artisan salts and sugars, fresh mint leaves, and cinnamon sticks are tasty additions that also look great. Soda and tonic waters are necessary, as well as a sugary option like cola or lemonade. Tools like bar spoons, corkscrews, towels, a muddler, paper napkins, swizzle sticks, a cocktail shaker, and ice tongs are also key to creating a beautiful and functional cart.
Source: Sea of Shoes
3. Personalize
The best way to style your bar cart is to decorate it in a way that will make you feel happy every time you bring it out for guests. Mix in personal items like a vintage cocktail shaker from your mom, monogrammed mint julep cups, or bartending books gifted to you in college. Use a color scheme that you like and don't be afraid to experiment!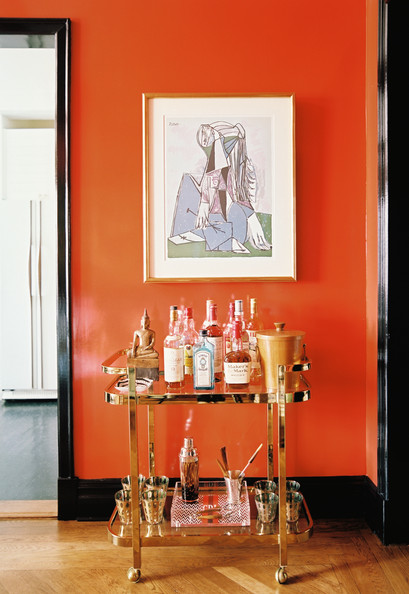 Source: Lonny
4. Keep It Fresh
Change up the color scheme and decor items on your cart based on the event or season. Learn how to make some fun seasonal drinks that you can pull out during any holiday. Make sure that the decor on your cart is styled in layers and levels to keep the eye interested. Use color to draw attention to specific items on the cart.
5. Simplify
Don't feel like you have to cram everything on your cart at once. This can be why having a cart with multiple tiers can be useful! Make sure you leave room on the cart for actually making drinks, and so that wiping up any spills is much easier. Sometimes a bouquet of lovely fresh flowers or a bowl full of citrus fruits is all you need to style a summer cart.
Source: House Doctor DK
6. Improvise
Bar carts don't have to only display liquor! Mix in some sentimental or beautiful items like brass decor item, a sculpture or other art piece. Add in fun items like framed sayings (we like "I always take life with a grain of salt, a slice of lime, and a shot of tequila!"), homemade signs advertising your drink specialties, or a bowl of your favorite candy.
Source: Style Me Pretty