Kate Arends, the tenured creative eye behind the blog Wit & Delight, calls a 1,700 square foot abode in St. Paul, Minnesota home. While the quarters may have seemed roomy when she and husband Joe first moved in, the couple has since added two little ones to the brood, which resulted in the need for a total space-minded overhaul. Using an ingenious mix of new and vintage pieces, Kate has coaxed the petite space into feeling loads larger than it actually is. Go inside the family's darling digs and get a mini masterclass in Kate's space saving tricks.
Pull Back the Palette
In an effort to make her home feel bright and airy, Kate eschewed a dark, weighty palette that might have made the space feel claustrophobic, and instead opted for a series of subdued shades like cream, tan, and cognac. "All in all, I wanted home to feel like a peaceful retreat," says Kate. "For that reason, we kept the palette simple." As Kate notes, a refined palette also allowed her to work in statement pieces that might otherwise have felt too showy for the modest home. Case in point: that crazy-chic, oversized pleated lampshade holding court on one of Kate's living room lamps–Kapow. As for color, it's not out of the ballgame, altogether. "I like adding small pieces of upholstered furniture in fun colors, as well as art and pillows in saturated hues to create a nice focal point," says Kate.
Squeeze in Stealthy Storage
Inevitably, small spaces mean less furniture, which means less surfaces to display your beloved collections. To ensure that her home's lack of square footage didn't mean boxing her personal treasures in the basement, Kate worked in some cunning storage options in the form of baskets, wall shelving, and most notably, a show-stopping glass-fronted cabinet in the living room. "It's my cabinet of curiosities," says Kate. "I keep all my little special treasures in here. Most of them are vintage pieces that mean something sentimental, and they live amongst momentos, artwork, vintage books, and natural objects." Corralled in one place, Kate's pieces read as more substance than clutter.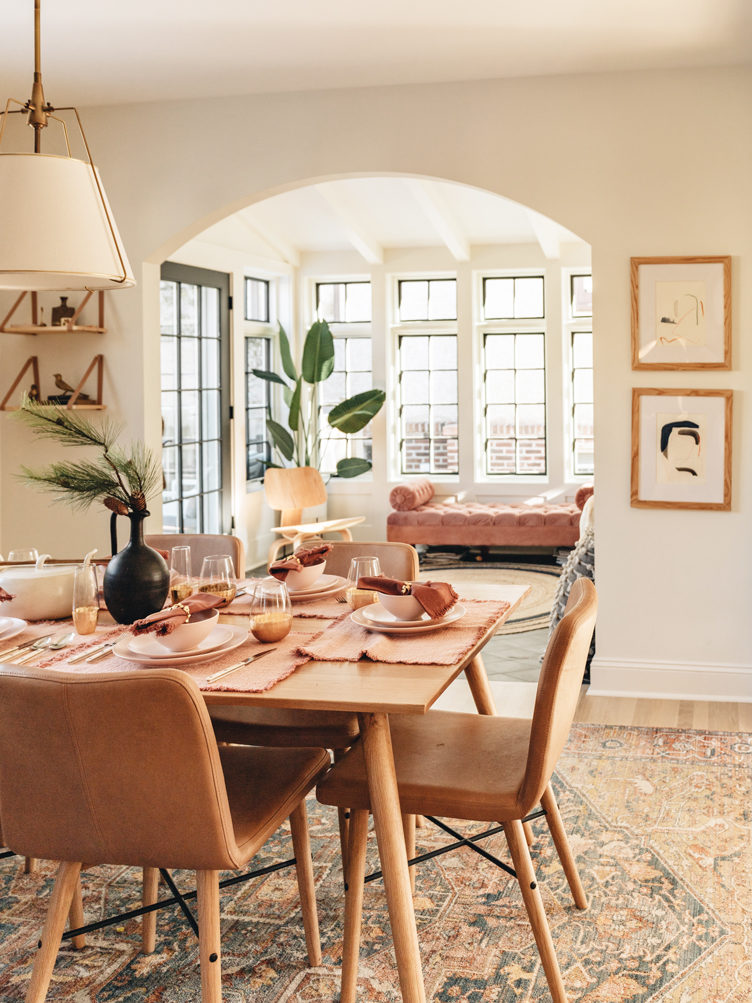 Work a Rug (Or Four!)
Among the pros that many small homes share—Kate's included—is an open floor plan. Unfortunately, a small space with few walls can also run the risk of feeling box-like (or even worse, capable of being summed up in a single glance). To keep her own floor plan feeling layered and interesting, Kate's employed an array of rugs to carve out different living zones, thereby creating the need for your eye to wander. "Rugs are where I love to have a little fun," says Kate, who used a round sisal rug to define the sunroom, an eye-catching Turkish Kantha-style rug to ground the dining room, and a runner-area rug combo to fill out the living room. Kate's rugs all complement each other without going the route of matchy-matchy.
Shape Up Your Shelving Sitch
"Small spaces are a lot more about understanding what you actually need," says Kate, who uses open shelving in her kitchen to display pieces that are both functional and eyeful enough to double as art. "We use what we display, and those pieces act as a nice visual decor element." Among the items Kate has elected to go double-duty with are coffee and tea canisters, salt vessels and pepper mills, and beautiful cookbooks. In kitchens with limited wall space, open shelving (and kitchen counters!) offer up an excellent place to lean a piece of art.
Scale Down Furniture
It may seem obvious, but paring down the size sofa or dining table you drop into a small space can have a monumental effect. "We used smaller-scale furniture in our very long but narrow living room," says Kate. "It's made this space MUCH more flexible because we're able to move things around and rearrange as necessary for different kinds of gatherings." Opting for petite-sized pieces doesn't mean giving up on style, either. To do like Kate does, focus your hunt on upholstered pieces like benches and chairs. "They work within our small space and add a pop of interest," she says. Fleas, thrift stores and Chairish are all fair game for Kate. "I'm on Charish at least once a day!" she proclaims. "It's like treasure hunting in the comfort of my own home, with a lot less sneezing!"
Go For a Gallery Wall
With a vintage Picasso print she scored on Chairish on its way back from the framers, it's no secret that Kate is an art fanatic. Thankfully, as Kate points out, small walls come with a bonus that spacious ones don't: they're prime real estate for small-scale prints (aka: the gallery wall). Whereas small prints can look dwarfed on large walls, small walls feel just right for a grouping of pint-sized prints. "You can really take advantage of vertical space with unique gallery walls," says Kate. "In our sunroom, we emphasize the vaulted ceilings by arranging artwork along the slanted ceiling line." While it's true possessions might be curbed elsewhere in a tiny home, art is your chance to go rogue and collect with reckless abandon.
Lead image by Alyssa Lee, Courtesy of Parade of Homes