Are you headed to High Point? We are, too! Team Chairish is High Point-bound and serving up a weekend's worth of panels with some of the design world's best talent. You'll find us in the Antiques & Design Center in the "Refresh Lounge." Come by for some bubbly, nibbles, and don't miss our fun and informative panel line up. 
See you in North Carolina!
Viva La Vintage with Consort's Mat Sanders
Join designer and lifestyle expert Mat Sanders of Consort as he shares his skills for discovering the hidden potential in vintage pieces and turning duds in diamonds. Learn how to develop your vintage vision, discover the hidden potential in vintage furniture and accessories, and how to transform them into winning pieces. See the "before and afters" of his firm's design portfolios.
Love It Or Hate It with Domino's Jessica Romm Perez
Join Domino Magazine Editor in Chief Jessica Romm Perez and Chairish's Mugs Buckley as they lead a lively group of top interior designers including Kara Cox, Mark Cutler, Cortney Bishop, Krista Nye Nicholas and Tami Ramsay of Cloth & Kind and Kevin Walsh in the panel game of Love It or Hate It. This spirited and irreverent event gives a spontaneous yay or nay on top design trends: sunburst mirrors, banana leaf wallpaper, gallery walls – are they in, out, or somewhere in between? We'll have some laughs while watching industry thought leaders dish and diss design. Don't miss the hilarity. Jessica will be on hand to sign Domino: Your Guide to a Stylish Home following the panel. Sunday, April 23 at 2PM in the Antiques & Design Center's Mezzanine level.
Modernique Chic! with Julia Buckingham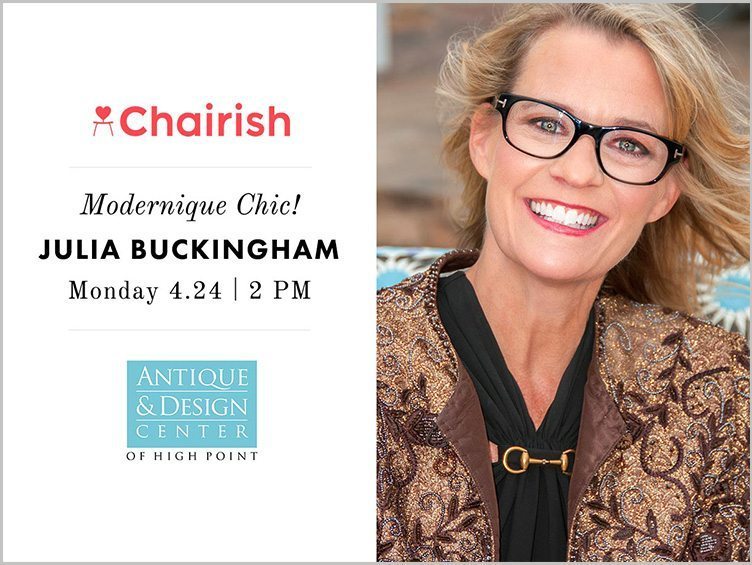 Interior designer Julia Buckingham, whose projects are frequently featured in the pages of Architectural Digest, Traditional Home, Luxe Magazine and others, has a passion for mixing antique and vintage pieces that translate into beautiful modern designed homes with a timeless quality. Julia will outline the art of mixing old and new and will de-code what brings an interior to life. This design master will share her inspiration, design advice, and how you too can help your clients achieve artfully-blended homes. Julia will share highlights from her just-published book, Modernique. Champagne reception and book-signing to follow.