Undoubtedly inspired by her Charleston, South Carolina roots, interior designer Cortney Bishop's contemporary spaces blend organic materials and elements of coastal style with the classical curves and layered patterns that are the hallmarks of the "new traditional" look. Her rooms are both serene and sophisticated, with vibrant artwork and modern photography thrown into the mix for good measure.
Cortney recently gave us the lowdown on everything from her favorite paint color to her best design tips, and shares her favorite places to explore in Charleston. Love her look? Shop her Chairish favorites HERE!
Shop Cortney Bishop's Look
Favorite source for design inspiration:
Travel, no doubt.
Favorite design rule to break:
All of them!
Favorite paint color:
Farrow & Ball's Downpipe.
Favorite way to add drama to a room:
Paint a room dark to really showcase the landscape outside a window.
Favorite pattern (and how you love to use it):
A pinstripe. I've always been drawn to menswear fashion and the pinstripe is a classic foundation for layering on more patterns.
Favorite color combo:
Black and white.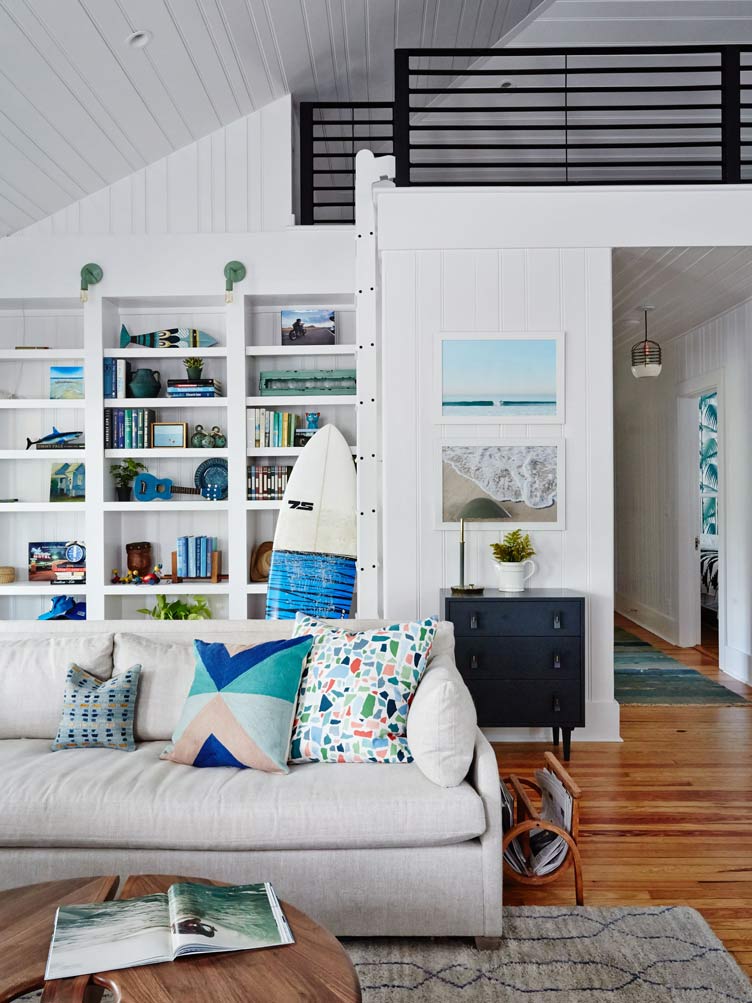 Favorite thing about designing with vintage pieces:
There's always a good story behind the find, and I love sharing that moment in time with a client.
Favorite way to work a bit of vintage into a room:
I'm a sucker for vintage pottery. Whether it be by your bedside holding jewelry or as a vase full of fresh greenery on the dining table, it's my favorite vintage to add to any room.
Shop Cortney Bishop's Look
Favorite way to mix high and low:
Filling a bookcase. There are so many shelves and you want them to be fully filled and meaningful. Layering with family treasures and fresh pieces of art can instantly make it all feel collected and cozy.
Favorite travel destination:
London. Its energy is totally my vibe.
Favorite hotel to check in to:
The Harmony Hotel in Nosara, Costa Rica.
Favorite weekend activity:
Bike riding with my kids.
Favorite way to treat yourself:
Barney's.
Favorite beauty/grooming product:
Oribe Dry Texturizing Spray.
Favorite morning beverage (and how you take it):
Yogi Sweet Tangerine Positive Energy Tea, with honey.
Favorite adult beverage:
Tequila on the rocks with a splash of soda & two limes.
Favorite thank you/hostess gift:
Bougie Apothicaire Graphite Candle…and the jar it comes in is good looking too!
Favorite entertaining essential:
Good beats bring good vibes.
Favorite saying/quote:
"Buy once, cry once." 😉
Favorite artist:
Led Zeppelin.
Favorite emoji:
Rock and roll… do you and don't look back!
Favorite app:
Insta!
Favorite TV show:
I was heartbroken when Vinyl ended on HBO.
Favorite thing to collect:
Vintage jackets.
Favorite restaurant: 
Coda del Pesce on Isle of Palms.
CORTNEY'S LOCAL HAUNTS:
Favorite hotel to recommend to visiting friends:
The Spectator Hotel in Charleston.
Favorite local culture hub:
The Halsey Institute of Contemporary Art.
Favorite local attraction:
Our waterways…and if you can see them by boat, even better.
Favorite local flea market/vintage hunting ground:
Ha, my storage unit!
SHOP CORTNEY BISHOP'S CHAIRISH FAVORITES >>
Featured photo by Katie Fiedler. All photos courtesy of Cortney Bishop.