Three years ago, a friend asked James Swan what his favorite design podcast was. James, a podcast enthusiast and long-time interior designer, was hot to fire off his answer—until he realized that design podcasts weren't actually a thing. In fact, a search of iTunes turned up zilch. Cue the lightbulb moment! James's inner interior designer kicked in and Million Dollar Decorating was born, a podcast dedicated to conducting in-depth interviews with the industry's top interior designers.
SHOP JAMES'S CHAIRISH FAVORITES>>
Now over 500 episodes deep, James has put the mic to everyone from savvy design bloggers like Anne Sage to industry powerhouses like the always-glam Sasha Bikoff to design royalty like Bunny Williams. With our very own Anna Brockway having recently joined Million Dollar Decorator's very stylish hall of fame (you can listen to her interview HERE!), we turned the tables on James to ask him more about how he got into the podcast business and engage him in a rapid-fire game of our always-entertaining "Playing Favorites." Get his answers below!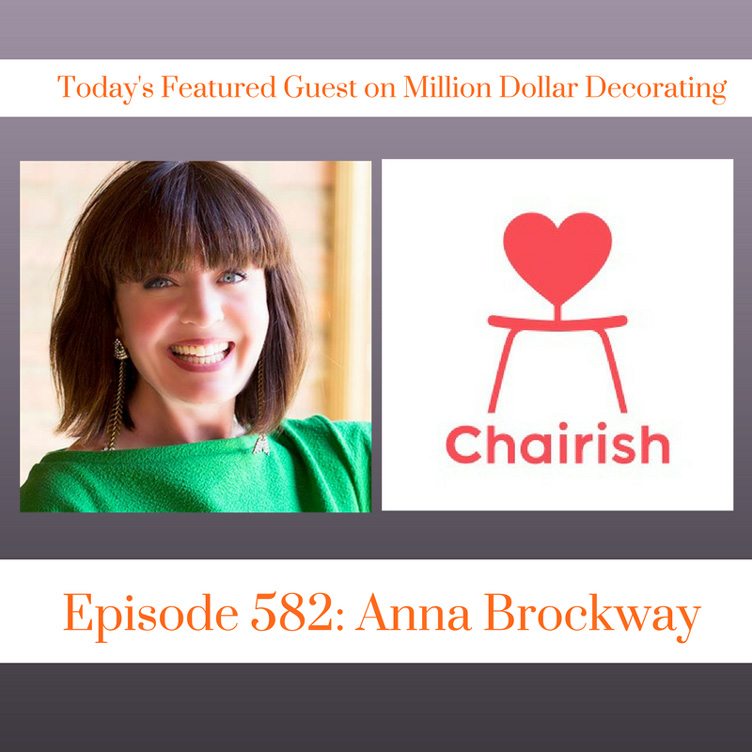 What's the story behind the Million Dollar Decorating Podcast?
I listened to podcasts but was unaware of any design focused shows. My friend suggested that I should host one, and the idea for Million Dollar Decorating was born. I found a mentor to teach me everything I needed to know to launch a show and then I went out and did it. We launched the show on 01 March 2016 and quickly landed in the Top 10 podcasts on iTunes' "New & Noteworthy" Arts section. Since then, we've consistently been in the Top 100 Podcasts across all 360,000 titles on iTunes.  Next week we will surpass 1,000,000 downloads to the show and that number grows daily.  You can browse all our published episodes on iTunes here, or you can check us out directly on Million Dollar Decorating.com.
What inspires you to put out a daily podcast?
I love the industry. I love the people that make up the industry. I love the beauty they create and infuse into the world, and I really love being a mouthpiece; sharing those stories in an ever-expanding way.
What's your favorite non-design related podcast?
Freakonomics is my favorite non-design podcast.  Great content presented in a smart, creative manner.
What advice do you have for anyone who is interested in using podcasting to tell their design story?
Just do it. Find someone to teach you (yes, I've begun taking on students) and just do it.  There's so much possibility with the medium in our industry and I'd love to see more new shows pop up!
DESIGN
Favorite 3 items on Chairish right now?
Milo Baughman Circular Sofa, Natural Zebra Hide Rug, African Dogon Door Mali
Favorite way to work a bit of vintage into a room?
Vintage lamps (floor or table) can appear in almost any room in the house and with the right shade become a strong, stylish addition.
Favorite way to add drama to a room?
Lacquer the ceiling in an elegant color like Borrowed Light #235 from Farrow and Ball.
Favorite way to mix high and low?
18th century gilded mirror hung above a console dressed with orchids planted in lichen-covered terra cotta pots.
LIFESTYLE
Favorite weekend activity?
Driving. Just get in the car, drive and be surprised by what you find.
Favorite getaway?
Rome
Favorite adult beverage?
Grey Goose Martini, Extra Dirty with 3 Olives
Favorite thing to collect?
Swizzle Sticks and Figurative Art
YOUR CITY: BATH, MAINE
Favorite hotel to recommend to visiting friends?
Whitehall Inn, Camden Maine
Favorite restaurant?
Salt Pine Social
Favorite local flea market/vintage hunting ground?
Between Portland and Bar Harbor there are probably two dozen local flea markets dotting the highway, each one worth a weekend stop.